Hi, when I switch our Mac on it automatically starts Pages up. This is really annoying as it is hardly ever Pages we want to be in. I have looked on various menus to try and stop this happening but I am still none the wiser how to stop it and still don't know why it started doing it. Please help.
Well, there are some system level scripts that start up key elements of your Mac system such as the login program, the windowing system, the Finder, etc, but I can't imagine that Pages has somehow gotten stuck in that area. More likely than not, somehow someone's added it to your Startup Items in the Accounts preference pane and it just needs to be zapped.
What you don't mention, however, is whether it starts up with a document opened or whether it's just sitting at a blank screen, waiting for you to compose a document or open an existing file to edit it. If the former, it might be a bit trickier to figure out.
Let's start with the easy, most probably situation and see how to fix it.
On your Mac, please click on the Apple menu (top left) then on System Preferences…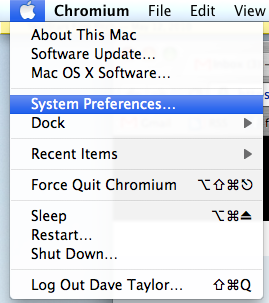 Once you're in the System Preferences, find and click on "Accounts":


Now along the top you'll see a mini-tab of "Password" / "Login Items":


Click on the latter, then you will see a list of the applications that are automatically launched when you start up your iMac or MacBook system:


I'm betting that "Pages" shows up here. Click on it, then click on the "-" button on the lower left. Now when you reboot it should no longer be launching.
If that's not the solution, then the next likely answer is that there's a document that's being opened up for some reason. If so, when Pages starts up, what are you seeing? Find out where that document is and let us know here so we can help debug the situation. Really, though, I can't envision a cause other than the Login Items issue.
Good luck, hope this fixes things!