My Mom and I are both devoted fans of our Amazon Kindles and I recently learned that there's a feature where someone can highlight a passage or even leave a note and then have others see it as they're reading too? Brilliant. How can my Mom and I share our own notes and highlights as we go through Kindle ebooks simultaneously?
As someone who has been reading used books either from a borrow, a used bookstore or the library, I'm all too familiar with marginalia, notes, highlights and underlines (and even an occasional spelling correction!) in books. If it's a textbook I dislike it because I want to draw my own conclusions from the text, but if it's just about anything else, the additional reader commentary is fascinating stuff and something I much appreciate. Well, as long as they don't go overboard.
The Kindle reader app does indeed support shared passage highlights and pop-up "Post-It" style notes, but what you ask is beyond what it can do because you can't just share it between two people. If you and your Mom are okay with your notes and highlights being available to anyone who is reading that same ebook — which is pretty benign from a privacy perspective — then you can at least theoretically tap into the Kindle system. Problem, is, the shared notes feature is quite poorly implemented. But let's get the basics covered first.
It's easy to highlight passages and add notes as you go along, but I will warn you that it's a bit more work to have them accessible to the public at large, which is probably a good thing. And seeing other people's material? Possibly impossible.
Let's start with the easy stuff…
Here I am reading the great detective thriller The Bedlam Detective on my Kindle Fire HD:

You can see that I've tapped and held my finger over the word "Then". The pop-up defines the word — very helpful with some polysyllabic authors! — and among the buttons shown is one "Note". But we don't want to leave a note on the word "Then". We can do better than that!
Look closely and you'll see a grey bar at the beginning and end of the blue highlight over the word. Turns out those are draggable. Increase the highlighted section by dragging the bar until you encompass the entire passage desired. It'll look more like this: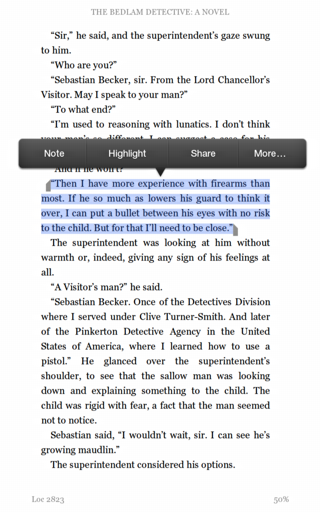 At this point, of course, the definition vanishes because we've got a few dozen words highlighted. The toolbar remains, however, so at this point we've highlighted the passage desired, let's tap on "Note".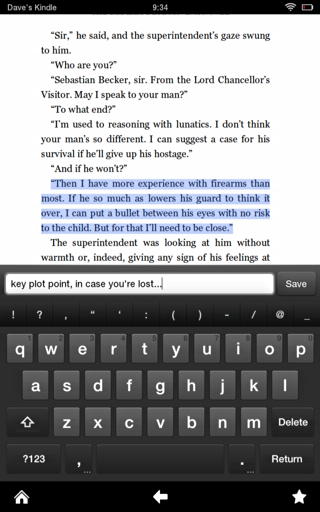 As you can see, a keyboard pops up and you can easily type in your comment, though if it's more than a single line long, it's hard to read and edit. 🙂
Done? Click "Save" and it turns the highlight yellow. See the tiny blue mark on the end of the highlight? That means there's a note too: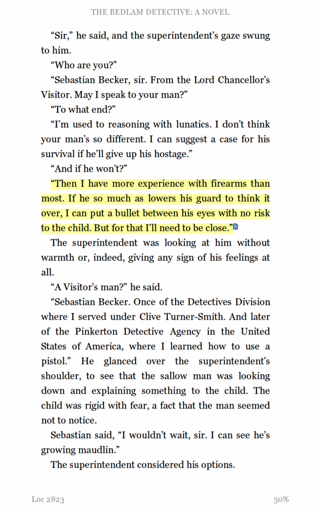 Tap on the highlight and the note pops up:
So that's easy.
To share notes, however, you need to actually log in to Amazon's Kindle site and get to the list of your books. It'll appear like this:
If you're like me and buy a lot of books from Amazon, print and electronic, your first step should be to limit the display to just Kindle ebooks. That's easily done with the pop-up on the top right:

Choose "Kindle Only" and it'll show you a list of your ebooks, in date purchased order:

Find the book — or books — you want to enable note sharing then click on the second checkbox: "Public Notes: Make Yours Public". Once you do that, the highlights and notes you add to your Kindle ebook are then available for the public at large and, of course, therefore your Mom too.
And now we come to the core problem with Amazon's Kindle software: the underlying implementation of shared notes and highlights is awful. Just because there are shared notes, for example, doesn't mean I'll see them when I'm at that point in the book. Sure, I can see some if I tap on the "Share" button while reading the book, but that's just a summary shown on a separate page, not an enabling feature that adds them to the book as I proceed.
Worse, to have someone's highlights show up, you are, according to the Kindle FAQ, supposed to just follow them while on the Kindle Web site. Except if you search for someone by name, even seeing their shared notes, odds are good that they won't be matched in the people search and even if they are, their "shared notes" count always seems to be zero, even when I can see it's the same person who left a note on the ebook I'm reading.
Not good at all.
What this means in practice is that probably the only way you and your Mom can share highlights and notes is
for the two of you to be logged in to the same Kindle account
. In which case, I theorize that the "share my notes" capability is irrelevant.
Still, Amazon's done a terrible job with this feature, though it's a brilliant one. Who wouldn't want to optionally see highlights and notes that other people have left while reading an ebook? And to be able to follow your friends and colleagues while ignoring people you don't know? Even better. If it only worked.