My cousin is a hardcore Android fan and hates Apple. Me? I love my iPhone. What we're wondering is that whether there's a way we can still share people's contact info, either iPhone to Android or vice-versa. Is this possible?
Y'know, while people like to think of Android versus iOS as some sort of a holy war, the fact is that the two smart device operating systems are remarkably similar. They're way more similar than they are different, and both development teams have spent thousands of hours ensuring interoperability too. As this tutorial will demonstrate, some of the little pop-up windows even look like they're from the same designer!
There's also a standard format for contact information, which makes this task quite easy. Called vCard, it's been around for quite a while and even allows you to interact with address books, contact lists, etc, on a Mac, Windows PC, even a Linux system. All working together as if they're all pals. And just like you and your cousin, don't you want your devices to get along swimmingly too? 🙂
SEND A CONTACT FROM IPHONE TO ANDROID
Let's start with you. You want to share a contact from your iPhone with your cuz. That's most easily done by finding the record in your Contacts app (or just go to Phone and find it). Displayed records look like this: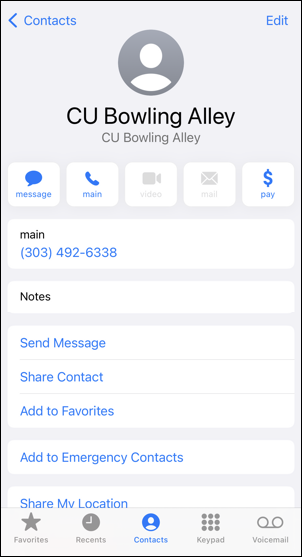 I don't have a lot of information in this record, but it's enough that sharing it is useful. To do that, tap on "Share Contact" on the list. If the contact has a lot of info, you might have to swipe down to find the Share button…
The iPhone prompts to find out with whom this information should be shared or what transfer app or utility should be launched: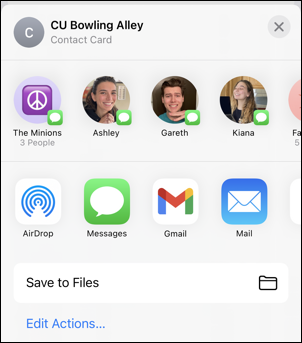 In this instance, I'm going to simply text message the contact record to my friend Harry. That's done by choosing "Messages", then entering their name, number, or similar: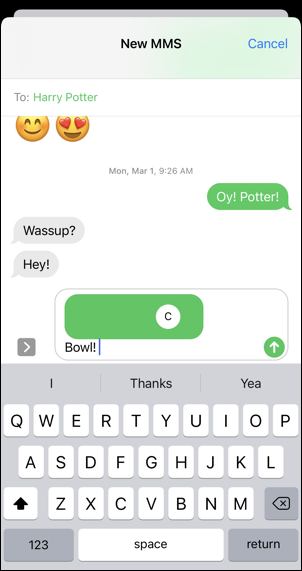 Notice that in this instance, iOS did a pretty underwhelming job of showing an interesting little box, but that "C" is good enough. Add a message once you've specified the recipient, as desired, then tap the upward-pointing green arrow to send it. Done.
IPHONE CONTACT RECORD RECEIVED ON ANDROID PHONE
Now, on the Android device, a message arrives like this: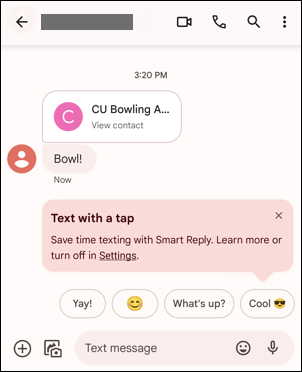 You can see by the "View contact" that the Android phone knows it's not just a phone number, but a full contact record. Handy!
A tap on the bubble and you can see all the individual data items included: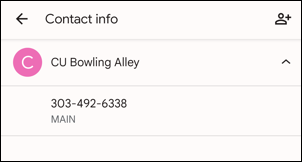 Tap on the phone number, and you can quickly call the bowling alley: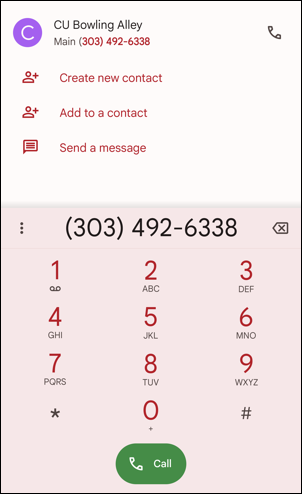 That's it. You can also "Create new contact" on the Android phone to save this as a new record, as desired.
HOW TO SEND A CONTACT FROM ANDROID TO IPHONE
What about doing this in reverse, if your cousin wants to send you one of their contacts? Also quite doable. As with the iPhone, start by getting to the view of the contact record in Phone or similar: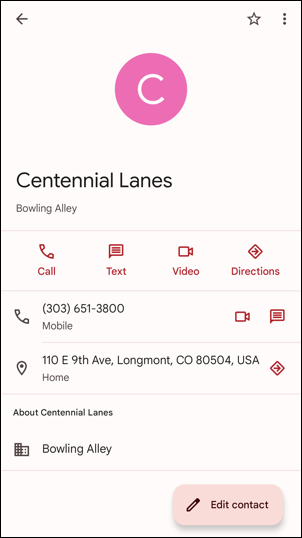 It's not quite as obvious, but if you tap on the three vertical dots on the top right, a menu appears with the option we want: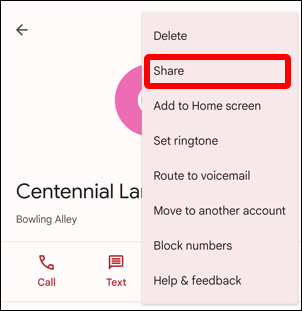 That's all pretty different, right? But tap on "Share" and the window looks startlingly similar to the iPhone view: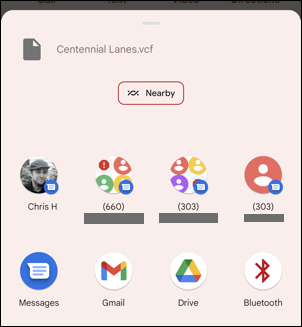 I'll tap on the phone number for the other device in this demo and a fraction of a second later this appears on the iPhone: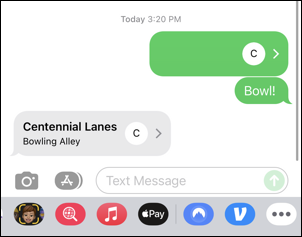 There ya go. And now you know two bowling alleys near me too!
Pro Tip: I've been writing about Android since the beginning, along with everything iPhone. Please check out my extensive Android help area and iPhone help area while you're visiting! Thanks