I use my iPhone 7 for navigation, but I can't stand trying to enter addresses on the phone with the tiny keyboard. Can I find places on my Mac and send those addresses to my iPhone for navigation?
You're not alone in finding the process of typing on a modern smartphone more than a little pain in the, um, finger. For all the advances we've seen in the last decade, it's hard to get around the reality that our fingers are bigger than the keys on the virtual keyboard on the iPhone. Fortunately, everything else has grown in sophistication too, even including Apple Maps and the entire Apple ecosystem.
But before we go there, I want to encourage you to try speaking into your iPhone instead of typing. Enable voice dictation in Settings, then every time you want to enter data, tap on the tiny microphone button adjacent to the space bar on the virtual keyboard and you can simply say "1600 pennsylvania avenue, washington dc" instead of struggling to tap-type it!
For mapping, there's another option too, as Apple has demonstrated with product introductions; use Apple Maps on your fullsize Mac system to find specific addresses, then send that destination address to your iPhone and use it as the basis for your navigation. Surprisingly easy, actually!
The only restriction is that for the really easy version of address transfer, you'll want both devices logged into the same iCloud account. If not, you can always send an address as a text message (even to someone else's iPhone) but it's not quite as elegant.
Let's demonstrate! I was in Kansas City a few days ago and wanted to pop down to The Plaza for a walk. I found the address in Apple Maps on my MacBook Pro running MacOS X:

To send that destination to my iPhone is a simple matter of clicking on the box with the arrow pointing upward icon just to the right of the address entry bar. You can see it along the top!
A mouse click reveals this menu of sharing destinations: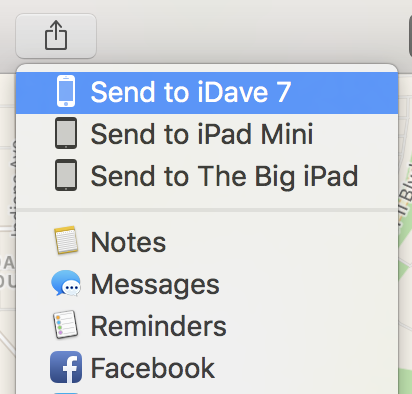 As you can see, you can post an address directly to Facebook, push it to a Reminder, even send it as a text message using Messages. But the top three are the most interesting: they're my iPhone 7, iPad Mini and iPad.
In this instance I want to send the address to my iPhone 7, so I'll choose "Send to iDave 7" and a second or two later this pops up on the phone:
The rest of the process is really just a simple. Open up Maps and you'll see that the destination address now shows up in the address history just as if I'd searched for it here on my Apple iPhone: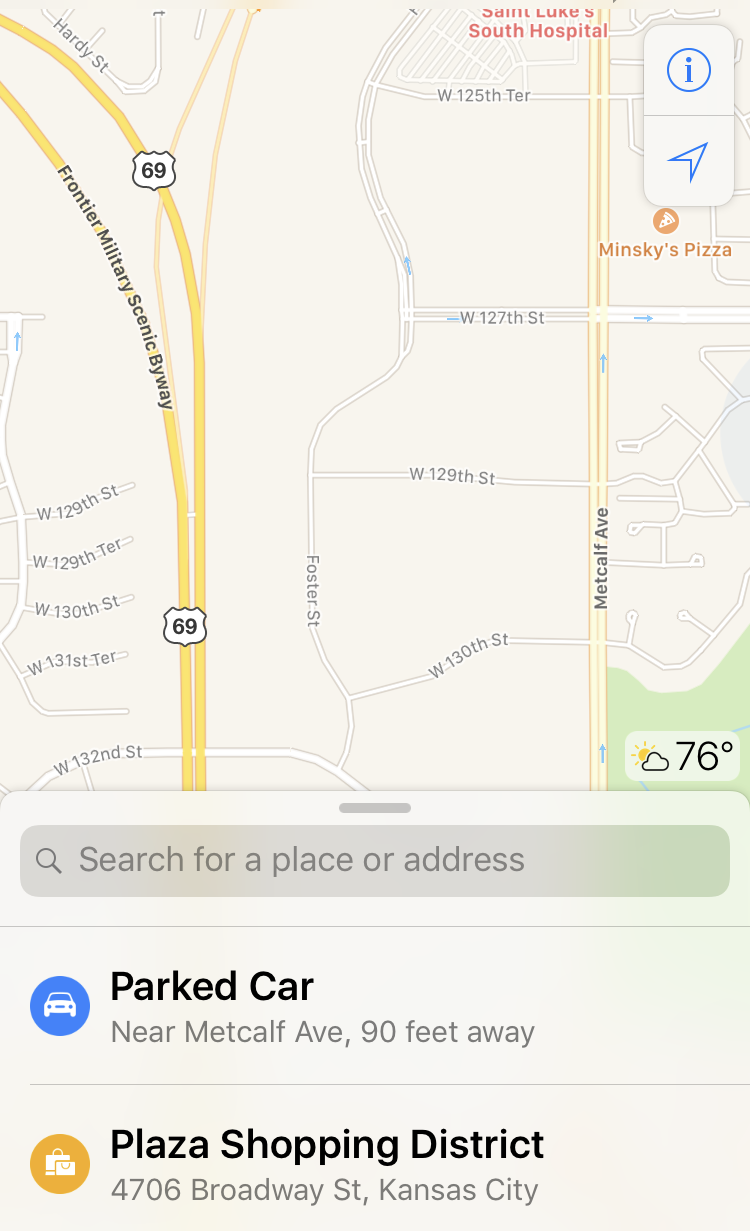 You do know that your phone keeps track of where you park your car too, right? 🙂
The last entry in the screen above shows the "Plaza Shopping District" and that's my destination, so the process of starting navigation is a breeze with Apple Maps.
To start, tap on the address so that it shows up on the Map itself:
Interestingly, Apple Maps on my MacBook Pro thinks it's 28 minutes away, but my iPhone is a bit more optimistic with an estimated 27 minute drive. I'll take the iPhone estimate!
A tap on the big blue "Directions" button and I'm offered a variety of different routes, with different times:
And that's all there is to it. Tap to pick your favorite route, tap on the big green "Go" button, and you're on the road!