The world's most successful FPS (first-person shooter) franchise returns in its yearly conquest of the gaming market. Call of Duty – Black Ops 2, released on PC, Xbox 360, PS3 and even the brand new Wii U follows in its predecessor's footsteps, struggling to continually introduce creative gameplay into the somewhat exhausted Call of Duty formula. Developed by Treyarch and published by Activision, Blops 2 (or, if you prefer, the somewhat less illustrious "BO2") wrestles with some of the same old problems, but succeeds in introducing new features and a new feel.
Single-player fans of Call of Duty, beware! The campaign in Blops 2 breaks a lot of the rules you've gotten used to over the course of the franchise. A new level of focus on a "cinematic experience" is clearly present in every mission, and the downside to that is
that the player is much more frequently, though briefly, robbed of control. You are unable to act while intermittent scripted animations take place showing you holding a conversation with a fellow soldier, barely leaping out of the way of gunfire, etc.
The upside to this focus is that the storytelling is much more involved. Don't mistake me, though – the story is nothing special. While it's definitely more emotional and dramatic than any other Call of Duty game to date, the high and mighty antagonist is just some
highly intelligent third-world creep with a lot of guns whose precious daughter was killed in a US military operation.
Not exactly believable.
Thankfully, the characters and writing as a whole are darn convincing for their respective parts. The voice acting is great, and some characters are surprisingly dynamic, one of Treyarch's single player strengths. The Blops 2 campaign also does a fantastic job of putting you in unceasingly interesting situations, such as having you fight off a militia with tanks and drones while riding a horse, having you infiltrate a massive, floating resort (pictured below) and immersing you in a large-scale battle atop an aircraft carrier. Even better, while nearly every mission boils down to straight up run-and-gunning, enough variety is present via the weapons you have access to, the equipment enemies carry and whatever special conditions may affect the battle (such as a swarm of controllable, flying drones that seek out targets in areas you mark manually).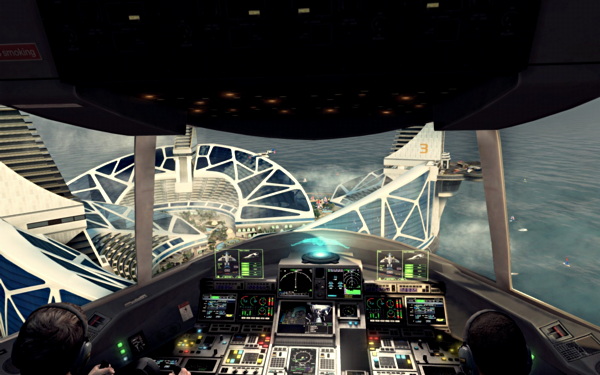 Moments like this, looking out over Colossus, the resort city, are part of what gives Black Ops 2 that "epic" feel.
If you've been waiting to hear about potential mechanical changes made to the single player campaign, I've three articles of good news. One is that you now have the ability to customize your loadout before each mission. You can choose weapons from any class of gun, pick three unique perks designed just for single player, and unlock more guns for use by completing more missions.
Second, every mission now has a unique set of "challenges" that you can complete to unlock even more gear for your loadouts. Challenges usually involve making use of tools unique to the mission at hand, such as the aforementioned swarm of drones, or require that you show off mad skills by getting 10 kills with the throwable combat axe. Every mission also gives you a score based off of how many people you thoughtlessly slaughter and the ways in which you do so, comparing your score to that of your friends.
Good news article #3 is the new "Strike Force" mode, an entirely optional series of four missions which you play as a Real Time Strategy game in which you may take control of any given unit at any time. For example, the first Strike Force mission gives you several navy SEALs, a couple of stationary turrets and a heavily armored CLAW drone, all of which
you must use to defend several points on a small map from an enemy onslaught. From a bird's-eye view, you can order said units around, then take over one of the SEALs to do their shooting for them. It's a rather entertaining mode that brings good variety into the campaign, but only four missions? It's over too quickly.
Black Ops 2's multiplayer doesn't suffer from the increased focus on single player this time around. In fact, Treyarch introduced the most flexible system yet for class customization in this title. Dubbed "pick 10," The create-a-class system allows you to pick ten total items, including guns, attachments, perks, equipment, and new "wildcards" (which are essentially perk category #4).
See the below screenshot for an example of the awesome control you possess: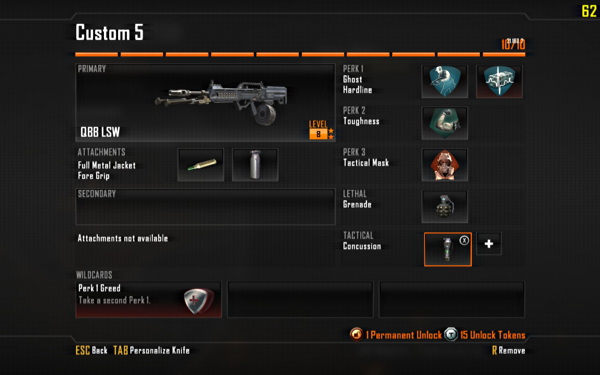 Lots and lots of controls in Call of Duty: Black Ops 2
With this class, I've given my Light Machine gun two attachments and foregone a secondary weapon entirely. I only have one tactical grenade equipped (as opposed to two, which is the default), and instead took the "Perk 1 Greed" wildcard in order to equip not one, but TWO first perks. Using this system, you could have six perks if you wanted… you'd just be using
9/10 of your item slots (three slots for the three perk greed wildcards, six slots for the perks themselves). To make things a little more interesting, I may not have equipped a secondary weapon, but the game will instead give me a "combat knife." If I switch weapons in game, I'll pull out my knife by itself and can use it for quicker-than-normal melee. The same thing happens if you don't fill your primary weapon slot.
Fans of the first Black Ops will be pleased to know that the explosive crossbow, ballistic knife and tomahawk have made a return as well as the old game modes from wager matches: Gungame, Sharpshooter, One in the Chamber and Sticks and Stones, four Free-for-all game modes with unique rules, are present as before.
Multiplayer map design, overall, is great with a couple shortcomings. Firstly, the number of obvious spots for players to hunker down behind waist-high walls and peek their heads over is astonishing. Practically around every turn, there's cover exactly like that. It's all the same height. Second, most of the maps have an unfortunate lack of verticality.
Call of Duty Black Ops 2: Firefight!
Several maps are almost entirely flat with very few areas in which you can go up or down a floor. However, the various maps with one exception work extremely well with objective game modes and are generally disadvantageous to players who simply wish to camp.
The elephant in the room, as it has been in every Call of Duty game since World at War, is weapon balance. It's an unfortunate fact of life. Some weapons have an extremely low skill floor. The first shotgun you have access to is easily the most overpowered weapon in the game: It has massive spread and impressive range, often killing in one hit even if your accuracy is mediocre. Submachine guns, as usual, can be sprayed (fired from the hip) effectively and easily, even at medium-long range under certain circumstances. Unless you are incredibly quick, the average player with an SMG will kill you by casually shooting in your general direction without bothering to look down the sight.
Unless you adopt an "if you can't beat 'em, join 'em" strategy, be prepared to groan – of course, if you're a Call of Duty fan, that idea is nothing new.
Skeptical potential buyers, good news:
Blops 2: Call of Duty
continues to be worth the $60 pricetag. It picks up the quality of the franchise where Modern Warfare 3 dropped it, despite having some of the same old problems. PC gamers can buy Black Ops 2 for just under $60 at
Amazon.com
. Black Ops 2 is developed by Treyarch, and published by Activision.
When he's not running black ops, Zach Comm runs
GameCheetah
, where he focuses closely on the video game industry and its best games.