LED bulbs are everywhere, they last so much longer than traditional bulbs, have lower power consumption and a much better color temperature range, but what's next? As the cost of LED bulbs go down and Smart LED bulbs enter the market with remote lighting management, one brand stands out: Sengled. In fact, Sengled has created a product that connects to my lifestyle in ways that I hoped all Internet of Things (IoT) products would. Recently they sent me the Sengled Element starter series to try out…
Set up was simple, just plug in the hub bulb to your network, then download the Sengled Element Home App for your iPhone or Android phone. Find the Sengled's Bluetooth connection, create an account and log in, and you're ready to control your bulbs!
Everything worked immediately once I set up the network, it couldn't have been easier. Then plug in the second bulb somewhere in the house – or even in the same light fixture. Both bulbs have separate own brightness level, schedule and color temperature that you control from the app. Easy.
You can name your bulbs too, but I wasn't very creative; I named the one in my kitchen "kitchen" and the one in my living room "living room" so it was obvious where they were located. The bulbs offer 800 lumens, which is equivalent to a 60-Watt traditional light bulb and have a wide range of color temperatures, which can quickly make the rooms feel more comfortable and friendly (see screen shot on right)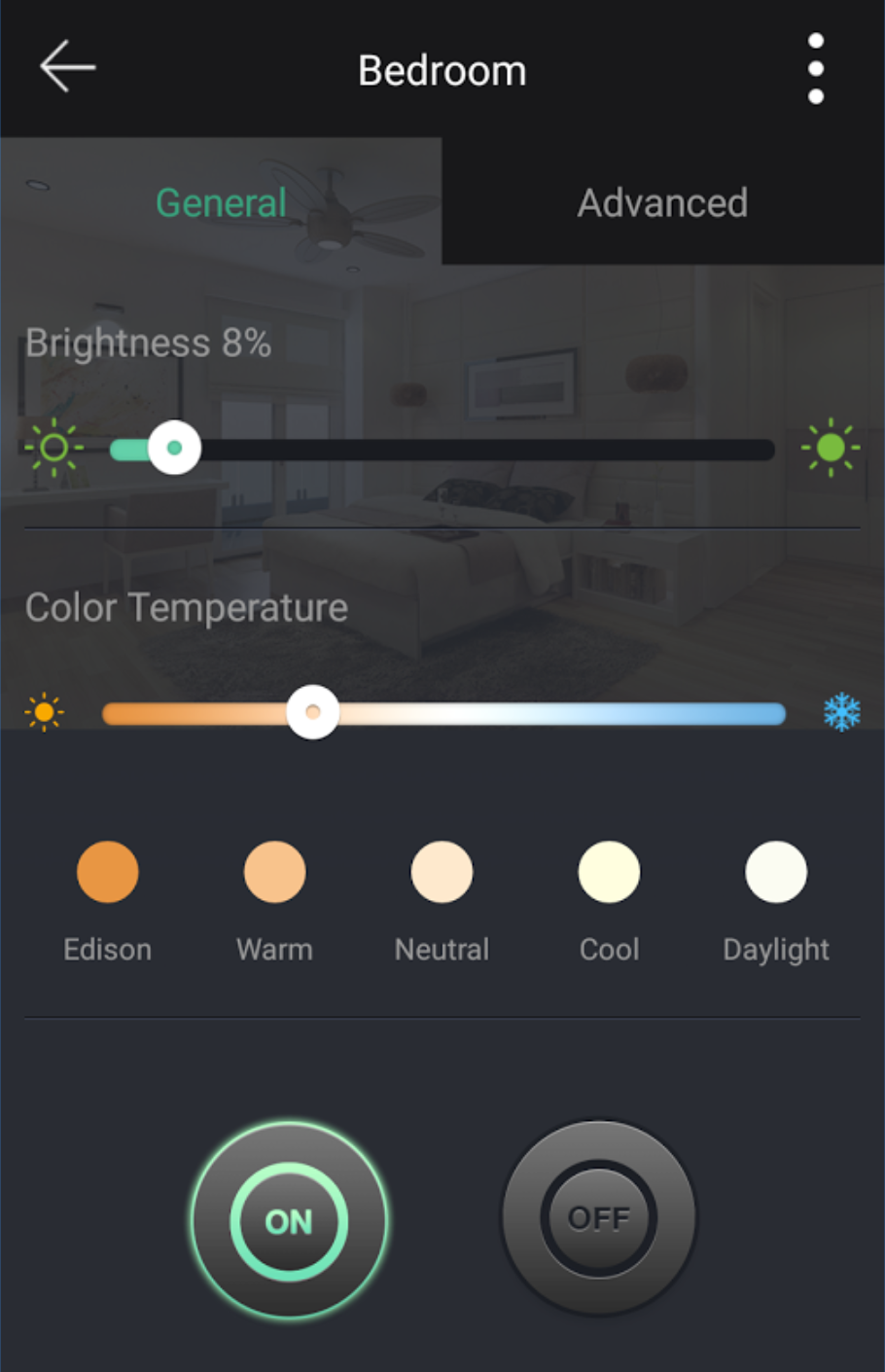 The lights can be turned on and off, you can track the energy used, schedule their behavior or dim them as desired, all via the app. They are also compatible with Samsung Smart Things, Amazon Alexa, Xfinity, AT&T Digital life and other Internet of Things home control systems.
Setting the lights to go on any day and/or everyday is now just a few clicks away. Decide when you want them to go on, I like mine to come on at 7PM and turn off at 1AM, typical times my lights are on at night. By setting up the schedule, I know our house will come alive during these times. I also enjoy coming home when the lights are on, it never really bothered me to come home to a dark home, but this is easy to get used to.
I've been traveling a lot recently, and as I live alone a bit more than 50% of the time, I felt it was time to do something to protect our home while I was on the road. As I live in one of the safest neighborhoods in Denver, CO, I do not believe I need an alarm system, but I want to have the appearance of being home as I do live in the city.
As these lights turn on and I have total control over them from anywhere I have an Internet connection, these bulbs complete my home in a way that I was not aware they would, they make the home more livable and more attached to my families lifestyle, because my children do not like to come home to a dark house either. In the next few months, I plan to order 10 or more lights and have them go on and off throughout the night. The best part about these bulbs is that for every Element Bulb sold, Sengled plants a tree that will negate the low levels of carbon emitted by the bulb, so the bulbs are wonderful to use, but also provide an additional way to help in the fight to curb climate change.
So if you are looking to experiment with the coming iOT storm of products, check out Sengled Element bulbs. You can pick up a starter kit with the hub and two LED bulbs for $49.99 at Amazon.com, definitely worth every penny!
---
Gary Moskoff is a contributing editor to Ask Dave Taylor and Managing Director of Sleeping Giant. He specializes in understanding consumers needs and developing experiences that attach to their lifestyles.
Disclosure: Sengled sent out the Element bulbs to Gary for the purposes of this review.