With a Microsoft Band on my wrist and my credit card primed for the upcoming Apple Watch, I was intrigued to try out the stylish Cogito Connected Watch. Like many other watches [see my review of the Martian Notifier], the Cogito is really a notification device than anything else, as highlighted by it being called the "Connected Watch". Spend a day with this on your wrist, however, and you'll realize that it's of incredibly limited value: every time you get any sort of notification, an icon pops up and you'll end up pulling out your phone to see what it is anyway.
The Cogito watch pairs with either iPhones or Android phones, which is darn useful, you just have to download the correct app for your phone. The Android smartwatches from LG and Samsung, of course, don't work with the iPhone and it's a given that the Apple Watch will be firmly locked into the Apple ecosystem and be useless for anyone with an Android phone. The Microsoft Band works with Apple, Android and Windows Phone, actually, so rather surprisingly it's the most connected of any of the current crop of wearables.
With different development platforms and interface styles, it's obviously a challenge for companies, particularly smaller companies like Martian and Cogito to deliver up a good user experience with its software for your favorite smartphone platform. But that's really the price of admission for these companies to be able to compete effectively against the big players with their billions to invest and in-house development teams.
Let's start with some photos of the Cogito Classic, however. Here's the one the company sent us to review, in what they amusingly call "clockwork orange":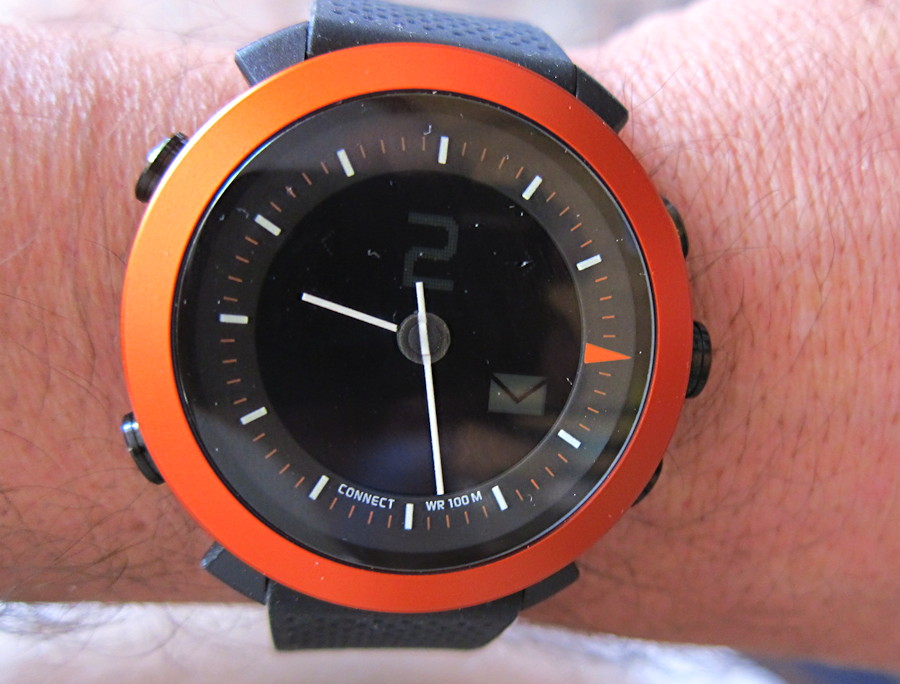 As I've said, it's a very smart looking, stylish watch, designed by award-winning French designer Xavier Houy. When I wore this, I received compliments from people about its design.
And look at the small print: "WR 100 M". The Cogito Connect is water resistant to 100 meters, a huge boon if you're someone who might forget to take your watch off before you shower, swim or even just end up out in the rain.
You can also see what notifications look like in that picture. The tiny envelope icon indicates that I have new email, and the "2" gives me a count. Two new email messages. But who are they from and what are they about? I'll have to pull out my iPhone 6 to find out.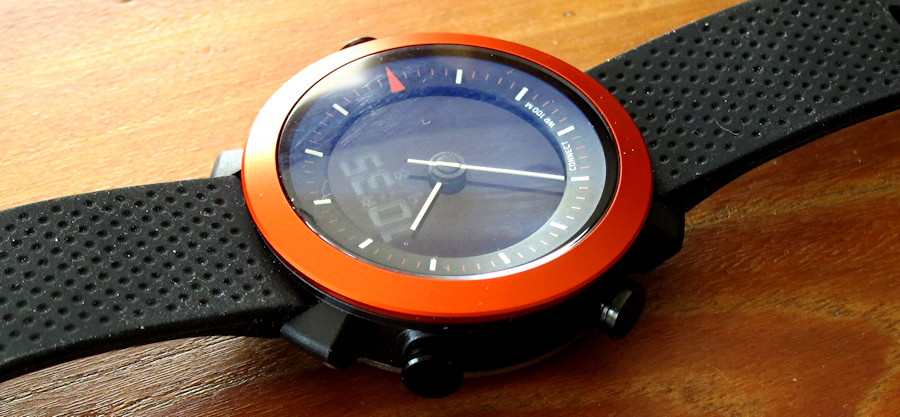 Like a classic sports watch, the Cogito Classic also has a lot of buttons. Four, plus one on the right side that's used for adjusting the analog watch hands. Yes, the digital time (see above) is sync'd to your smartphone via low power Bluetooth, but the analog hands are part of a standard watch mechanism and so are adjusted manually.
Seems weird, but it does let you have it set for two different timezones if you were so inclined, and more importantly, because it's a "real" watch it's always showing the time, not just when you tilt up your wrist, as the fancier smartwatches do to stretch out battery life.
Speaking of which, there's no charging needed with the Cogito. It takes regular watch batteries and those are projected to last six months. Six months! That's a whole lot better than 20-24 hours. Then again, it does so much less than a Microsoft, LG, Samsung or Apple Watch, so the comparison might not be fair.
For example, look at the back of the Cogito Classic and you won't find fancy laser sensors to read your pulse. It's just a watch back. That's it: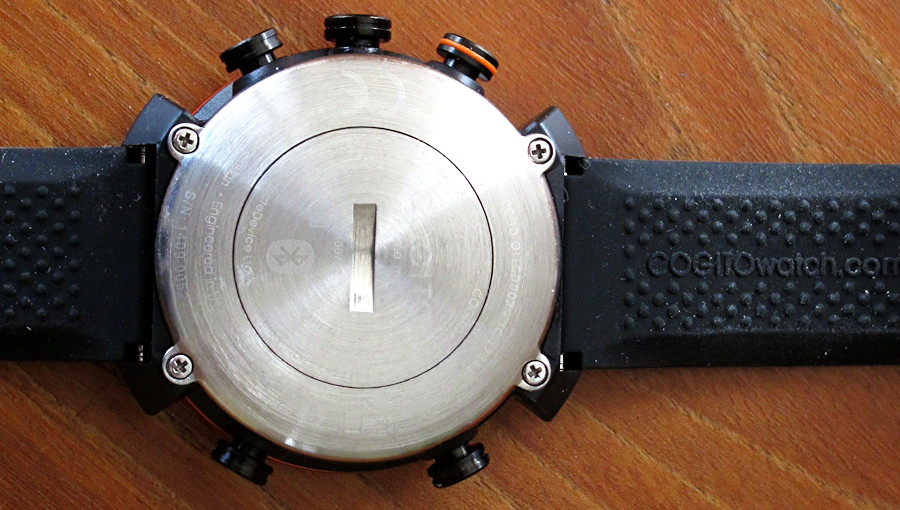 The focus on notifications as an add-on to a stylish, hip watch is acceptable. You know that's what you're getting when you buy a Cogito Classic or its less expensive brethren the Cogito Pop, but what's unacceptable is the state of the iOS software that's required to work with the watch.
There's no nice way to say this: The Connected Watch app for the iPhone just isn't ready to ship. I had way too many problems getting the watch and phone to pair, then the connection would randomly drop and I'd have to manually re-pair them within the Bluetooth settings. Unacceptable.
And then there's the user interface. It's, well, bizarre. Like this screen: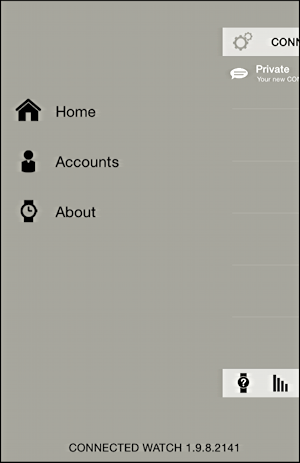 What's going on here? If the watches are so stylish and attractive, why is the app so homely and colorless?
It's not entirely colorless, though, because the Cogito Classic also serves as a pedometer so you can get data on your motion, which is useful and is actually the only part of the app that has any pizazz in its design: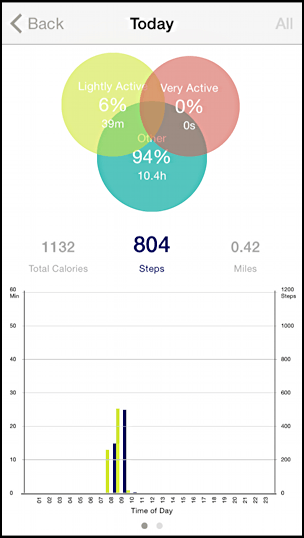 But there's way too much wrong with the app, including a wide variety of missing-in-action features. Three of the buttons on the watch are programmable, for example, including having the ability to remotely trigger the camera on the iPhone. That never worked for me and the only options I saw for programming the buttons were "Find My Phone" or "Unassigned". Nothing else, and no way to actually create useful functions like "volume up" or "mute" or "trigger camera".
Then there's this message that popped up: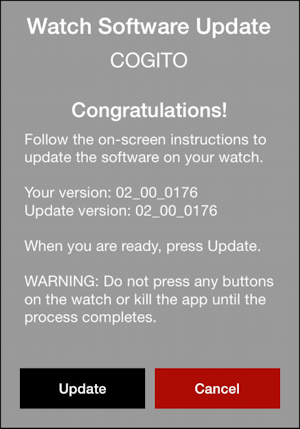 Fairly sure that going from version 02_00_0176 to 02_00_0176 shouldn't be considered an update.
At $129 for the smaller Cogito Pop (with a design more aimed at teens) and $179 for the Cogito Classic, I really wanted to like these devices. There's no question, it's the most stylish smart watch we've had a chance to try out and really highlights how fundamentally ugly the Microsoft Band is (though the Band's functionality for a mere $20 extra makes it well worth your serious consideration).
If you want a handsome watch, check it out. But to be honest, the Cogito Classic is only barely connected from a functionality perspective, definitely not alleviating the need to pull out your phone to keep up with what's going on, is hampered by poor software that should never have been released, and is overpriced for the functionality it offers. We therefore can't recommend it as shipping today.
Cogito Classic, starting at $179, and the Cogito Pop, starting at $129. All at CogitoWatch.com and available at a discount from Amazon.com
Disclaimer: Cogito sent us the Cogito Classic for the purposes of this review.