A new client recently asked me if they could pay my invoice with a credit card. I'm not set up for credit cards, however, but remember that there's a way that I can use my Paypal account for this. I know there'll be a small transaction fee, which they're willing to add, but how do I send them a request to pay me? I don't want their credit card info…
You're smart to not want a copy of their credit card information: it's an unnecessary liability for your business and you can only imagine that if any time in the subsequent six months if they have fraudulent transactions show up on their account, you'll be one of the first people they call up to talk. Not good.
I also commend you for realizing that Paypal charges a premium for credit card transactions (along with their usual transaction fee). The credit card companies themselves charge merchants 2-3% of the transaction so it's quite reasonable for Paypal to pass that expense on to the user: they're a for-profit business, after all.
Paypal explains this fee thusly: "Money transfers are free when the money comes from PayPal balance or bank account, and have a transaction fee of 2.9% + $0.30 USD when the money comes from a debit or credit card or PayPal Credit" For a $500 transaction, therefore, it'll cost $14.50 + $0.30 or $14.80 in fees. Not too bad, really.
To send a money request, log in to Paypal. Now, along the top you'll see this:

Click on the "Request Money" tab and you'll see that you have two options:

If you're going to be doing this with multiple clients or more than once with this particular client, you might want to explore the "Create an Invoice" option, but if not, just click on "Request Money" for the easy path through…
The two critical fields are the receipient's email address (your client) and the amount requested. Notice that you can choose other currencies so if you've a client overseas, the money request could be in their local currency. Very nice!
If it's not a specific tangible product (like an eBay sale) then choose "Services" to make your life easier, then click "Continue".
Looks like we're ready to go, but hold on! You want to scroll down to where it lets you specify a subject and – more importantly – a message to include with the money request.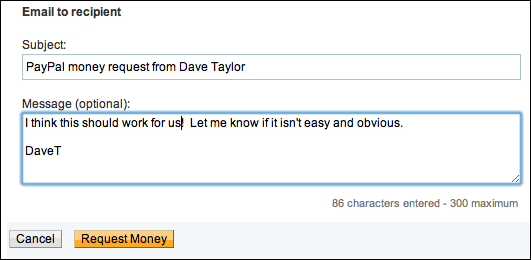 This is where you should include an invoice number, detail your business, etc, whatever you feel is appropriate to help the client differentiate your legitimate money request from some tricky spammer!
Got a nice message entered? Great. Now click on "Request Money" and….

Done. Nice. And now, with any luck, you'll get the following message shortly thereafter: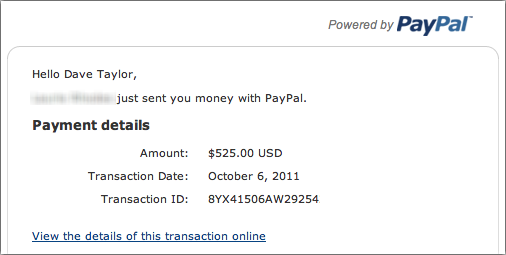 And that, my friends, is the proverbial happy ending. 🙂