When I go to buy ebooks on Amazon.com I notice that the device names shown are randomly chosen by Amazon, not the names I'd like for my Paperwhite, iPad and PC. Can I change these device names and specify which is my default reader?
Amazon doesn't quite assign names to your registered Kindle devices or apps randomly but it can sure seem that way. What I do is when I either log in to the Kindle app on a system or in the Kindle app on a new tablet or smartphone, I then pop over to Amazon.com and update the name so I can keep track of which is which. Generally works fine, and if it's an Amazon device they tend to have the right images associated with the name which makes things easy, as you'll see in a minute.
You will need to make the changes on the Amazon.com site, so be prepared with your Amazon account credentials.
To start, here's a quick demonstration: Notice the device name shown in this product page: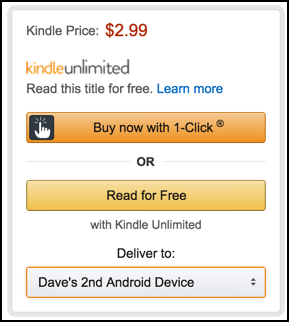 "Dave's 2nd Android Device" isn't very helpful, however, so let's fix that to reflect that it's an HTC Nexus 9, shall we?
Easiest way to get to the right place is from the main shopping menu on the top left: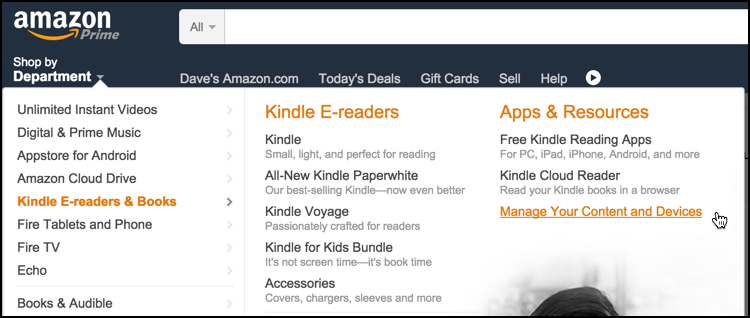 You'll want to choose Manage Your Content and Devices, as shown by the cursor location.
Most likely you'll need to log in to your account to confirm that you should have access to the backend, then you'll be taken to the following page:

Looking at a list of what you've bought for your Kindle instead? No worries, click on "Your Devices" to get to the above view.
Now you can see all my Kindle-friendly devices, including two Fire TV systems, an Amazon Echo and three different systems that run the Kindle app, an Android device, a Mac and an iPad Mini.
To update the "2nd Android Device", I'll simply click on it.

Notice that it shows an email address for your device too. Probably not as easy to remember as mine, but that's good: You don't want random people guessing and emailing PDFs and other documents directly to your Kindle. For yourself, however, it's useful to know and when I get PDFs from clients or colleagues, I'll often email it to my Kindle app so I can read it at leisure.
To rename the device, however, click on Edit immediately adjacent to the current name.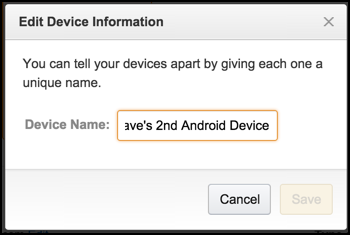 Here you can simply rename it. Done? Click "Save".
One more trick: Click on Set as default device and that Kindle device or program will be the one that shows up by default on subsequent Amazon.com ebook purchases. Here's what I saw when I set my iPad Mini as the default: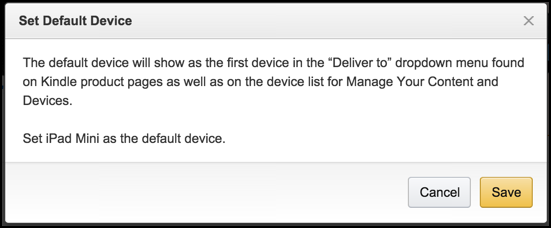 So that's it. Now you know!