I repin photos and images all the time on Pinterest but sometimes the image is great but where it points isn't so much. Spam, scams, or just horrible sites. Can I repin something without the site link remaining intact?
Asking about whether you can repin something on Pinterest while removing information about the origin of the pin ends up being both a technical and ethical question, actually. It's definitely something doable — worst case, you take a screen shot and repost it! — but whether it's right or a possible copyright violation is another story entirely. From a user's perspective, it's also nice to know where to go for more information, but then again, I know exactly what you mean that there's just some content on Pinterest where the photos are beautiful but lead to bad sites.
So should you do what I'm about to demonstrate? That's up to you. I would say that if it's leading to something benign or useful, definitely keep the origin URL associated with your repin (which is the default, so it's easy). If you click through and it isn't somewhere you want to point people, but you really do want to repin the image itself, then at least you'll now know how to accomplish that task. When to do it's up to you…
To start, here's an example of an image that caught my eye last time I was perusing Pinterest:
What I don't like about it is the "83 Unreal Places You Thought Only Existed In Your Imagination". Too click-bait-y for me.
Move the cursor over the photo and even more info pops up:
Don't know what "fascinating-places.bl…" is, but the photo itself is beautiful. I seriously want to be there. Right. Now. 🙂
To repin without the link, I'll just click "Pin it" on the top left…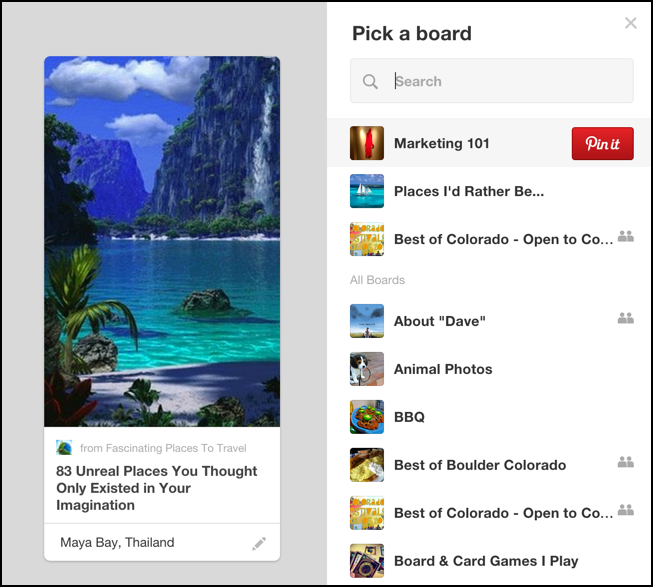 Clicking on the pencil icon adjacent to "Maya Bay, Thailand" lets me fine-tune the caption, but the link's still intact, along with the title of the linked page ("83 Unreal Places…"), those can't be tweaked from this point.
Still, let's proceed. I'll pick "Places I'd Rather Be…" as my target board for this repin, and click "Pin it".
Done. But the link's still intact. Hmm…
A click on "Saved to" if you can get to it before the window vanishes, or just wait for it to show up on the home page after a refresh, and you'll see it looking basically the same, except this time when you move your cursor over it, the pencil icon shows up on the top right:
Look back at the original image: when it's not your Pin, the top right is the "like" heart icon. But since you now own this repin, it's a pencil instead. Good. Click on it!
Here's where you can change what Board it's on, update the description, tag a specific place if you're so inclined, and… remove the URL link to the Website.
Go ahead and click in the "Website" field, then delete its content so it's blank. Like this:
Now click "Save" and your Pin shows up just a bit differently: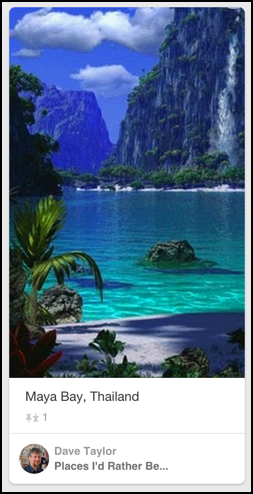 That's it. Photo repinned but underlying URL Website link removed.
Again, be judicious about this because it's not always appropriate to just remove the source information. But now you know how to do so, so as with all great superpowers, use it thoughtfully. 🙂
Oh, and follow me on Pinterest too, if you'd like: Dave Taylor on Pinterest.