I am sick of third-party anti-virus programs that harass me about paying for upgrades and additional software. Done with that. But I can't leave my Windows 10 PC unprotected. What's your recommendation? Windows Defender??
I completely understand your complaints – I've been running McAfee on one of my Windows systems and it is darn annoying with its pop-ups that encourage me to buy other software, to renew my license, to run a scan, etc. It's like "clippy" has returned but without the funny picture! Problem is, you really, really don't want to have a Windows computer without some sort of anti-virus and anti-malware protection on it. The chance of getting infected is just too darn high.
Fortunately Microsoft understands the problem and now includes a quite competent anti-virus program called Windows Defender, and if you're not exploring the far edges of the darkweb or downloading random junk software from third party sites, it should be quite sufficient for most users. Assuming you actually turn it on and update the virus definitions, that is. But don't worry, once you enable Windows Defender, it'll keep its definitions updated automatically.
To start, simply search for "Windows Defender" or at least enough of that phrase to get the match to appear:
That'll work. Click or tap on "Windows Defender" and it'll launch, probably looking quite anxiety provoking: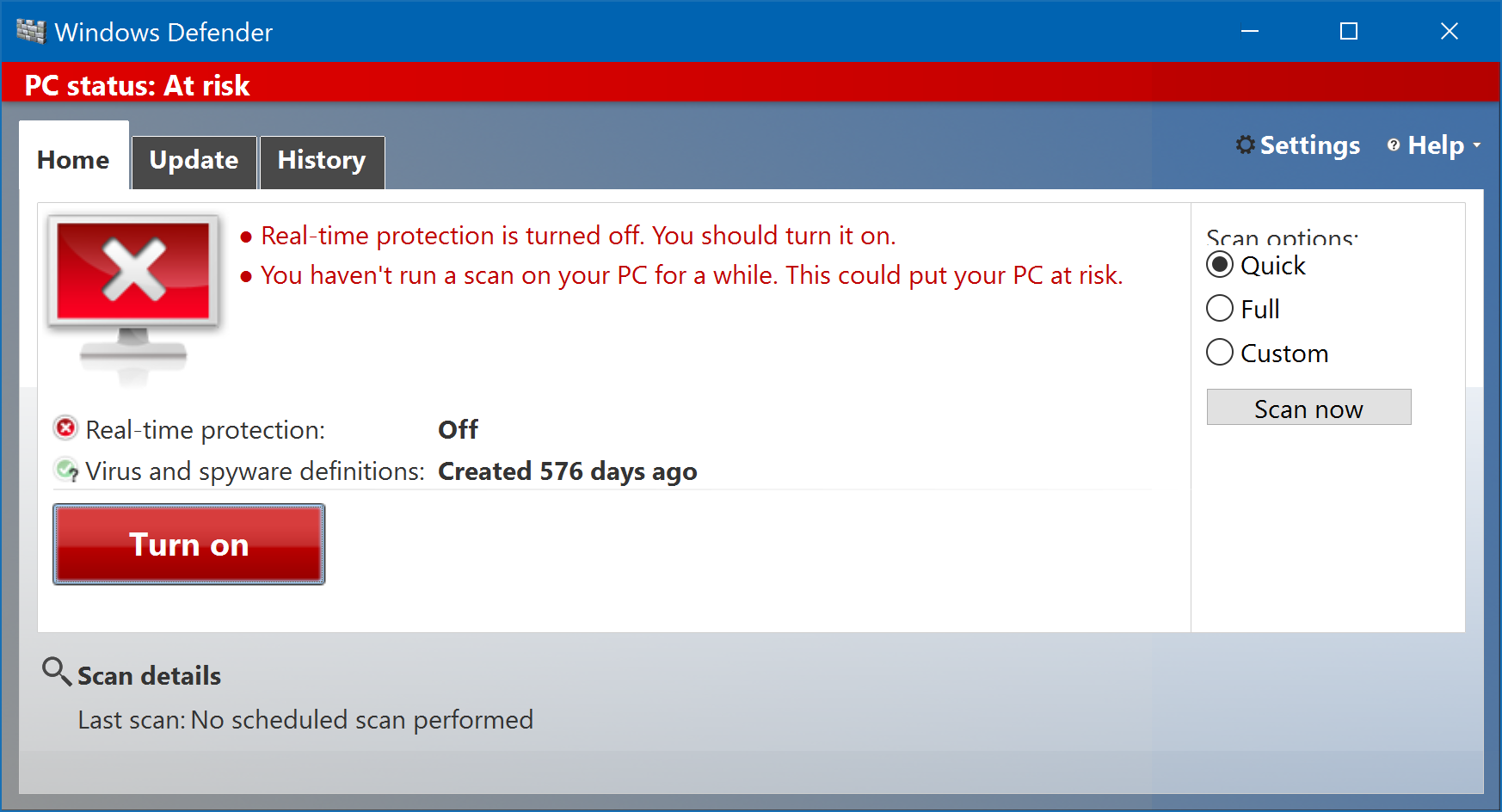 Deep breath! The red doesn't indicate you're infected or your computer is broken, just that you don't have Windows Defender enabled and running. Okay. You can do that.
In fact, enable it by clicking on the big red button labelled "Turn on".
Congratulations, you've enabled Windows Defender and now have Microsoft on the job of ensuring your computer is free and clear of malware. Good stuff.
Of course, it's still looking a bit anxiety provoking because it's time for you to actually run a first scan. Really for this you should do a "full" scan (see the options on the right) but any scan is good:
Before you click on "Scan now" in Defender, however, let's quick force an update of the virus definitions (even if yours is probably not 576 days old like mine is on this test computer!)
Do that by clicking on the "Update" tab.
576 days is almost two years. There have been probably at least a billion viruses released into the wild since then (okay, perhaps a slight exaggeration), so we most definitely need to update the virus and spyware definitions. If you're starting from scratch, you'll probably have the definitions from when your Windows 10 build was locked down. In any case, a click on the button "Update definitions" does the trick.

This process can take a while. Like over fifteen minutes a while. Finally, though, you'll see this: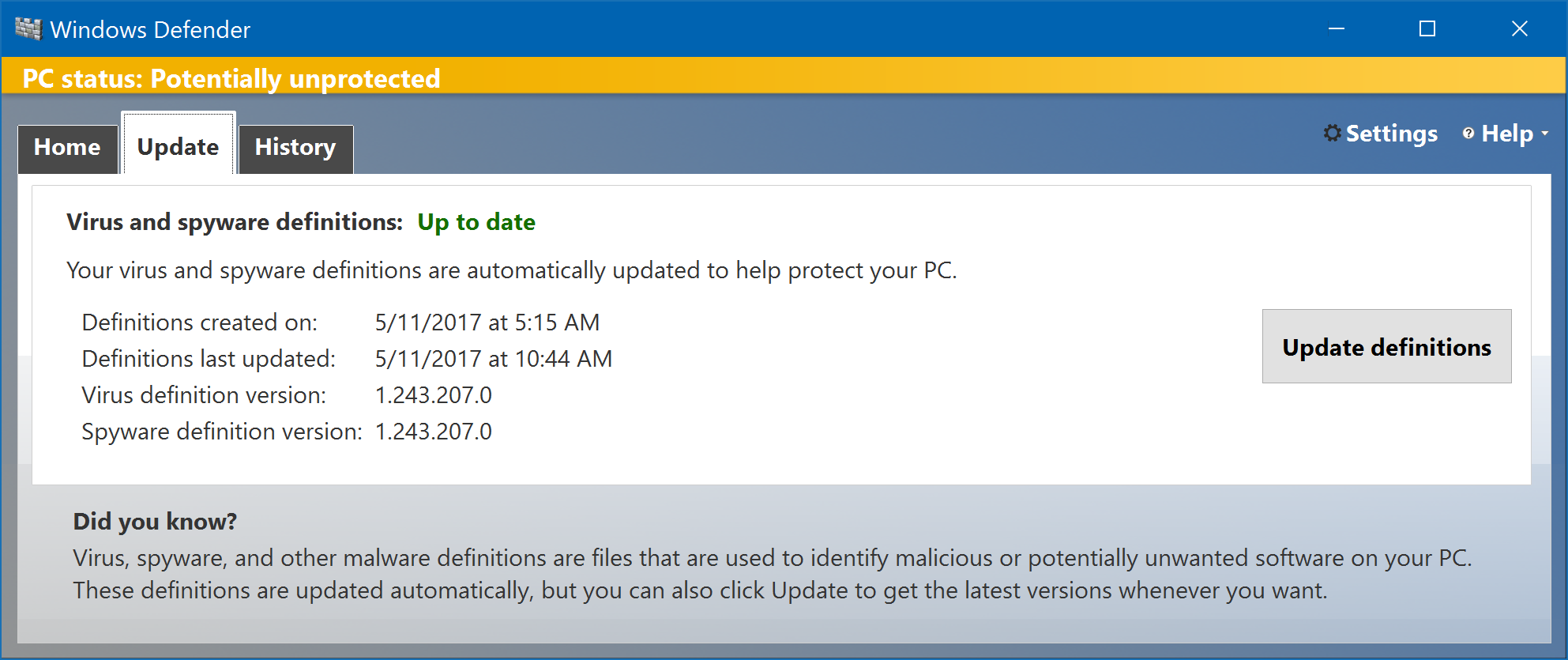 Once you see the lovely green "Up to date" you're ready to click back on the "Home" tab and start your first scan!
Easy enough: Click on the "Scan now" button (which will change color once you've completed your first scan).
This'll take a while, even if you chose Quick scan…

I strongly recommend that your first scan be a full scan rather than a quick scan, but that will take quite a while even on a fast, modern Windows 10 computer. Maybe go grab lunch? Or let it start running when you leave work or, if it's a home computer, head to work?
Finally, it's done and you're now protected. At this point Windows Defender should take care of everything in the background, including getting updated spyware and virus definitions and even running daily or weekly security scans. It'll also keep an eye on things in real time to help you get infected in the first place. Good luck!