Dave, I've read your articles about how to transfer MP3 music files to a Sony PSP and other MP3 device, but what baffles me is that when I insert music CDs into my PC, it produces "WMA" files, not "MP3" files. How do I fix this, or is Windows Media Player incapable of producing MP3s?
This is a very common question, so let me step through it in great detail. First off, though, rest assured that while it's definitely not recommended by Microsoft (for obvious reasons), the Windows Media Player can most definitely produce high-quality MP3 audio files from your favorite music CDs. (there are also audio file conversion tools worth mentioning, notably Smart Audio Converter)
The first step is to launch Windows Media Player. For this article, I'll show Media Player 10 (WMP10, as Windows folk say). Start it up, click on the "Rip" tab, and here's what you'll see:


Of importance here is the last text line in the main window area; it tells you where the MP3 files will be saved once the CD is "ripped" (a fancy word for 'copied onto the computer').
Insert a music CD, however, and nothing happens, even though the "Insert an audio CD" prompt suggests that somehow WMP should automatically detect and scan it. Maybe that works on your computer, but for me, I have to explicitly tell the Media Player to scan a specific hardware device to find the music CD. This is done by
right-clicking
on the word "Rip" then selecting the right menu item:

Please click on the image for a full-size version
Yeah, it's a bit ugly, but select it and a second or two later the program queries an online CD information database to figure out album and track information, then all is good: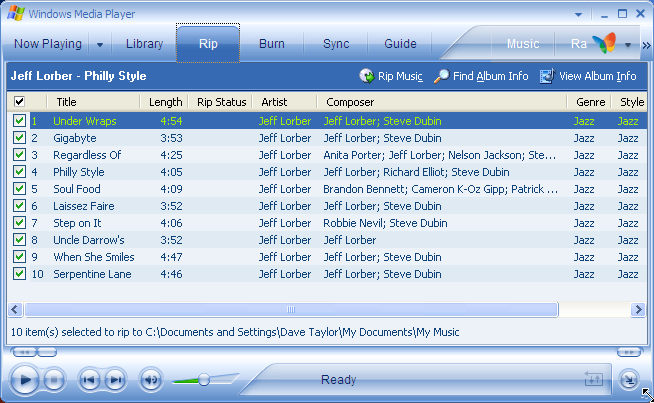 You can see that my test CD is the jazz album
Philly Style
by jazz music Jeff Lorber, and that WMP is showing every track by name, length of the track in minutes and seconds, artist, etc. Also note that every track is automatically checked.
To copy all the music onto your computer, click on
Rip Music
along the top bar. But that's not quite right, actually, because you'll end up with more Windows Media Audio format music (files with ".WMA" which won't work with MP3 players including both the iPod and Sony PSP).
What you need to do is change the default settings for ripping audio content within Windows Media Player, which is easily done. Right click on the "Rip" tab along the top again, and this time navigate to
Tools
–>
Settings…
and click on the
Rip Music
tab: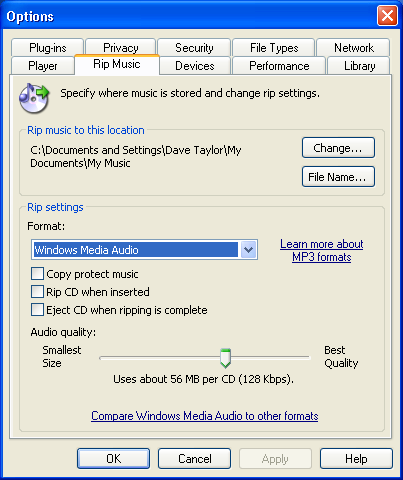 You can see where "Windows Media Audio" is highlighted as the default format in the middle of the window. Click that pop-up menu item and choose
MP3
instead, then I suggest you drag the slider along to have either the best quality or just one 'click' down from there. No-one likes crummy quality music files… 🙂
When you're done, click "OK" and click on the
Rip Music
link at the top of the main Media Player window again. This time it'll copy the audio CD, but create MP3 files, rather than WMA files. Nice!
Pop over to the folder — probably "My Music" in your "My Documents" folder — where the music is stored now, and you'll likely see both the old WMA files and the new MP3 files: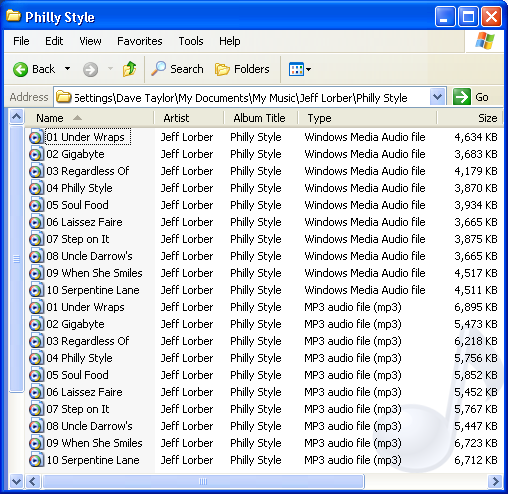 You can safely delete any Windows Media Audio files if you also have MP3 versions of the files, by the way.
Now, finally, you have the MP3 files that your MP3 player / iPod / Sony PSP likes. Copy these MP3 files onto your player and you'll have just gone bigtime geek, ripping a music CD and copying the songs onto your favorite gadget. Nicely done!
Not sure how to copy audio files onto your Sony PSP, by the way? Then please check out:
  •
Download music and photos to a Sony PSP
Hope this helps you with your music efforts!