I saw this strange double-arrow recycle icon on my Taskbar and it was Windows telling it I needed to restart to install an update. I hate updating my PC in the middle of the day, however, so is there a way to schedule it for 1am or 2am so it's all done by the time I wake up and am ready to use my Windows computer?
It took years, but Microsoft finally heard everyone's complaints about forced restarts due to system updates, security patches, etc. Millions of users interrupted mid-keystroke as the system informed them it was poised to restart – or just restarting, rather to their surprise. In Windows 11 you're more in control, being able to set no-restart blocks of time and even scheduling when you want a restart update to be applied.
The scheduler can be a bit of a puzzle to find and navigate correctly, however, so let's go through the steps. As it happens, I have a pending cumulative update on my Windows 11 PC, so the timing is good!
YOU HAVE A PENDING SYSTEM UPDATE
To start out, if you look at your Taskbar and see a blue shield with a tiny warning icon, that's Windows Defender saying it's time to run a scan for your protection. But what about the two curved arrows pointing to each other with the orange dot that's adjacent?

Turns out this is the "update pending" indicator, as quickly becomes obvious when you hover your cursor over it:

Notice that because I'm currently within the no-restart time period, it's not saying "click to restart" but "Select a time to restart". Perfect.
Click on the update pending shortcut icon.
SCHEDULING A WINDOWS UPDATE
You'll jump into Settings > Windows Update and it will show the current status: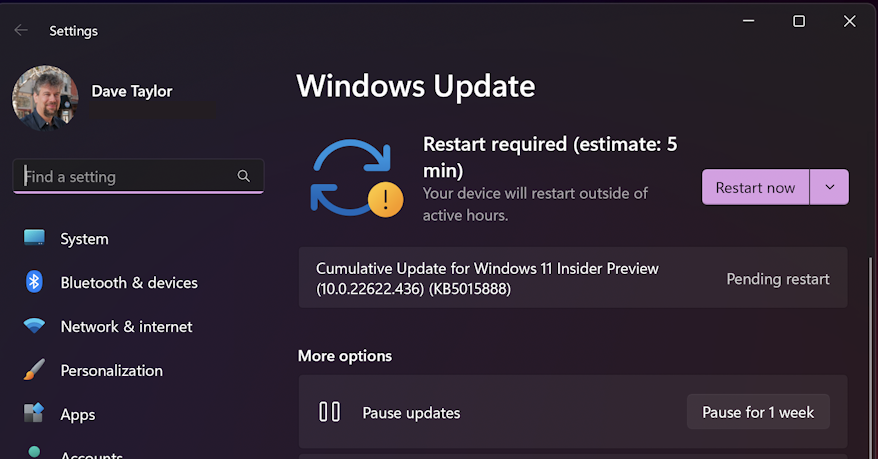 Notice that it says "Your device will restart outside of active hours". Don't have that set? You can scroll down and find "Advanced Options" and choose "Active Hours" from that window. Easy!
I can click "Restart now" on this window, but I really do want to schedule the update to happen tomorrow morning. That's done by clicking on the "v" area to the right of the "Restart now" button. It brings up a tiny menu:

Choose "Schedule restart" and a window pops up with the Windows scheduler: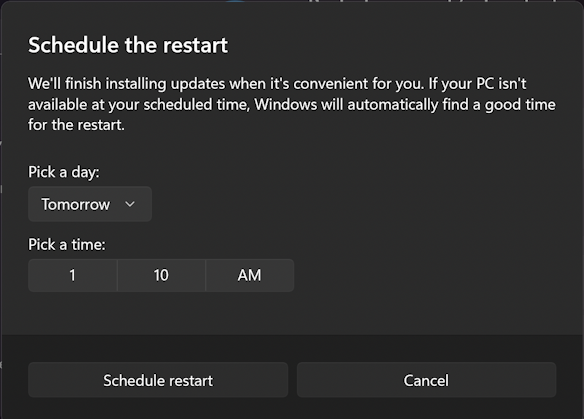 Easy enough. The default for me is 1:10am tomorrow. Perfect. You don't want to wait too long just in case it is a critical update, of course. Specify the day and time, then click "Schedule restart". Now the System Update will reflect the scheduled time: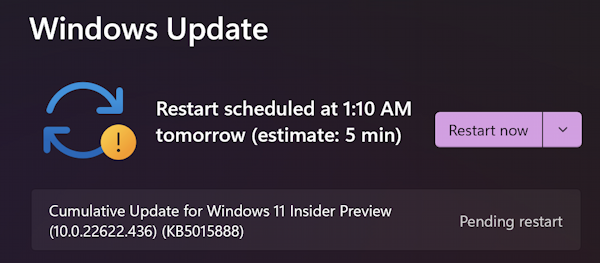 And that's it. Close the window and go back to work. Tomorrow morning, at 1:10am, while no one's in the office, this will show up on your computer: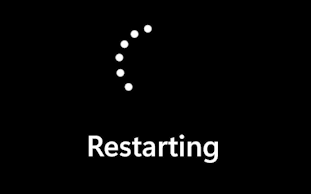 So much more pleasant than a forced restart, right?
Pro Tip: I've been writing about Windows since the beginning. While you're here, please check out my extensive Windows help area for hundreds of other useful tutorials and how-to articles. Thanks!