I don't know if this is a big deal or not, but when my Mom tried to pin my startup's home page onto Pinterest, she told me it complained that there were no "pinnable images" that it could use? So she didn't add a link to our site from Pinterest. Is this a big deal, and if it is, how do I fix it on our site?
Pinterest seems to have a mixed reputation in the market right now. In some categories, like women's fashion and travel, it's quite popular and there's a huge stream of photos being published on an hourly basis by millions of users. In other categories, however, it's completely the wrong audience. Have a great database optimization tool for MySQL? Pinterest is definitely not your target audience.
Then again, there's much data floating around that shows Pinterest can be a significant source of traffic for different types of content and without experimentation, it's a sure bet that you'll never know if it would have been really important to the widespread adoption of your startup's new product or service. And that's a problem from a company growth point of view!
If you haven't heard of it before, Pinterest is a shared photo and image "pin board" where each image posted goes onto a specific named board and can have an optional caption written by the "pinner". Other people can then "+1" it or leave their own comment. Now where have I seen that before? 🙂
From a marketing perspective, though, it's really not about whether you think that Pinterest is a good match or an interesting site, but whether your customers think so. I bumped into a splendid example from Comcast, a really big telecom provider. The company launched a new site — Internet Essentials — with a new domain, etc, but never bothered to see if Pinterest would see any images or not. Here's what happened when I used the Pinterest "pin it" shortcut while looking at the home page:

That's small. Let me zoom in so you can easily read the error window:
Well, that stinks! If you own the site, it's smart to consider some sort of redesign so that there's at least one attractive square graphic that's at least 200×200 (
according to KuaBay Media
) for people to pin if they'd like.
If you don't own the site, instead grab an image from the home page, as I've done here:
I used a screen capture tool, there are plenty of options on both Mac and PC systems.
Save that image to the desktop temporarily, then go to
Pinterest
and click on "Add" from the options on the top right:
That produces three options from which you need to choose:
Our choice is
Upload a Pin
, so click on it, then choose the file you've just created from the original graphic. Once it uploads, you'll be able to specify to which of your pinboads it should be attached, as well as a comment or caption to go with the image:
What's missing here is the ability to specify the URL that should be associated with the image. No worries, skip that for a moment and just create a witty, interesting caption and click "Pin It". The image is added and anyone who follows your pinboard can see it: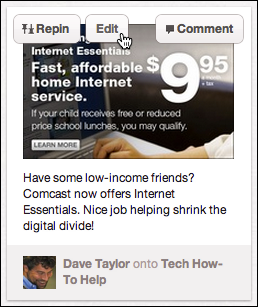 As shown above, you want to move the cursor over the pin, then click on "Edit" to be able to add a target URL:
There we go! Enter the URL starting with "http://" in the "Link" box, then click "Save Pin" again. Done, and it's clickable.
Now, wouldn't it be easier to add a few 200×200 images on the page to have it work for people instead of making them go through all this hassle?