Sometimes I download images from the Web and instead of being JPEG or PNG formats, I end up with something called WEBP on my Mac Desktop. Then when I double-click, it won't open, nor can I preview it in my Web browser. How do I fix this?
When the progressive network graphics format PNG was introduced, it caused a lot of angst in the online world. There's something about introducing a new graphics format that inevitably causes stress and difficulties. The same is true for Google's new WebP format, a graphics system that supports both lossless and lossy image compression. Google introduced it after acquiring its developer, video compression company On2 Technologies, back in 2010.
Then again, you probably don't much care about the history of WebP, so let's just look at how to tweak your Mac to fully support it so you can double click to open it and how you can easily convert it to a PNG or JPG image for easier interaction. Both rely on you downloading the terrific shareware application GraphicConverter. No worries, it'll work even if you don't opt to purchase a license, but, honestly, it's a wonderful program well worth the small license fee. In any case, grab a copy from the developer at lemkesoft.de
I grabbed a graphic of my own in WebP format for this demo. On my Mac desktop it looked like this:
As you state, double clicking on this webp format image produces no results. It launches the Preview app, but Preview can't (yet) open and understand webp format, so it does nothing. Not even an error message. Frustrating!
To fix it, Control-click directly on the image to pop up the context menu:
Once you've installed GraphicConverter, it'll automatically show up as one of the options under Open With. You can use Open With to open the image file once, but for a longer term fix for all webp images on your Mac, choose "Get Info" from the context menu instead.
You might need to click on the tiny grey triangle adjacent to "Open with" and you'll see what's shown above. Change this menu to be GraphicConverter instead, then click on "Change All…".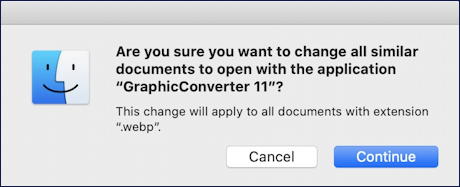 With that change (and a possible one time restart if the Finder doesn't apply the change to other webp files on your Mac) you can now finally just double-click on a WebP image and it opens right up!
Now you know what my mysterious WebP image is, right? Super funny audio book, great for Red Dwarf fans, but that's another story. More to the point here, choose File > Save As… and you can also easily convert and save the image in PNG or JPG format:
That's everything you might want to know so you can fix the WebP hassles on your Mac system!
Pro Tip: I've been writing about the Mac for a long time. Please check out my extensive Mac help area for lots more useful tutorials so you can get the most out of your "computer for the rest of us".