It's the most heralded tech product introduction so far this year, and I stayed up late to order one the moment it became available. As a result, I already have one on my wrist and am surprised how much I like it…
As a tech writer, I have access to a wide range of products for review and evaluation and in the last thirty days I've had a number of different wearable smart watches on my wrist. Most seem to be oriented around notification, telling you what happened on your paired smartphone, but without much ability to respond, react or initiate activities. In that realm are the Martian Watch and the surprisingly slick Microsoft Band. Then there are the more sophisticated devices that offer a tiny computer on your wrist, and the Samsung Gear S was a welcome guest on my wrist for a few days too.
Then the Apple Watch showed up.
I admit, I'm a fan and my default smartphone is an Apple iPhone 6, so when I learned that Apple was poised to launch a wearable, I was confident that they wouldn't be first to market (why not let competitors learn the hard lessons of the marketplace and listen to user feedback?) but would likely be the best in class. So on "pre-order day" I stayed up until 1am Colorado time and placed my order.
48 hours after deliveries started, I had one on my wrist. A few hours later I was at the Flatiron Crossing Mall Apple Store having what ended up being a one on one workshop on Apple Watch basics that was an hour very well spent. Turns out I was the very first person who went through the workshop at that particular store and even other employees were loitering near us to see what features we were trying out and exploring.
The thing that's important is that the Apple Watch really is a completely different type of more personal device with a very different user experience and interaction requirement. In general you don't do much on the little screen (I have the 42mm unit so the screen's slightly bigger than the other option) but instead use the Crown on the top right edge to scroll, move around, select, etc. That's been probably the hardest thing I've had to relearn since I want to touch the screen all the time and that's not the most efficient way to do things in most cases.
Let me talk through some photos…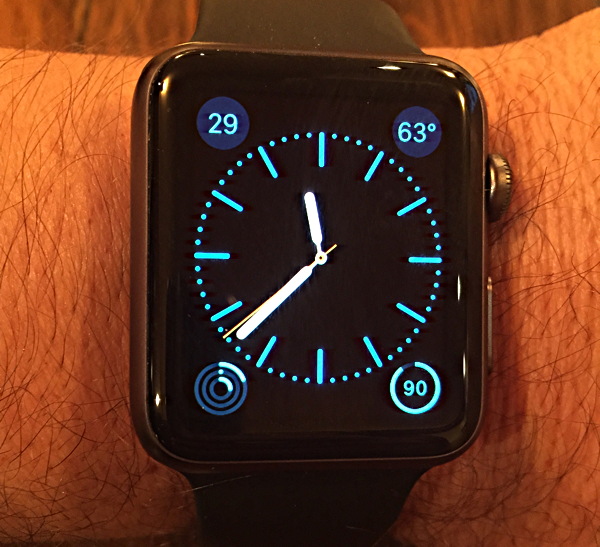 Here's my customized watch face. Clockwise (see what I did there?) from the top right, it's customized to show the current temperature, the battery status (90%), a mini view of my activity monitor, and the day of the month. To the right of the unit you can see the edge of the crown — it looks like a wheel — and below it the one physical button on the unit.
The watch is orientation sensitive, so if I shift my hand so that the face isn't towards me, it instantly blanks out. By default the screen is off, but when you tilt it towards yourself it comes on so fast that it's really not a big deal after a few minutes of use.
From this point you have a variety of actions you can take to interact with the Apple Watch. One easy one: just say "Hey Siri" and it'll pop into listening mode, from which you can say things like "call home" or "text larry running late" or "what's the temperature in paris?" or "play breakfast in america" or even "start timer". In fact, the voice system is the fastest way to get around the watch interface.
You can push on the crown and it'll take you directly to the apps view, a weird sort of "bugs under a microscope" view that's slightly jarring at first: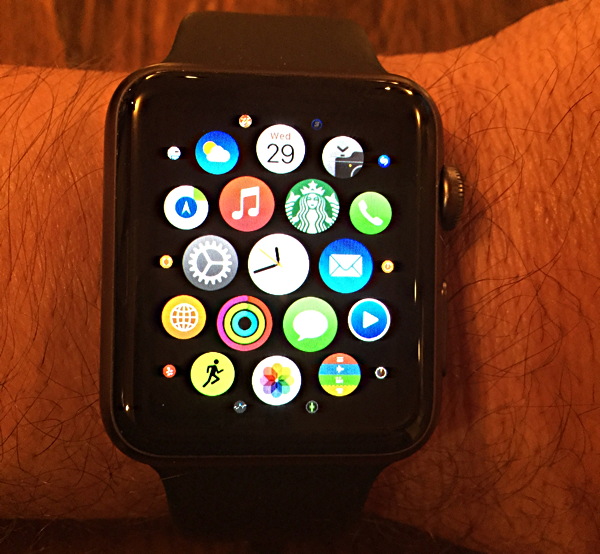 Here you swipe around with your finger to find the app you want, then you can tap on it to launch it, or if it's in the middle (as the clock face is, above) you can zoom into it by spinning or pushing in the crown. This means that you can easily toggle between app view and clock face view by pushing the crown too.
Instead, you can push on the lower button, which is a shortcut to the friends view, a circular interface that lets you spin the crown to pick out the friend you want, then tap on the screen to select them and choose to call, text or, if they also have an Apple Watch, share heartbeats or doodles with them.
Swipe down from the top and you're looking at any notifications that might have shown up from your iPhone and interaction. Emails, text messages, notifications from programs, Facebook likes, it's the breadcrumb trail of your digital life and it's only a single additional tap to reply or otherwise interact with a notification message. Push hard on the screen when viewing your notifications and you can clear 'em all too, a helpful feature.
In fact that's another aspect of the Apple Watch (I keep wanting to say "iWatch"!) user experience that takes a bit of getting used to: a gentle touch or tap is a different gesture than a hard push on the screen. Most apps seem to ignore the hard push, but sometimes surprising and useful hidden features pop up, like the notification clearing or, in the case of the music app, the ability to change sources or push audio to AirPlay.
Speaking of which, the music player is easy to work with too: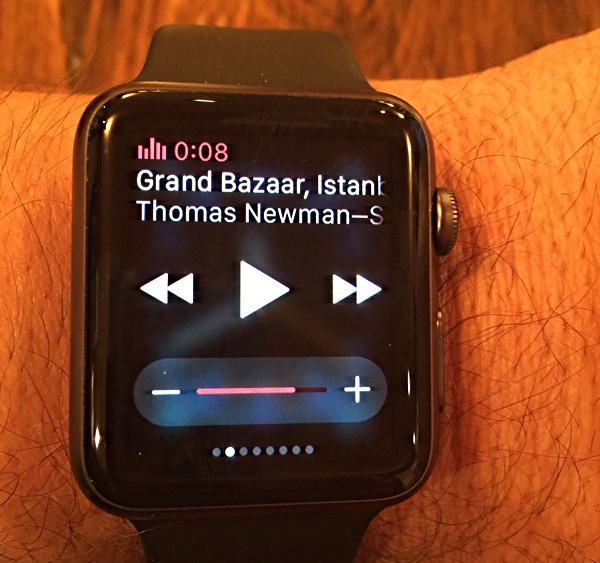 You can see I'm listening to the Skyfall soundtrack but here's what's cool: It's actually playing on the iPhone, so the watch has become a remote control for the phone. Sounds peculiar, but remember the phone can be hooked up to a bluetooth speaker, stereo system or even connected to bluetooth headphones, all controlled via the Apple Watch. In practice, this is a terrific feature, especially if you like puttering through your collection to find that "just so" song.
The Apple Watch also has the ability to store its own music — mine reports that it has 6.2GB of storage capacity — if you want to use it to power your bluetooth earbuds while on your next run — but so far I've found that having it control my iPhone 6 works just fine for my usage cases.
The music controller is one of a number of what Apple calls "Glances", and they are some of the most useful elements of the device. One I like is weather: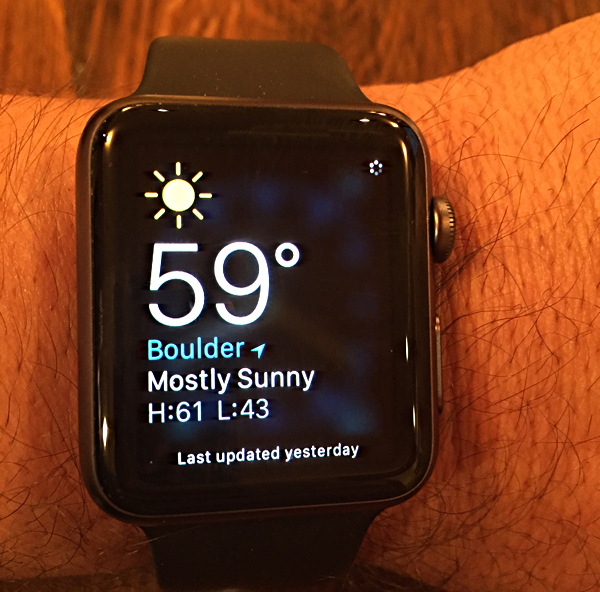 Why is it saying "last updated yesterday"? I dunno. But it's the current temperature and forecast, as I verified a few minutes later when I rechecked the forecast. It is still a 1.0 release, after all.
The activity monitor has gotten some visibility in the media too and it's interesting. It analyzes three aspects of your motion on a daily basis: movement, exercise and standing:
As you can see, at this point in the morning I haven't done much physical activity yet. That's okay, the afternoon offers a different picture once I've been to the gym (and used the Workout watch app to track it).
It's worth noting that the Apple Watch isn't going to offer anywhere near as much functionality without an Apple iPhone tethered to it: the two really work closely together and the Watch is the first Apple device I've owned that doesn't even show up on the desktop or in iTunes if plugged into a Mac system. I expect that'll change in the next few months, but for now, it's weirdly invisible.
Which leads to the next big question: battery life. It's hard to gauge this because I have long since been of the ABC philosophy of gadget ownership: always be charging. I can say that in six hours of use, including a workout at the gym, my battery went from 100% to 69%, suggesting that it's not a 24-hour capable battery. But from previous devices I've already learned to have a spare charging cable in the car and an emergency one in my computer bag. Would I like it to have a longer battery life? You bet. And I suspect that people will figure out how to squeeze bigger capacities (the current Watch battery is 209mAh) into the same form factor, but that's a definite liability for this particular device at this point in its evolution.
Update: I ran the watch for 12 hours starting at a full charge, including demos to a variety of people and 45min at the gym. At the end of that 12 hour period there was 36% battery, so 15-16 hours seems a reasonable expectation, and since when you're asleep it should use very little battery, perhaps 24 hours after all.
The trade-off, of course, is that it's remarkably useful as a wearable device, in a way that no previous devices have offered, and with over 3200 apps already available for the Apple Watch, it's clear that there's a lot of innovation yet to come. It's not perfect, but I'm really surprised how much I like it already, how easily I grokked all the interface controls, and how useful it's proving in a variety of situations. And it's fun. That's another important aspect of gadgets: are they a pleasure to use?
So far, so good. Well done, Apple. Well done.
Disclaimer: I bought my Apple Watch. And the extra charging cable. And Applecare. I'm a fan, this is not a sponsored post or anything. Just FYI.