Dave: I can't get my V3c voice memo tool to work. I upgraded from a Motorola V710 which had an easy two-step process for recording and listening to voice memos. The V3c allows me to record (over multiple steps), but then I can't find where/how to listen to my memos! I know this is a 'low on the radar' issue, but any insight would be appreciated.
This is surprisingly tricky on the Verizon version of the phone, at least, and I surmise that it's a function of the Verizon operating system replacing the Motorola OS for this particular phone, but since I don't have an original RAZR V3c, I could well be wrong.
Anyway, I luckily had my studio gear all set up so I actually experimented with taking screenshots of the RAZR V3c and they came out really well. It'll make it a lot easier to explain how to work with voice memos!
First off, to record a voice memo, open up your RAZR and push – and hold in – the "Mototalk" button on the right edge by the display. It's just adjacent to where it says "Contacts" on the lower corner of the screen. After a second or two you'll see:

Click on "OK", talk for as long as you want (or as long as the phone can store it) then click on the center round button again "now it'll be "END". You can save it or erase it, as you'll see on the screen.
Assuming you liked your voice memo and saved it, you're then instantly dropped onto the main screen, without a clue about how to actually listen to the memo later!
To get to your saved voice memos – or even set one as your ringtone! – you need to click on the button again to get to the main menu:
Now click twice on the left arrow and you'll move into the "Get It Now" area of the phone:
Here you want to choose "Get Tunes and Tones", believe it or not. Your voice memo is neatly tucked into the rest of the audio files on the phone: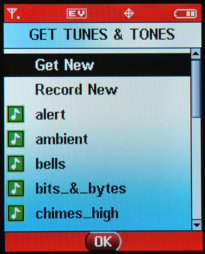 Now, scroll to the very bottom (or use a shortcut: scroll UP one and you'll wrap around) and you'll see the new memo: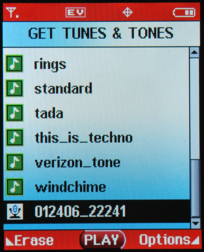 Finally, that's how you listen to your voice memo on your phone. Simple, intuitive? Definitely not. But that's how it's done.
The filename isn't as random as it seems, by the way. It's
012406_22241
. Unwrap that as month day year _ hour minute counter. So it was recorded at 22:24 on 01/24/2006 and it's the first I recorded at that exact time. Neat, eh?
While we're here, if you want to set this (or any other audio file you might get onto your telephone by uploading from your computer or downloading from Vcast or any other source) as your ringtone, click on "Options" and you'll see: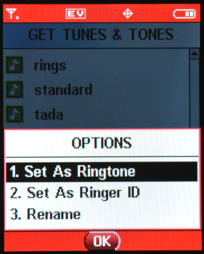 That's how it's done, and yes, that's also 90% of what you need to know so you can set your own free ringtones from whatever source you'd like!
Hope this is helpful.