I don't get it, I'm running Microsoft Edge on my Windows PC and it seems to be stuck in dark mode. I have my PC set to "light mode" but even on restart, Edge won't change. Help!
I recently had to find the same solution that you're asking about, so your timing is great! Turns out that they are two different types of dark mode in Microsoft Edge. Confusing, but there are some subtle indicators which one is affecting your Edge user interface. The biggest change with dark mode is that when you do a search, the search results are all white text against a dark background. This looks great in the middle of the night, but not so great when it's the middle of the day and you'd prefer a white background and black text.
Turns out that the fix involves going into the experimental flags and settings area and disabling a specific setting within Microsoft Edge. I believe that you must've had to set it in the first place for that to become an issue, but either way it turns out that it's not a difficult fix once you know where to look for the solution. Let's start at the beginning…
MICROSOFT EDGE STUCK IN DARK MODE: SETTINGS
You don't have to go very far to find out if this is affecting your own copy of Microsoft Edge. Just open a new tab and look at the background color of the search box that you see in response. If your settings have tabs open as blank pages you can just go to Bing.com and look at the background color of that search box instead! Here's what I see when I have it set for Edge "dark mode" without the experimental flag involved:

Notice the background color of the search box is a dark gray. If it were black – as I'll show in a moment – then it's that experimental flag at work. But gray's easy. This is the regular dark mode setting in Edge.
To disable it, click on the "•••" on the top right, then choose "Settings" and in the subsequent page, "Appearance":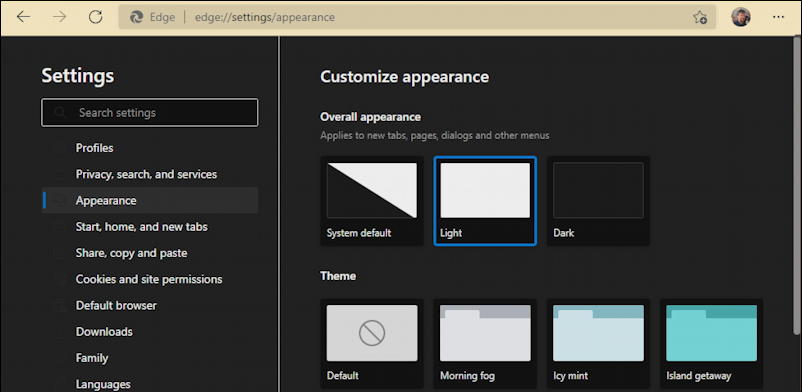 You can see that "Overall appearance" is the name of the game here. If you had a gray background, switching to "Light" will make that a white background and fix up your search results pages concomitantly too.
But what if you have that black background on the search box instead?
MICROSOFT EDGE STUCK IN DARK MODE: EXPERIMENTAL FLAGS
I didn't have the gray background. Too easy to fix, right? 🙂 Instead, mine looked like this:

Compare it to the earlier image and you can see the background color is definitely and visibly darker. In this configuration the Settings > Appearance changes are ignored, which can be quite baffling!
To fix this, go to the URL edge://flags and look for "Force Dark Mode for Web Contents":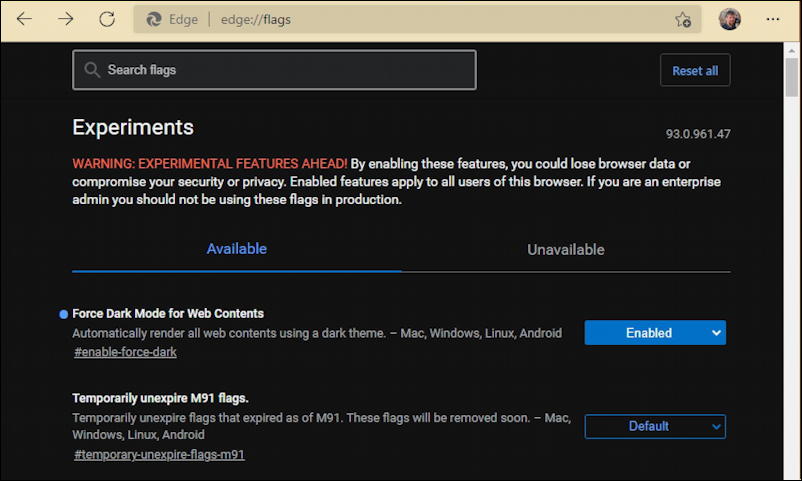 Notice that the bright blue "Enabled" tells me that, well, it's enabled.
That's the problem!
To fix it, click on "Enabled" and a menu of rather puzzling options appears (if you're not a developer):
Choose "Disabled", then at the very bottom of the screen this suddenly (and subtly) pops up:

You know what to do. Click on the blue "Restart" and after just a few moments you'll be back with the white search box background and "light mode" in Edge:
Huzzah! Problem fixed.
Pro Tip: I've been writing about Windows for many years and have an extensive Windows 10 help area. Please check it out to find lots of additional tutorials and guides while you're here. Thanks!