If you hop from PC to PC, do you really trust that they don't have spyware, malware or viruses installed, hiding in the operating system? What if you could carry a cheap little keychain pendant that not only offered you storage, but also included effective, easy-to-use anti-virus and anti-spyware applications with which you can quickly scan that suspicious PC and make sure it really is safe for you to use? These devices are just coming out and I had a chance to put one through its paces…
There's definitely a complete glut of USB drives in the marketplace, so much so that they now seem to be included in cereal boxes and given away as cheap media for corporate messages. I know that if it's less than a gigabyte in size, I generally don't even give it a second glance.
But when Paretologic sent me a Memorex 512MB USB thumb drive (uh, they call it a "mini travel drive") and started to tell me about the value of the U3 application suite for Windows, I thought I'd give it a try, and y'know what? It's a cheap junky little USB drive, but the software is pretty cool and it even found some spyware on my computer that Norton and Spysweeper hadn't identified.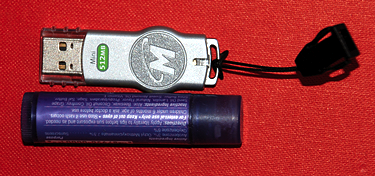 Thumb drive next to a container of lip balm. It's pretty darn small.
It is, however, ironic that the product appears to be discontinued:
Memorex Travel Drive on Amazon.com
. Looks like you can pick up one for about $20, however, which is cheaper than buying a protection suite standalone, so it's really not a bad deal.
Since there's really not much to show with a 512mb external drive, I thought it would be interesting to step you through how the antivirus and spyware software works in the U3 suite instead. First off, once you have the drive plugged in, you'll find that it self-installs a driver which gives you convenient access to the entire software suite: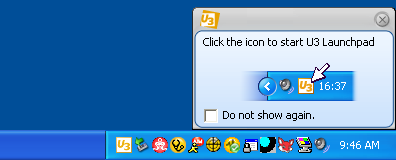 Launch the
U3 Suite
and you'll be able to see your options:
Personally, I don't really care about Migo and Thunderbird, so my first step was to try out the U3 anti-virus software, which, it turns out, is just a version of McAfee's industry-leading application. Start it up and the first step is to get the updates that include the latest virus definitions: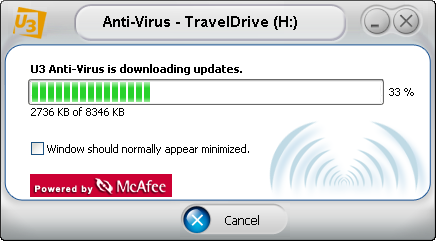 Next step is to set up your scanning preferences: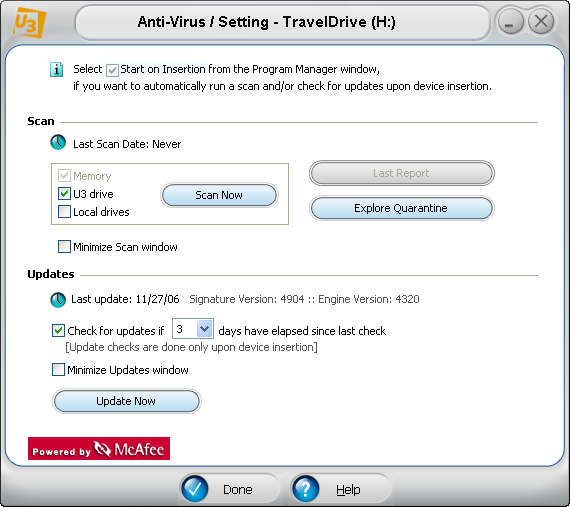 Next you'll see the system preparing for a scan: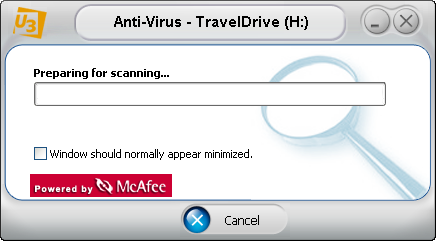 and…finally… scanning: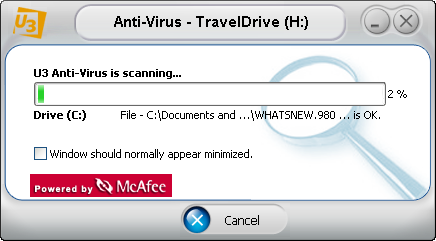 Nothing to write home about, but an efficient, reasonably fast full anti-virus scan. Since I do run various other apps, it didn't find anything, but it's better safe than sorry, right?
The last step was to run XOFTspy's anti-spyware application. Again, launch it and you'll get to watch the latest spyware definitions download from the server:
Once that's done, I run a scan and much to my surprise, it found lots of problems! You can see a few here in the registry: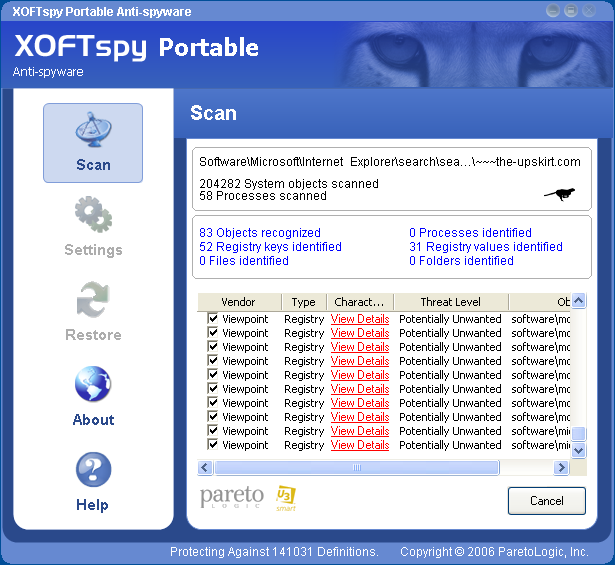 In the end, I have to say that for $20 this is a heck of a deal and if you are considering a thumb drive or generally interested in USB mini-drive technologies, getting one that includes the U3 application suite is a smart move. After all, ya just never know about the safety of the PC you're plugging your little device into, and it's far too easy to pick up and carry an infection or spyware application.