As a professional photographer in the field every week, I'm curious about how the new Apple iPad works as a photo import and management tool. Can I pull photos directly off the SDcard, and if so, how do they show up on the device itself? It'd be great to preview them with clients, that's for sure.
When I give demonstrations of my own Apple iPad, I have to admit that it's the photo browser that I typically find impresses them the most, and I've gradually put more and more photos on the iPad as I've seen this happen. When the sdcard camera adapter device showed up from the back while I was at an Apple Store talking with one of the employees, well, I couldn't resist buying one to see what it could do…
As you might have learned, the Camera Connection Kit is actually two gizmos, one that lets you plug USB devices into an iPad, and the other of which is an SDcard reader, small and simple. You plug it in, slip an SDCard into the slot, and, well, that's what you're curious about, right? 🙂
So here's what happened when I plugged an SD Card into the Camera Connection Kit gizmo hooked up to my iPad…
The Photo app is automatically launched and you see a new tab along the top, "Camera". Then there are tons of outlined photo thumbnails:



Give it a minute or two and you'll see all the photos previewed on the iPad and displayed neatly, as you'd expect:


At this point you can click on "Import All" and have all the photos sucked onto the iPad, or you can skim through the pics and import a subset of them by tapping on the best of them, then tapping on "Import" on the top right:


Turns out when you go to import your selected subset of photos, you get options:


Since I did pick a subset, I tap on "Import Selected" and the photos are imported from the SDcard onto the iPad, one by one. As it proceeds, photos that have been imported are shown with a green check mark (to differentiate from the earlier checkmark icon) and the photo being read has a spinning graphic:



When the import process is complete…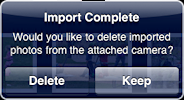 I'm paranoid, I never delete photos from the memory card until I've also got a copy on my main computer, but since it's easy to grab the pics off the iPad next time you've plugged it into your system (use Image Capture if it doesn't automatically launch a photo management app like Aperture), I'm sure it's safe to tap "Delete" here too.
Finally, once they're all imported, note that there are two new albums on the iPad: "Last Import" and "All Imported":



All in all, a simple, effective and pleasant experience and the photos look gorgeous on the iPad once they're brought in, a nice boon and a definite tactic for impressing your clients on site.