I've been experimenting with different photo management applications on my new iMac system and am impressed with Aperture. Except for one little glitch: sometimes when I plug in my camera it automatically shows up in Apple's Aperture, and other times it doesn't. When it isn't showing up, how can I find my DSLR digital camera in Aperture?
Aperture used to be quite different from Apple's iPhoto application but in the last year or so many of the popular features of iPhoto have moved into Aperture, including publishing albums to Flickr, Facebook and MobileMe, face recognition and geolocation of photos on a map of the world. All very fun stuff, and it definitely makes Aperture a good step up from iPhoto if, like me, you have a zillion photos on your computer.
But I've seen what you're talking about too, when I hook up my camera (or even my iPhone 3GS) and nothing happens in Aperture and I am left sitting, trying to figure out what to do.
Fortunately, I figured it out. 🙂
Here are the steps you need. To get to the starting point, I'm assuming that you have Aperture running and have a digital camera or DSLR or cellphone hooked up.

This is probably what you see in the top left corner in Aperture when you aren't seeing your camera show up. What you need to do is click on the "Import" arrow…
Ahh, there's that pesky digital camera (well, in this case, my iPhone)!
Once you choose the device, give it a minute or two and Aperture will show you thumbnails for each and every photo it finds: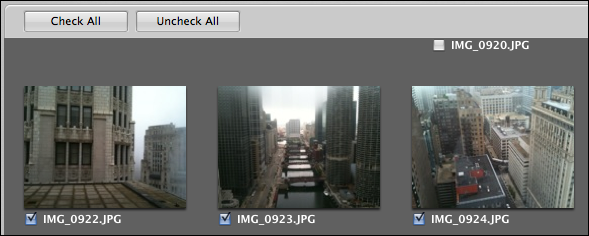 I generally click on "Uncheck All" then manually select the photos that I want to import. Yes, this can be rather tedious in some cases.
Now look on the top right to see the default import settings: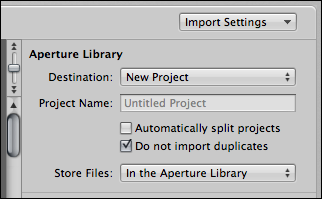 The key thing here to help keep your photos organized is to enter a project name. If it's part of an existing project — that is, that you are adding new pics to a project — select a different destination project here.
Ready? Look down in the bottom right corner:
One extra bonus tip: you might want to check your import preferences in Aperture too:
That should make your relationship with Aperture a happier one!