I follow a lot of travelers on Pinterest and love all the travel photos they post and share. Problem is, few people identify where photos were taken which makes it really hard for me to add them to my bucket list! Is there a way to identify where a particular photograph was taken?
Identify a photo by analyzing it and comparing it to the zillions of other photos on the Internet? That sounds like a job for Google Image Search and indeed, that's just one of the many capabilities this amazing and under-appreciated search tool offers! And you're right to single out Pinterest in this context too because it's so darn easy to share (okay, to "repin") images that it's inevitable that the information associated with the photo falls away and it ends up with a caption like "beach" or "wish I was there" or similar. Not too useful.
There are a couple of ways you can work with Google Image Search: The most common is to type in a few words and see what results it offers. In fact, type in some cliches and marvel at all the weird images that match. That's something I do all the time, actually, constantly reaffirming that the Internet is a wild and wonderful place. But you can not only upload an image and say "find images like this one" (try it with someone's profile photo some time) but you can also cut and paste the URL of an image on another Web site and see where it came from. And that's what we're going to do!
To start, here's a gorgeous room deep in the jungle. Somewhere. As posted on Pinterest: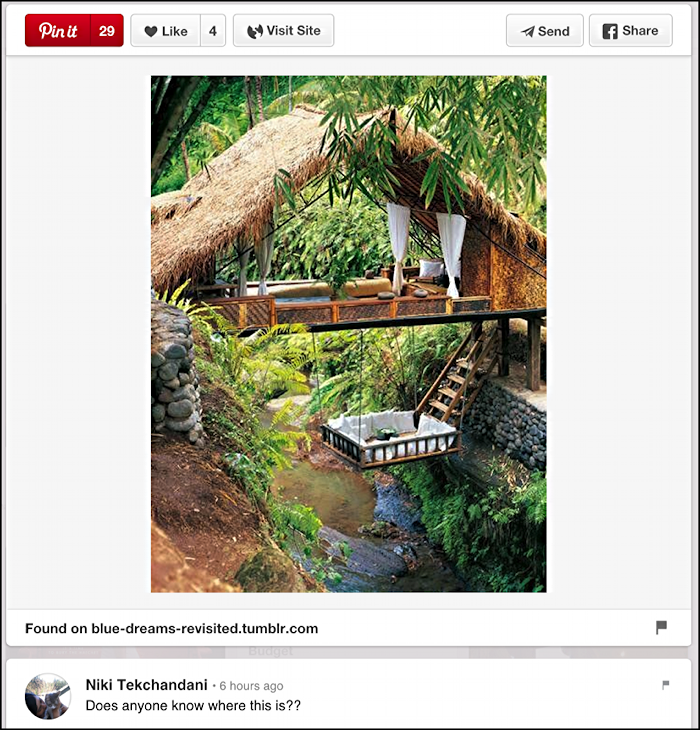 I'd say that's very bucket-list-worthy, wouldn't you?
But even here on Pinterest, notice the comment from Niki: "Does anyone know where this is??"
So here's the quick and easy solution: right-click (or, if you're on a Mac, Control-click) on the image itself, to bring up the context menu from your browser: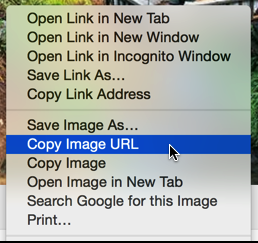 As you can see in my highlight, you want to choose "Copy Image URL".
Now switch to Google Image Search:

See those two icons on the right of the input box? The camera icon lets you upload a picture or paste a URL, while the right icon lets you talk to your computer and tell it what you seek. Handy, that latter tool. But click on the camera icon…
At this point, simply use Cmd-V to paste the Pinterest image URL into the search box then click on "Search by Image".
The results, in a fraction of a second:
Well there ya go!
This photo is from the Panchoran Retreat in Ubad, Bali. Highly rated on Trip Advisor, and you can even see similar images that are indeed of the very same location. Quite impressive!
Now, to fill out the rest of the spots on your bucket list…
Oh, and I post these sort of images on Pinterest too, so feel free to follow me on Pinterest too. 🙂