Rock Band quickly became a hit game among recreational and hardcore gamers alike. Rock Band 2 has already been released so if you've been dazzled by the quick fret play of expert mode and yearn to be able to shred up a Rock Band guitar then you are in luck!
A lot of players are intimidated by the sheer amount of notes found in most Expert songs. Well fear not! Expert mode is essentially the easiest mode of the game, because unlike the easy difficulties Expert mode charts your favorite rock songs note for note. Especially on songs you are familiar with, you may find that the easier modes are more difficult as one button can cue an entire section of the guitar and really throw off your timing. Expert modes in Rock Band can actually help you learn to play bass and the guitar.
If you have never played before, start off on the Medium/Hard difficulty and avoid the easy difficulty altogether. Eventually you will memorize any unfamiliar songs and that key to your timing when you step up to Expert; also, your fingers will get used to playing all of the buttons and you will become quicker at processing the notes. You will unlock songs as you progress and this is key because you will want all songs available in practice mode when you first attempt them on Expert so you can play through regardless of the outcome.
Most songs employ a pattern of notes to make a specific sound (usually you will find this in solos). Try to recognize and learn these patterns because just like different guitar players use similar riffs different songs have similar patterns. Use practice mode to figure out the finger motions to nail these patterns… from there you just have to change your tempo to match whatever song employs the pattern.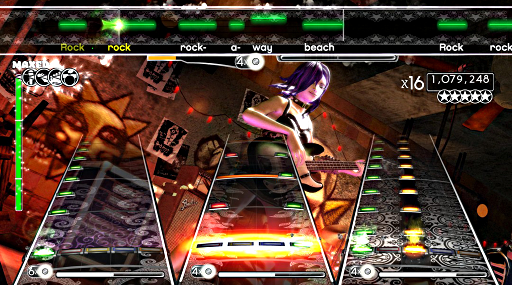 Use the controller design to your advantage. Rock Band guitars put a little notch in the center button as a reference point for where your fingers are. Using this notch eliminates the need to take your eyes off of the screen, you will always know what finger is on which button and that leaves you at a huge advantage. There is also an extra set of buttons located higher on the neck. Switching between the two sets can be tricky, but the extra set of buttons is much closer together and can prove vital for dancing your fingers through intense solos.
Learning to play the guitar on expert mode will prove challenging, but keeping these tips in mind will see you through the frustrating times. Happy practicing.