I just got an Apple iPod Touch, which is super cool, but I have no idea how to get it to work with my Dell PC. I'm running Windows Vista and use Windows Media Player 10 (WMP10) for the music on my computer, but WMP doesn't seem to see my iPod. How do I proceed and get it to work??
There's good news and bad news. What do you want to hear first?
Bad news? Really? Okay….
The bad news is that you can't use Microsoft Windows Media Player — any version of it — with your Apple iPod. Instead, you need to use Apple's own iTunes application, which is basically a replacement for WMP with much of the same functionality, and more.
The good news? You can download iTunes for free from Apple's site. Let me show you how to go through the different steps necessary…
You'll need to start by downloading the app from http://www.apple.com/itunes/download/. You'll see something like this:


What's frustrating is that it's not so easy to figure out if you're running a 32 bit or 64 bit version of Windows. Rather than get sidetracked, let's take the default of the 32-bit version and proceed by clicking on "Download Now".
(The next few images might be a bit different to what you're used to seeing in your Web browser: they're from Google's cool
Chrome
browser)
The browser will ask if you really want to proceed:



We do, so click on "Save", and you'll see a progress indicator as the data flows down the pipeline:



When it'd done downloading, launch the setup program and you'll be asked if you're really sure you want to do this:


We do, right? Good, so click on "Run" and the first thing you'll see? Hopefully not this:


If you do see that warning, make your life easier by choosing "No", then backing up and downloading the 64-bit version! Choose "iTunes for Windows 64-bit" on that first download page.
Assuming you have the right version of iTunes, the iTunes installer will start up, with a cheery welcome message: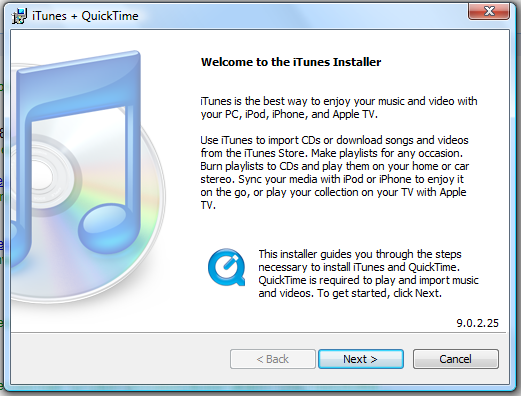 Ready to go? Great. Click on "Next >" and it'll start chugging along: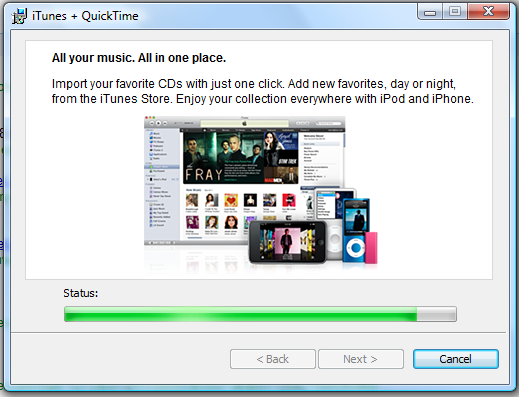 It takes a while, but eventually you'll get here: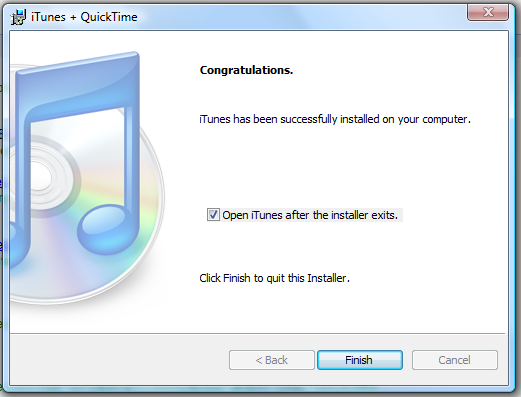 The installer itself is done so you can switch to iTunes itself for the next step. Click on "Finish" and the next thing you'll see is the welcome screen from within iTunes itself: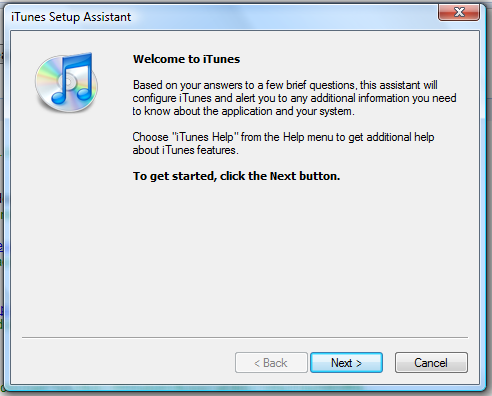 Once you're ready to proceed, click on "Next >", as you did earlier, and the first thing you'll face is a question about your desired default settings for the app: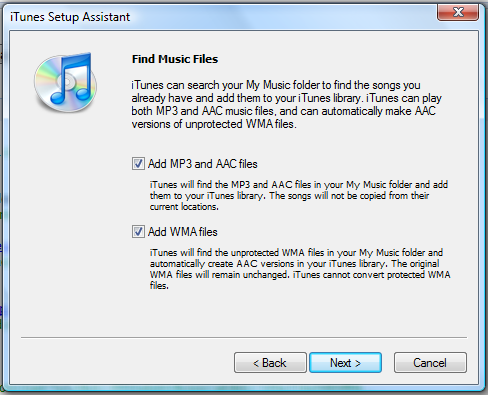 This first setting is related to whether you want to have iTunes be aware of the other music you already have on your computer. If you do, you can then decide whether you want it to just track AAC and MP3 audio files, or also keep track of WMA audio files (more typically created by Windows Media Player). I suggest letting it see everything so you can have the maximum number of options when you start copying music onto your iPod Touch.
Go to the next step once you've decided how to proceed by clicking "Next >"…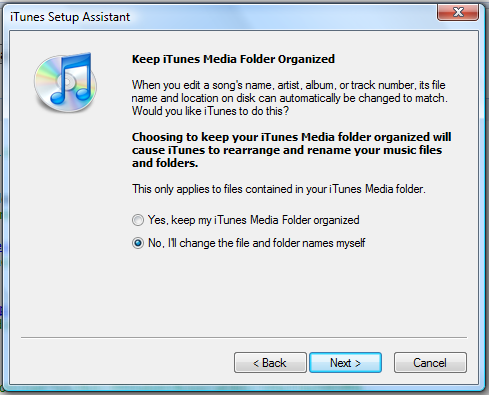 This next choice is more about whether you want to just stop using Windows Media Player or not, though that's not how it's described. Basically, if you let iTunes reorganize your music files, it'll be optimized
for iTunes
, which will mean that Windows Media Player won't be able to find your music afterwards. Not so good if you have lots of stuff, but if you're happy switching from WMP to iTunes as your music management app, no worries, let it reorganize your music files.
Click "Next >".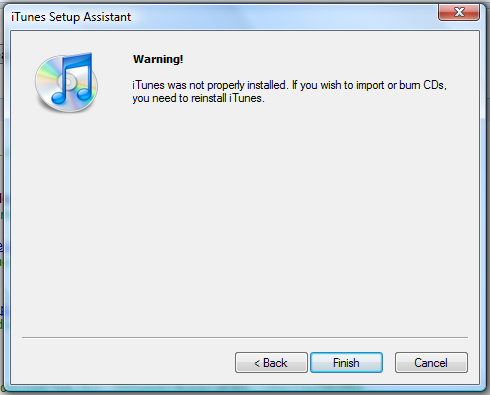 Ah, ya see, I thought I could trick Windows Vista and install the 32-bit version on my 64-bit Windows Vista operating system anyway, and as you can see, iTunes is still warning us that it's a mistake!
I'll now back up and do what I've suggest you already have done: back up and install the 64-bit version, the right one for your particular hardware.

Finally, plug in that iPod Touch!

Yes, it's taken this long — but you'll only have to do it once — for you to get to the point where you can plug your iPod into your computer. Sheesh.
Do so, though, and hopefully you won't see this:



The error message is "This iPod cannot be used because the required software is not installed." To fix it, back up to the beginning of this article and choose the
64-bit version
. No, really, really do it this time! 🙂
Since your iPod is brand new, you get the initial device configuration screen: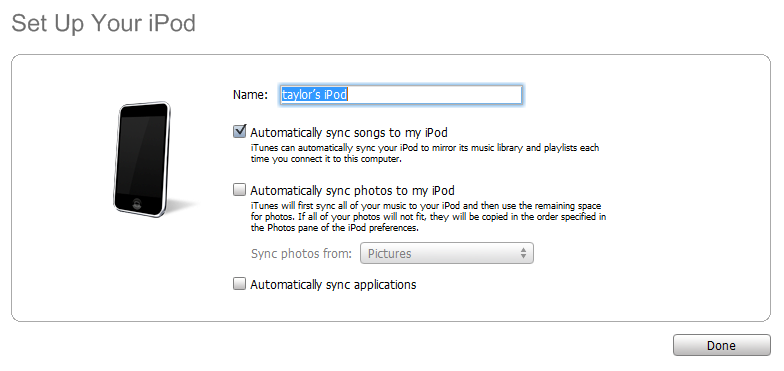 To set up your iPod, you'll want to set its name and decide what, if anything, you want to sync against when you plug in your iPod Touch and synchronize (e.g. copy) data onto the device. I changed my name and tweaked things just a bit:


Finally, it's done! I click on "Done" and it automatically syncs the data in iTunes on the PC with the data on the iPod (or iPhone, as the case may be). When the sync is done, you'll see a standard iTunes status window: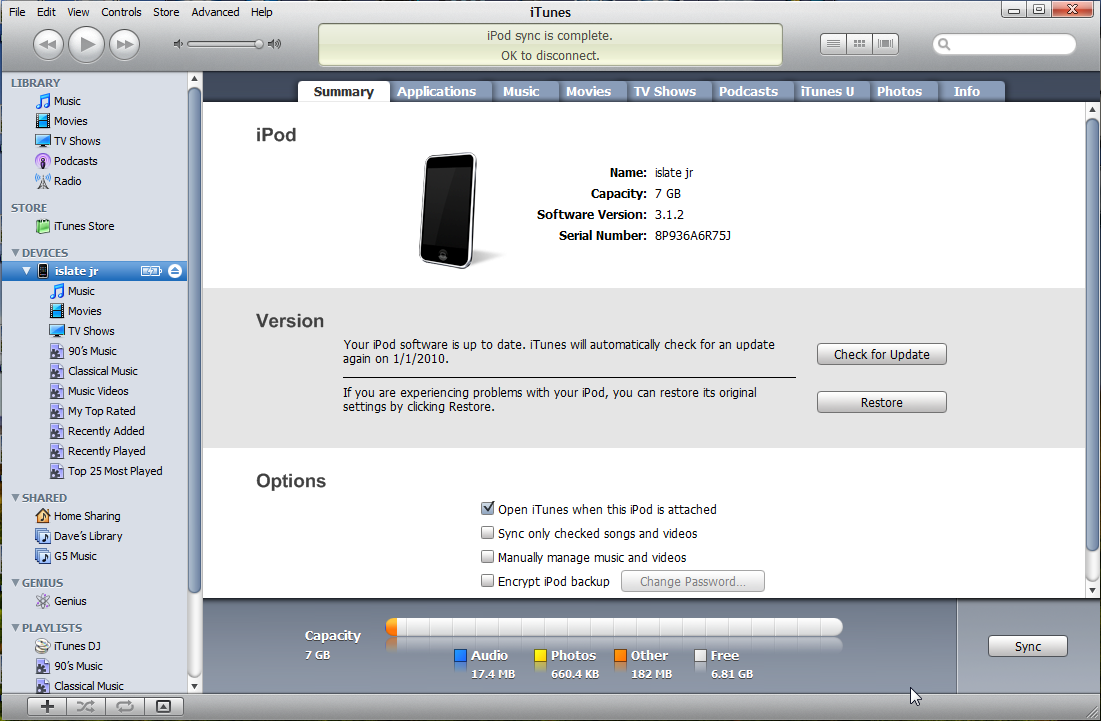 That's all there is to it. Now it's time to get some content, whether it's music from the iTunes Store or your favorite CD, or whether it's some photos of your dog that you want to show off next time you're with your pals!
By the way, I have lots and lots of
iTunes help
and
iPod help
here on the site!