I have a ton of mp3 format audio files on my Mac OS X system and want to chop a short segment out of it to use as a custom ringtone for my Apple iPhone. What's the solution?
An mp3 audio file as a custom ringtone on your iPhone, eh? Sounds like a great topic for a tutorial and it's one I've tackled in another article (see Add a custom ringtone to your Apple iPhone), as part of my extensive iPhone help series. But for today, let's focus on the audio file itself.
What I've done is grabbed an audio file to play with, the terrific theme from the Harry Potter movie series, which I found on an Alan Rickman fan site (Alan plays Severous Snape in the movies). Here's a link so you can grab it yourself if you'd like: the audio file is called "Harry Potter Theme" and it's found on this page.
Yes, it's likely that they're violating copyright by having the file available on this fan site, but that's why I'm linking to their site not offering up this audio myself. Download the file at your own risk, however.
Once you have this — or any other audio file — you want to edit, it's time to get the terrific cross-platform program Audacity.
Now open up the music file in Audacity and you'll see something very like this: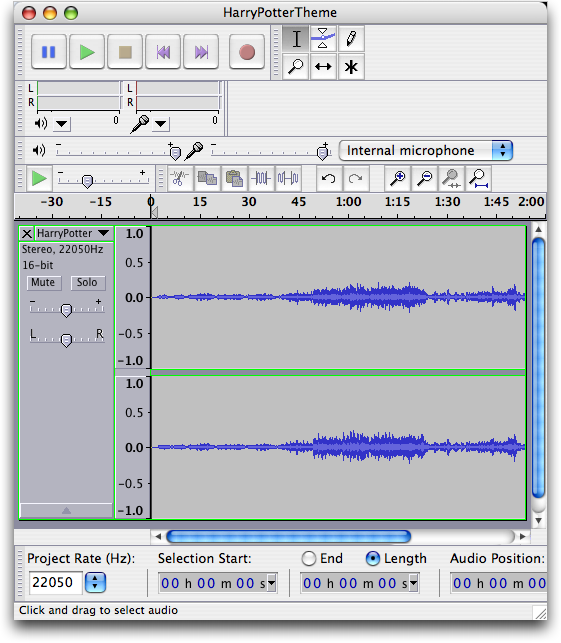 A complex and sophisticated audio editing program, but fortunately all we need to do is use the play and stop buttons to identify the exact range of the segment we desire. Listening carefully, and zooming in (with the magnifying glass tool) lets you figure out exactly what each "bump" in the waveform represents in the music. Pick out the beginning and end you want, then click and drag to select just that segment of the audio file. It'll look like this: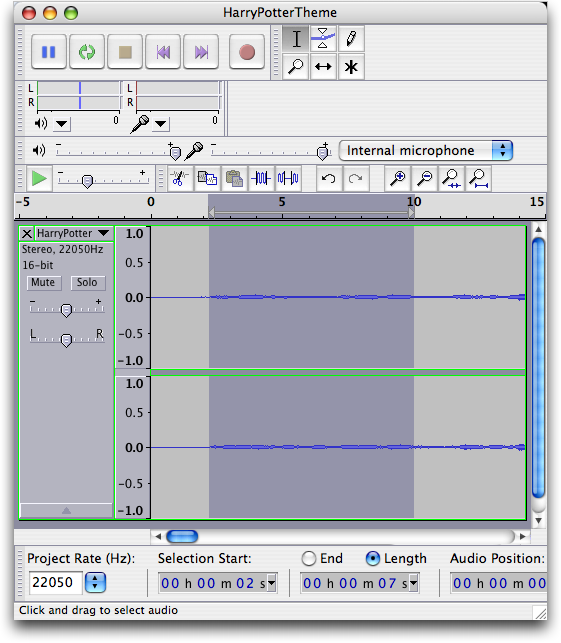 To test it, I simply click on the play button and Audacity plays that short segment and nothing else. Pegged it? Let's keep going. (if not, then keep fiddling until you get the segment you desire highlighted. It can take a few attempts, in my experience).
With this particular audio clip, it's kinda soft, so a smart way to make it louder is to turn up the gain. Lacking a physical amplifier, we can emulate the same behavior by dragging the "gain" slider to +9db or even higher. Here I am increasing it to +12db:


Just about done, believe it or not. Now just select
File
–>
Export Selection As…
and choose "mp3":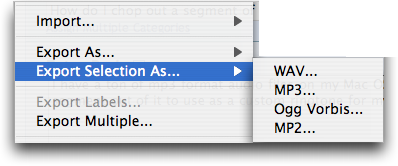 Give it a good descriptive name and you should be able to drag it into iTunes or your favorite Web browser and listen to just your little snippet of the larger audio file. Here's how iTunes shows it when I check out the 8-second ringtone I extracted from the longer audio file:


(Want to hear what I created? Click
here
)
That's all you should need to do to extract audio snippets from your longer audio material. Audacity can work with a variety of formats, but if you find your music is inaccessible, you might also check out my article on
audio conversion solutions for the Mac
. Again, if you do want to drop this onto your iPhone as a custom ringtone, check out
How to add a custom ringtone to your Apple iPhone
too.