Dave, I have two iPods and I want to give one to my almost 9 yo son, but some of MY songs are inappropriate. I have a folder specifically for him on my iPod, but how do i sync ONLY that folder to the iPod that I want to give him?
That's a great question because I've long since figured I'm not the only person in the world that sync's more than one iPod to my computer and musical playlist, as managed in iTunes. It turns out that each and every iPod you hook up to your computer can have its own custom settings, configuration and content, whether it's applications, videos, music or photos.
The trick, of course, is figuring out how to do that.
What I will say to start is that putting music into a separate folder isn't the right path: you need to work within the framework of iTunes itself to get this to work. Instead what Apple offers is "playlists", which turn out to be functionally identical but have the dual advantage of being within iTunes (which makes things easy) and of using reference links rather than copying the actual music files (which saves lots of space).
To get started, you'll want to fire up iTunes. It doesn't really matter at this point whether you have an iPod plugged in or not. Oh, and this'll work for iPhones, iPads, and any other device you might have that has the ability to synchronize its content with the iTunes library.
In iTunes, on the left side, you'll see this: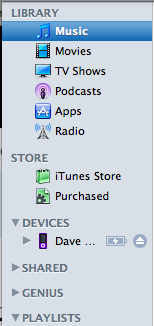 Notice the bottom area, "Playlists". That's where we'll be working, but for now, go to File –> New Playlist: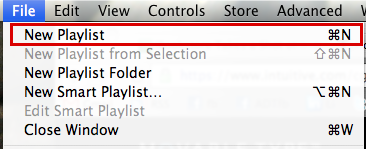 On the lower left you'll see the new Playlist appear: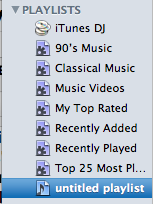 Double-click it and type in a memorable name. I'm going to use "Jr's Music" for this demo:

Now, go back to the top left of the iTunes window and click on "Music" so that you can see your entire music library:
All you need to do now is find the songs, CDs, and collections that you want your son to have on his iPod and
drag and drop them onto the playlist
. It'll look like this:

Whenever you're done, you can click on the Playlist and see what's therein to double check. Looks good? Great, now here's step two…
Plug in your iPod if it isn't already plugged in, then click on its name on the left side so that you see this:

Scroll down a bit in the iTunes window so that you can see the "Options" and you'll notice the following:

As you can see from the red box, you want to check "Sync only checked songs and video". Now, click on the "Music" tab along the top of the iTunes main region and you'll see this:

Almost there! Check "Sync Music" and make sure that "selected playlists" is specified, as shown. Now scroll down a bit to find the Playlists list: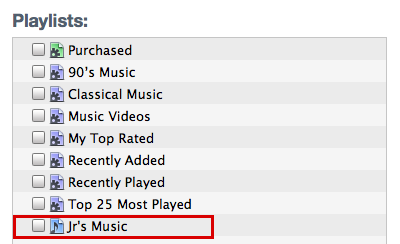 You can figure out what to do from here, I bet! Check the new playlist you've made, then click on the "Apply" button on the bottom and sit back. The music you've dragged into the playlist will appear on the iPod and nothing else. Want to add more music? Just drag it into the playlist and sync again. Want to remove music? Take it out of the playlist (just delete it from the playlist) and while it'll still be in your music library, it won't be on the iPod next time you sync things up.
I hope that helps you get your son's iPod configured properly, and my kudos to you for paying attention to what music he listens to and filtering it to ensure it's all age appropriate!