You have a custom domain, everyone seems to have a domain for themselves except me. I'm stumped. How do I find an available domain and buy it?
There are lots of different ways you can proceed with your search for an available domain, but let's go to the original domain registration service, Network Solutions.
The problem, as you'll soon find out, is that sort of like dating, in the world of domain names, "all the good ones are already taken". 🙂
As a result, you really need a tool that lets you do lots of searches fast (because no doubt the majority of the domains you try will be taken) and that's the key value of the Domize service.
So to make this interesting, let's say that you're wanting to start up a blog related to the Chronicles of Narnia, and you know that the next movie coming out is "Prince Caspian" and after that will be "The Voyage of the Dawn Treader". Ready? Let's see what happens…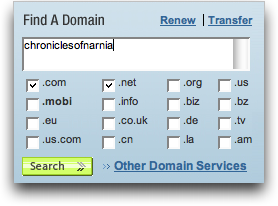 Click on "Search" and…

That's not too bad. The ".com", ".net" and ".org" are taken, as expected, but notice that it is available as a ".us" domain, if you'd want that. More interestingly, click on "See more extensions" and you'll get to see just how many different top level domains are possible:

Better, though, is to start trying variations. Like, what'd happen if we searched for "NarniaChronicles" instead of "ChroniclesOfNarnia"?

Okay, so the ".com" and ".net" are taken, but the ".org" is available, as are almost all of the other possibilities. But let's keep digging…
This is where knowing synonyms is helpful! I tried about ten combinations and found a few that worked, but the best is one that gives you the possibility of a ".com" domain:
PrinceCaspianOfNarnia.com
. Not bad! If you wanted a ".net" domain, you could use
WorldOfNarnia.net
, and if you wanted a ".org", how about
NarniaChronicles.org
?
You can search directly using this live search box from register.com:
Once you find a domain that you like, then you can pick a registrar, a company through which you are going to register your domain. There are tons of them, with Network Solutions and
Go Daddy
two of the most popular. Before you do, though, check with your Internet service provider or with the hosting company through which you are planning on hosting the Web site you want to put at that domain, as many of them have domain registration programs of their own.
Pick your registrar then it's just a simple matter of going through the usual shopping cart purchase experience. A new domain, for one year, should cost you between $8 and $15 dollars, depending on which service you use.
That should get you started. And good luck finding the right domain!