I kind of hate to admit it, but I've been using my son's Skype account on my Mac because I can't figure out how to sign up for a new one. You're a master of technology, however, Dave, so can you show me how to easily get a new Skype account?
Sure I can! Glad to help out, because I'm sure that your son will be happier without you using his account and I know you'll be happier to have your own Skype account!
It's not obvious how to set up a new account, however, but you can do so from right within the Skype Mac client. Don't have that yet either? You can easily download it right from Skype.com.
The trick to getting a new account is to go through the motions of switching from one account to another, even though you don't yet have a second account.
That looks like this: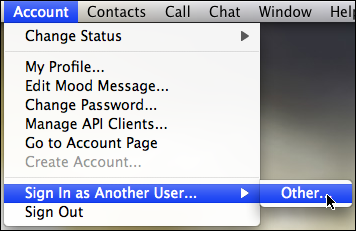 Now you go to the login window like you do when you first start up the Skype app, but this time the fields are empty:
Click on "Don't have a Skype Name?" and you'll get the window that lets you specify the credentials for the new account you want to create: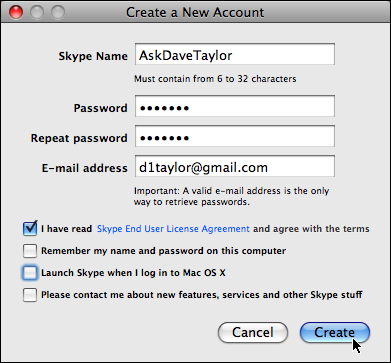 Here you can see that I'm setting up a Skype account for "AskDaveTaylor". Note that you can have more than one Skype account with the same email address, Also pay attention to the checkboxes on the bottom: make sure you check off what you want and no more, so you don't have to get any unwanted email.
Click "Create" and …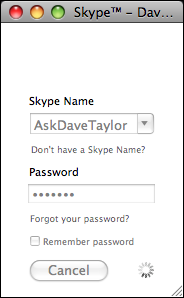 and a few seconds…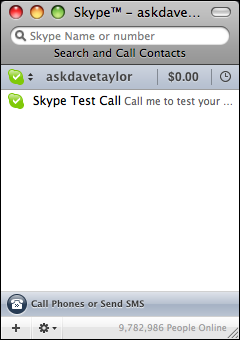 I'm in, as the new user account!
Want to switch back? At any time you can now go back to the "Sign In As Another User" and you'll find it lists the other account: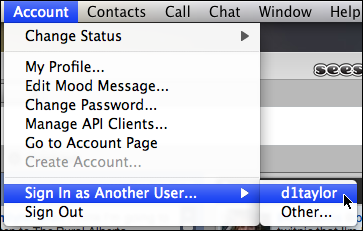 Easily done. Welcome to Skype, too! 🙂