How can I convert my AOL files, favorites and Address Book info from the America Online (AOL) program to MSN? I am switching from AOL dialup to a new high-speed connection. Please let me know.
While America Online (AOL) is quite popular with a large group of people, it's also a common place for people to learn about the Internet then "graduate" to a more traditional Internet Service Provider.
The problem is, AOL has lots of proprietary data formats and their entire AOL software suite seems custom designed to make it hard for you to switch to another service, as you're now realizing. There's no convenient "Export Address Book" function, for example. Search for that phrase in the AOL 9.0 help system and you'll get clear details on how to export from other programs and import those addresses into AOL Mail, but not a word about how to export from AOL Mail.
All hope isn't lost, however. There are a number of different solutions that might be able to help you, ranging from the Java-based (and apparently obsolete) AOLeave suite to the inexpensive ($25) commercial application ePreserver.
With the kind permission of the developers, I was sent a copy of ePreserver, which let me test out this simple application, and though you might only use it once in your life, it's incredibly fast and easy, probably well worth avoiding the hours of fiddling with free software (at least in my opinion).
Here's how easy it was for me to export my address book, favorites and folders (file drawers) from my AOL account into a generic data format suitable for importing into Outlook Express (a format that MSN Mail can import, as I recall)…
The first step is to pick which of your screen names you want to copy all the data from: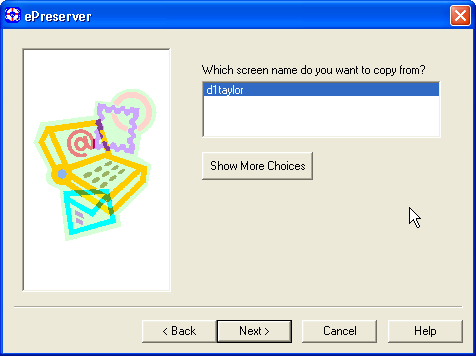 A word of warning here: if you use more than one screen name, ePreserver appends the subsequent data to the previous, which might well not be what you're expecting. If that's not what you want to have occur, move the files elsewhere before you do the second or third run.
Once you've picked the account, you can choose which data you want to export into an Outlook or Outlook Express compatible format: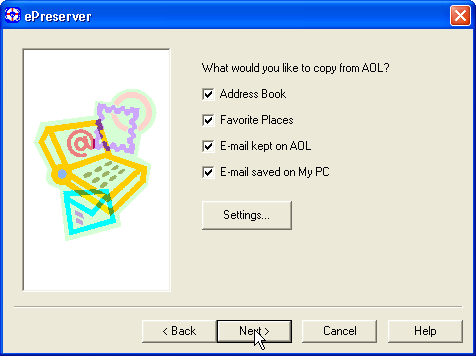 Next, choose between the two possible output formats: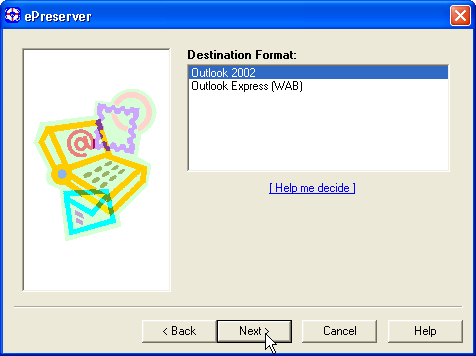 If you're not sure, choose
Outlook Express
as it's the more commonly used of the two email programs and can be imported into a wide variety of Windows and Web based email programs (even Google's Gmail, actually).
The last step might make you a bit anxious if you're not expecting it: it'll ask for your AOL password. Once you've entered your correct account credentials, the program will then actually log in to your AOL account and grab all of the information and data you specified. In my experience, this took just a few seconds, and the end result was a status report featuring the cheery
Successfully imported messages
: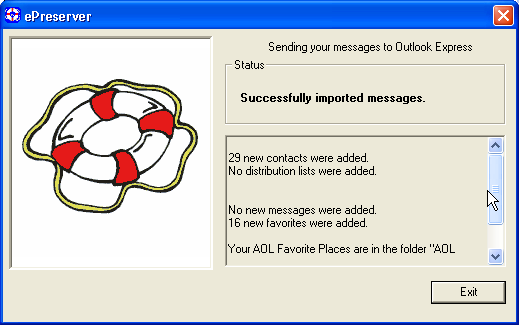 That's all there is to it with this program. Again, please realize that there are doubtless other free or lower cost applications out there, I just chose the one that appeared the most professional, since I'd rather have it work right the first time. If $25 is too expensive for your budget, then searching for "aol address book export tool" will doubtless lead you to some other choices, but Connected Software does tell me that ePreserver is the only third-party app that can read the encrypted AOL Address Book (nice of them, eh?).
I hope this helps you out!