Hi Dave! I have a question for you: How do I change one of my board names on Pinterest? And delete one I don't like too, for that matter… Thank you for your Pinterest help!
Actually, Pinterest makes all of these tasks rather easy if you're willing to click, click, click your way to the correct point. But the fact that you're managing your Boards is great, because I see too many people on Pinterest who don't really get the idea of board-based categorization and end up using one board called something banal like "stuff I like" to include absolutely everything they share with their Pinterest buddies, be it a cute cat, a book they read, a vacation spot they'd like to visit or a new way to paint their nails. It's cahrraazzzyyyy!
No, seriously, spending the time to organize content is a big win for not just everyone who wants to follow your cool content but for Pinterest users too: it's easier to kp track of what you've posted if you have things neatly organized. Imagine finding a book in the public library without the Dewey decimal system, for example. Yikes.
Anyway, let's jump in to this problem…
First, let's look at renaming a Pinterest board. The easy way? Click on your own name on the top right to have the settings menu appear: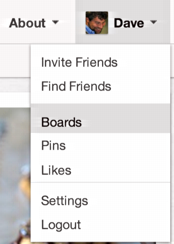 Choose "Boards" to see a page that lists all the boards you current have on Pinterest, then find the board you want to rename. In my case, I'll rename "Things I want to Try with my Kids":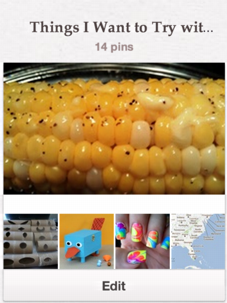 To change the board settings, etc, just click on the board name. I'll click on what's shown above, "Things I Want to Try wit…" and it shows me every image on the Board, along with some info along the top:



890 followers. Not too bad at all! To change the Board name — or delete a board — I'll click on "Edit Board", which reveals all sorts of stuff you can tweak: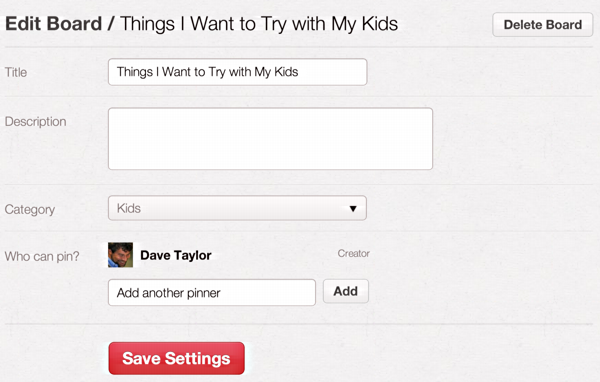 The "Title" here is the name of the board, so you can see it's pretty easy to change it. You can also add a description if you're so inclined, a category, and even add additional Pinterest users if you want to turn your board into a group board. Done? Click "Save Settings".
If you want to delete a Pinterest board, click on the "Delete Board" button on the top right of that last board edit view and it's gone. That's easy enough!
And don't forget, I have all sorts of other
Pinterest help
here on the site too!