I've just started working on the popular MySpace site and it's pretty fun to find old buddies and new friends on the site, but sometimes people tell me that they've invited me to be a friend and I've never seen their invite? What's up with that, Dave? And how do I check to see if there are any outstanding friend requests?
You're not the first person who has indicated that they find the user interface on MySpace more than a bit baffling, so I'll show you the trick to finding the Friend Request Manager, okay?
First off, every time I go to the MySpace site I think I'm logged in automatically, but I'm not, so the first step is to make sure you log in by entering your data in the login box about half-way down the right column: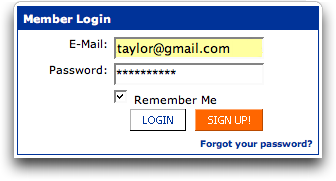 Now you'll be logged in and a ways down on the left side (you'll need to scroll down) you'll find your
My Mail
area, which looks like this: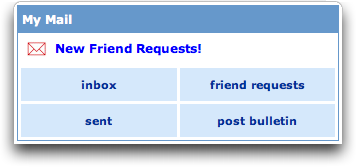 As you can see, I also have an outstanding friend request, so there's a nice, cheery "New Friend Requests" to tell me that, like you, I have at least one friend request that I didn't answer yet.
Click on that link and you'll get to see these supposed friends who are waiting to get the thumbs up or down from you. For me, there are two friends who want to connect with MySpace: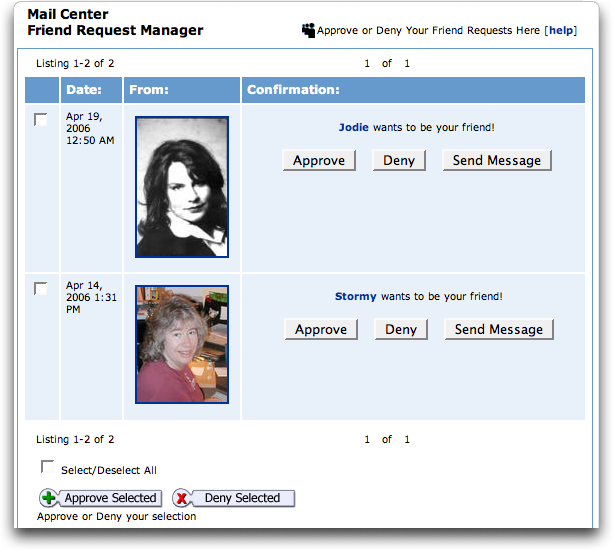 That's the key area you want to check every week or two, it'll show you all the outstanding friend requests (logically enough, given its name!)
To accept, deny, or email each of the possible friend requests, click on the appropriate button. For me, I'm happy to connect to both Stormy and Jodie so I click "Approve" for both and seconds later we're now official MySpace Friends. Nice!
In terms of why you might not be getting all the invites, I'm suspecting that it's your spam filter that's to blame. Check your spam folder – and perhaps create a new spam rule – to ensure you see all the invites as they arrive from MySpace.
Hope that helps out!
Finally, if you'd like to connect with me via MySpace, that'd be great!
My MySpace Page
. Also, since you are just learning about MySpace, you might well be interested in my
MySpace Help
area too.