I run Microsoft Edge and have been reading about this great new feature called vertical tabs. How do I enable vertical tabs and try it out for myself? Also, what do you think of them, Dave?
The evolution of Web browsers at Microsoft has been really interesting to watch. First it was Microsoft Internet Explorer, which then became somewhat of a pariah in the online world when it didn't keep up with site design trends. Then Microsoft created a completely new Web browser called Microsoft Edge. It apparently then realized just how much work it was to keep up with the million different areas of development required for a new browser and switched to reskinning Google's open source Chromium browser for the second generation of Microsoft Edge. Finally, in what we can call the fourth generation of browsing, Microsoft Edge is now innovating new features over and above what's incorporated into its Chromium heart.
Tabs have been part of the Web browsing experience for an incredibly long time – probably since 1994 – but for that entire time, they've been along the top of the screen. The physical analog is the tabbed files in a filing cabinet, so not a big surprise. Indeed, as I type in this article, I have a row of tabs along the top of my own Web browser. But what Microsoft Edge just introduced in its latest browser are tabs along the left side instead of along the top. Not bookmarks, not favorites, actual live tabs. And they're pretty cool…
HOW TO WORK WITH MICROSOFT EDGE VERTICAL TABS
Once you are sure you have the latest version of Edge (go to "•••" > Help & feedback > About Microsoft Edge and it'll force a check for updates) simply go to a page you want to bookmark. Like this:
You can see that by default the tab for Bing is along the top. Right-click on the tab itself and a menu appears: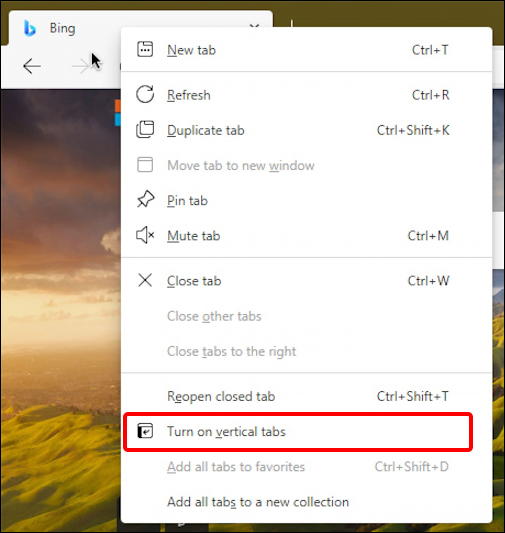 As highlighted, simply choose "Turn on vertical tabs". If you don't see that as an option, go back and check for an update again: You're not running the latest version of Edge: This feature was added in release 89.
Once you enable the feature, the current tab slides over to the left, and the top area becomes much more sleek and streamlined:
By default the vertical tab pane on the left auto-hides when you don't have your cursor in that area of the screen. You can prevent that from happening by clicking on the pushpin, which will leave it open. Notice in the below image how the Microsoft Bing graphic on the underlying screen has moved to the right, whereas in the previous image it's partially occluded by the vertical tab pane.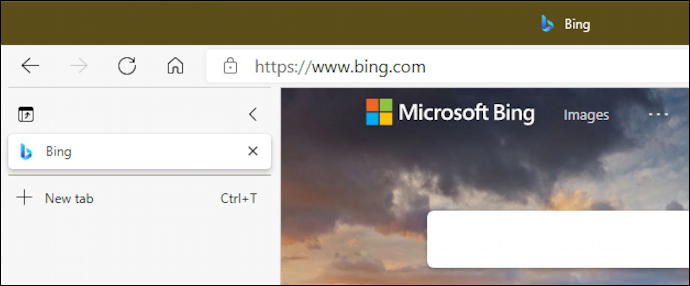 Open up a bunch of pages and it gets a lot more interesting on the left side: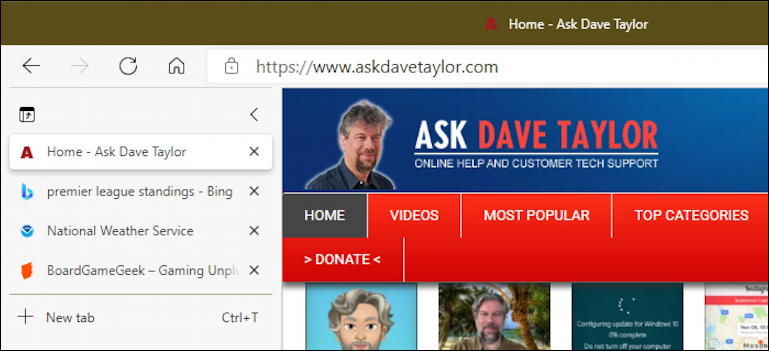 It's also really easy to imagine that they're bookmarks for favorite pages, not tabs, so there's a mental realignment required here too. They are live tabs. Not only that, but they are transient. But before I talk about that, check out what happens if you click on the "<" or otherwise let it minimize:
Quite slick, actually, and yet another reason for Web site owners to ensure that they have favicons, the tiny images associated with most sites: that's the image shown on that vertical bar.
MAKING VERTICAL TABS "STICK" FOR RESTARTS
This also leads to the observation that unless you specify otherwise, all of those tabs you have open, vertical or horizontal, vanish if you restart Edge. Unless you "Pin Tab":
Simply right-click on any of the tabs – and this works on horizontal or vertical orientation – and choose "Pin tab" to have it stick around and automatically launch the next time you start Edge. Remember, though, this isn't a bookmark or favorite: Edge will actually open up that page when you restart, so if you have a dozen or more you've pinned, that can definitely slow down your restart process quite a bit.
Once pinned, a tab becomes ever so slightly different in appearance. Can you spot it?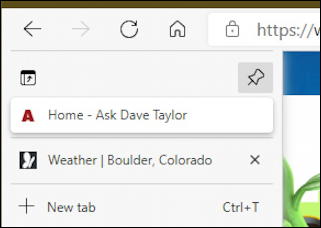 If you said "hmm… no "X"?" you're right. The only way to get rid of a pinned tab is to right-click on it and choose "Unpin tab".
And that's it. Everything you need to know about how to enable and work with vertical tabs in Microsoft Edge. I'm quite a fan, actually, though I am finding it hard to remember that they're active, open tabs, not just a handy vertical strip of favorites…
Pro Tip: I've been writing about Windows 10 and Microsoft Edge for quite some time! While you're visiting, why not check out my Windows and Microsoft Edge help area? Thanks!