I have a Chromebook and would like to be able to watch live TV on occasion. I have Amazon Prime, is there a way to watch TV through the ChromeOS Prime Video app?
Even a few years ago there was live TV and there was streaming and rarely did the two overlap. Nowadays, however, with so many people "cutting the cable" there are actually more channels available through live streaming than there are with a cable subscription or over-the-air antenna. The challenge with streaming is that you have to figure out what's available and how to "tune in" to it. Have a favorite channel? You can probably go to their Web site and watch the live feed on your computer. But an online guide similar to cable, Dish, or DirectTV? That's a bit trickier.
That's why you're in luck that you mentioned you also have an Amazon Prime subscription and have already downloaded the Prime Video app onto your Chromebook: It not only grants you access to lots of live streaming channels but even has a neat guide included too.
TIP: All of the specified options are also available for the Windows and Mac versions of the Amazon Prime Video app too, in case you're curious.
AMAZON PRIME VIDEO FOR CHROMEOS
If you haven't downloaded the app yet, go ahead and grab the Prime Video app from the Google Play app store. Fire it up and you'll see something very similar to this as the main "splash" screen: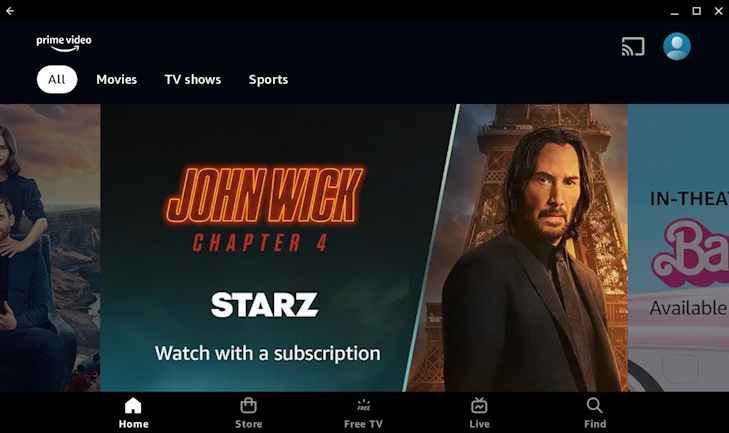 It's a good idea to log in to your Amazon account here, whether you have Prime or not. Prime, of course, will grant you access to a lot more content, but either way, you should be able to utilize the TV capabilities.
All the important links are along the bottom: Home, Store, Free TV, Live, Find, but let's start by just choosing "TV Shows" along the top. That will show you what's available as part of Amazon Prime Video, along with partner channels: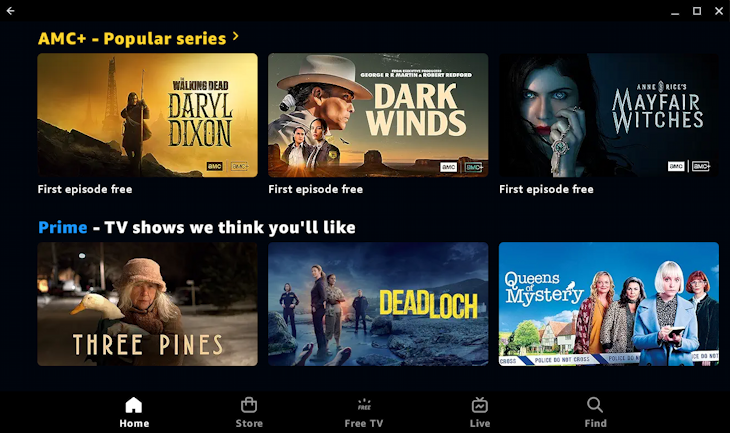 Amazon's all about the upsell, so be careful that you don't get hooked on a series that requires an additional subscription, like the excellent Dark Winds, which will push you to pay for an AMC+ subscription to go past the very first episode.
Choose "Free TV" along the bottom to see what that includes, and you'll find that there are lots and lots of series available: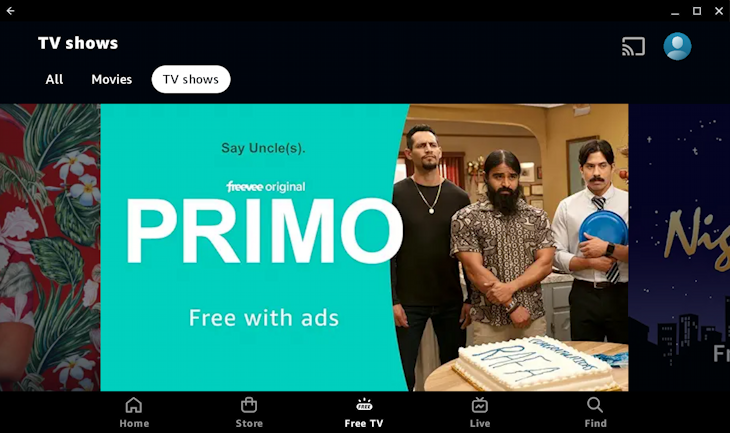 These are also on-demand viewing, but most all are, as they say, "free with ads". Sometimes it's just a few ads to underwrite the cost of licensing the show, but other times the ratio of ads to actual content can be pretty overwhelming. Viewer beware!
LIVE TV CHANNELS THROUGH PRIME VIDEO
Where the fun really begins is if you click on "Live" along the bottom. Like any TV guide, it will be a mix of movies, TV shows, and infomercials: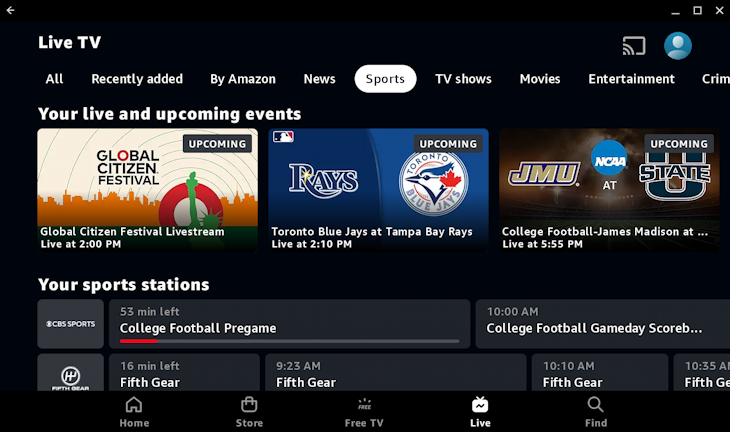 I've chosen "Sports" along the top to narrow down the exhaustive program listing to just those shows that are related to sports. You can see that it includes actual games, from baseball to football, even car racing. Scrolling down just a bit, you can get a good sense of the clean, easily read onscreen guide: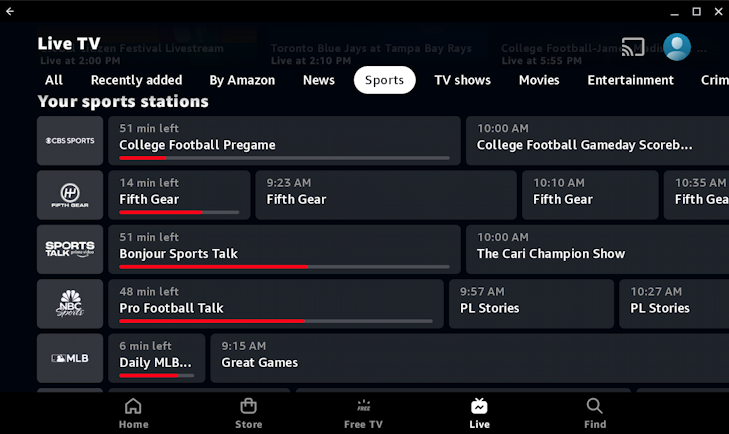 I'm in a Fantasy Football league this year, so "Pro Football Talk" from NBC Sports caught my eye. To watch it, I simply tap or click on the program in the guide. This brings up a detailed info page: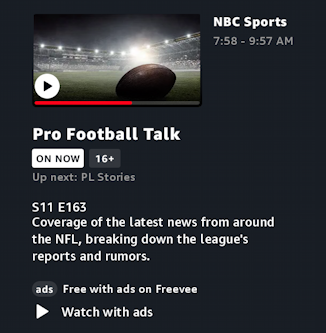 Season 11, episode 163. That's a lotta episodes! To watch it "with ads" via Freevee, simply click or tap on the thumbnail image and…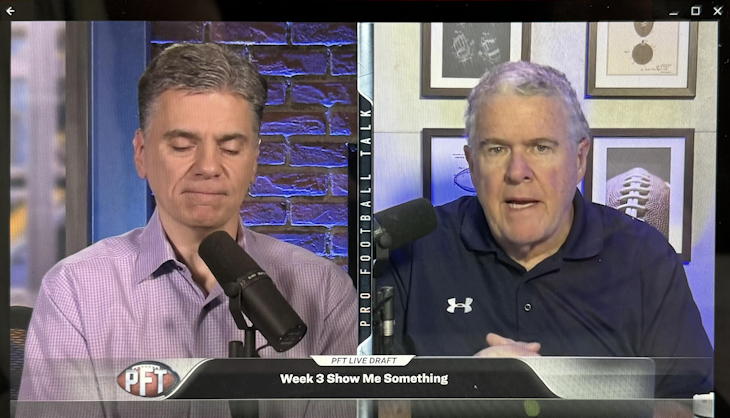 I'm watching live TV sports commentary on my Chromebook running the latest ChromeOS. Cool, eh?
TWEAK YOUR RESOLUTION SETTINGS
The one thing worth mentioning in addition is that if you have changed your resolution settings to minimize the amount of network bandwidth you use, it's time to change it to get the best possible picture. Easiest is to go back to your Home screen, then click on your profile icon (top right), then on the gear icon that replaces it. You'll have the following settings: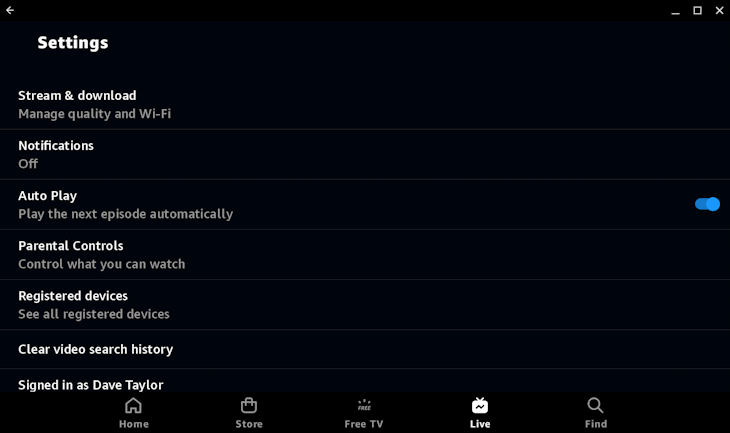 I generally turn off the "Auto Play" to avoid being sucked into a marathon binge session of a new series, easily done as you can see in the above. To adjust the clarity of your image, click on "Stream & download". It offers up some additional options: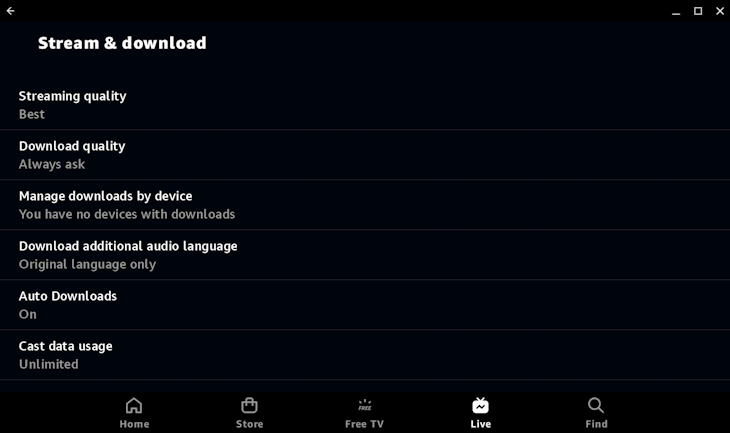 If you have no worries about limited or metered bandwidth, I recommend you set maximum streaming and download quality resolution. Click on "Streaming quality" to see the options: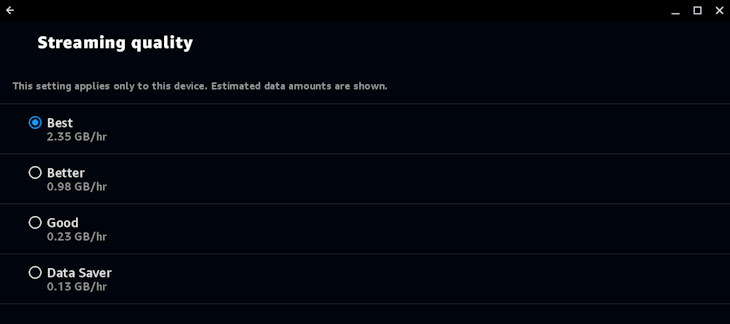 That's it. Now you know how to utilize Amazon Prime Video to navigate through the hundreds of live streaming channels available to watch on your Chromebook. Have fun. As for me, I'm going back to the Pro Football Talk to help manage my FF team!
Pro Tip: I've been writing about operating systems for many years. You can find a lot more useful tutorials about Chrome OS in my ChromeOS and Chromebook help library here on the site. Why not check it out while you're visiting?