Dave, I spend a lot of time in Gmail writing email to contacts, colleagues, and clients. But most of them are clumsy because I'm not a very good writer. Can the new wave of AI help me write better email?
The short answer to your query is "yes, and how!" but there's lots more to it than that because when we talk about artificial intelligence in this instance, we're really talking about what's known as large language model generative AI. Within the context of email there are two different ways these tools can be useful too; either to improve what you've already written or to actually write something based on your detailed prompt. Can they help with creating better and more professional email? Most definitely.
The clumsy way to do this is through the use of a separate external AI tool like ChatGPT, which will involve a fair bit of copy and paste on your part but is going to be compatible with Outlook, Gmail, Apple Mail, even AOL mail if that's where you hang your email hat. Google has been experimenting with AI in its incredibly popular Gmail program for years, however, and is just starting to test its own "Duet AI" powered features. One feature you're probably already using is Smart Compose, which I'll demonstrate momentarily. But the Duet large language model offers a far more eye-popping set of capabilities.
To access them today, however, you need to sign up for Workspace Labs through Google and then wait until you're allowed access. Some countries won't have that opportunity yet, but I found it took less than 12 hours from application to seeing this:
With this enabled, let's have a look at the features it brings to Gmail, because they're game changers.
BUT FIRST, SMART COMPOSE
Before we move into the power tools, I'll just note that if you aren't taking advantage of Smart Compose, you're missing out. It's built atop a tool that analyzes your messages to predict what you'll type next. In the below example, I'm writing a letter to my professor asking for an extension on a homework assignment: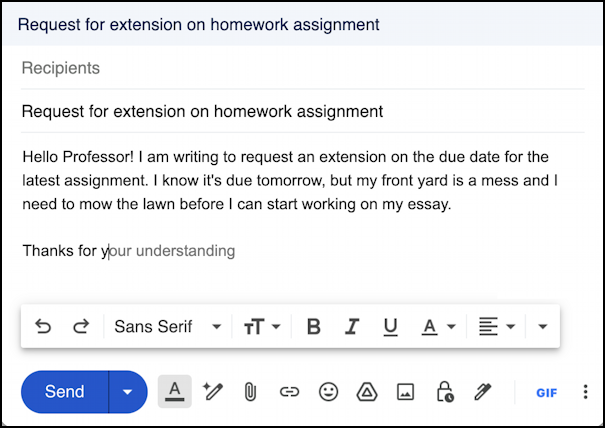 Pay close attention to the last sentence. My cursor is at the first letter of 'your' and the rest of that sentence, "our understand" is from Smart Complete. To accept, I simply press Tab. This can definitely speed up email composition with common words and phrases.
But look closely at the bottom toolbar. Between the formatting "A" and the attachments paperclip is a new icon, a pencil with a star. A star not dissimilar to the graphic above from Workspace Labs!
REFINE YOUR EMAIL MESSAGES WITH AI
I'm going to click on the new Duet AI button to see what options it offers. Note that I haven't done anything special with the draft message I'm composing. Here's what it offers up: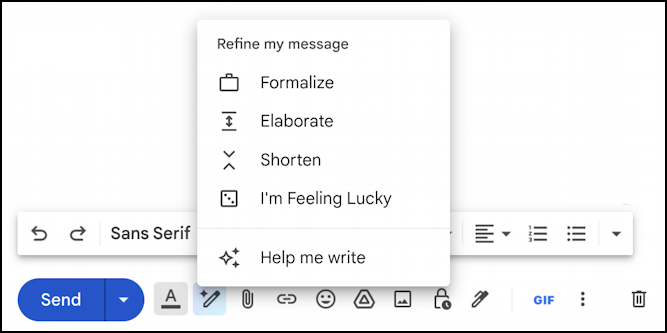 The top options are only meaningful when you already have some prose written, even if it's just snippets, a bullet list of points, or similar. The last option, Help me write, we'll get to in a moment or two. For this first demo, I'm simply going to ask it to "Formalize" my existing email since I want something coherent to sway my professor and gain that extension, right? Here's what it produces:
It's a huge improvement, but, as is common with AI tools, notice that it's invented information and then presented it as if factual: There was no tree that fell down in my front yard!
It's also pretty darn long for such a simple request, so I'm going to choose "Shorten" from the refine draft menu instead. The result: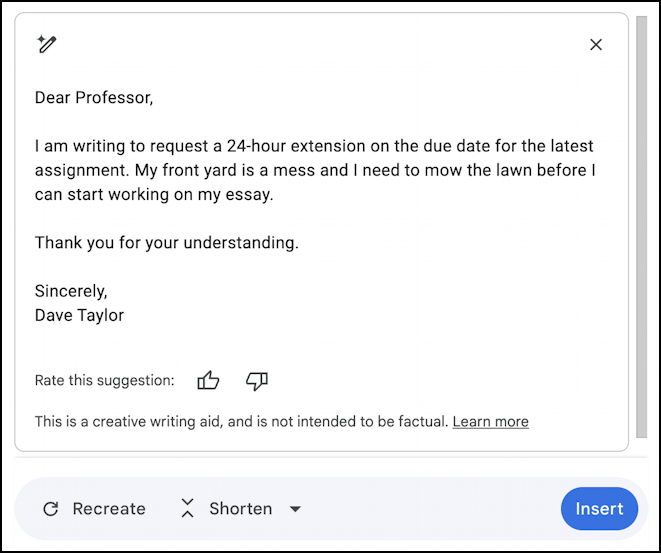 That's a pretty radical shortening, but at least it's not making up anything that wasn't in my original email draft.
I'M FEELING LUCKY, AI PUNK!
The entry on that "refine draft" menu that should be intriguing you, however, is "I'm feeling lucky". That's the same as a button on the Google home page for search and it's always fun to choose it and see what happens. In fact, it's way more fun than I would have expected: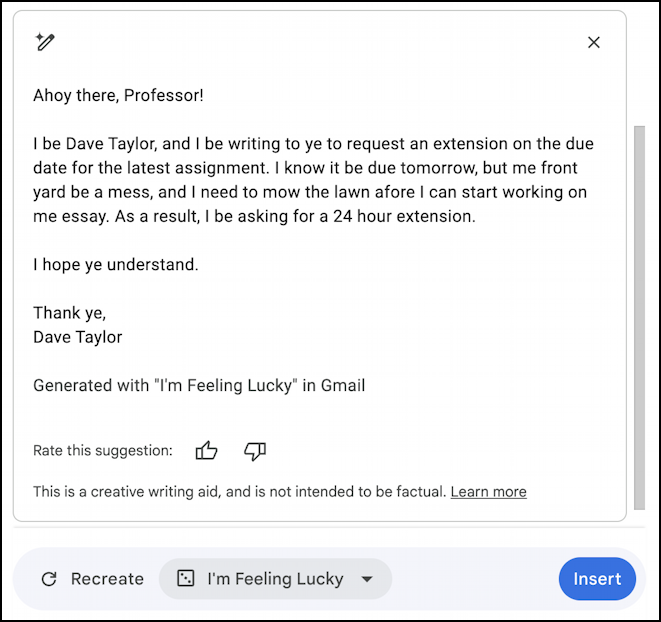 I'd probably get rid of the "Generated with" line – not sure the prof needs to know that – but I would never have thought of asking for an extension in Pirate! You can actually spin the wheel another time to see whether it'll come up with something different and it does!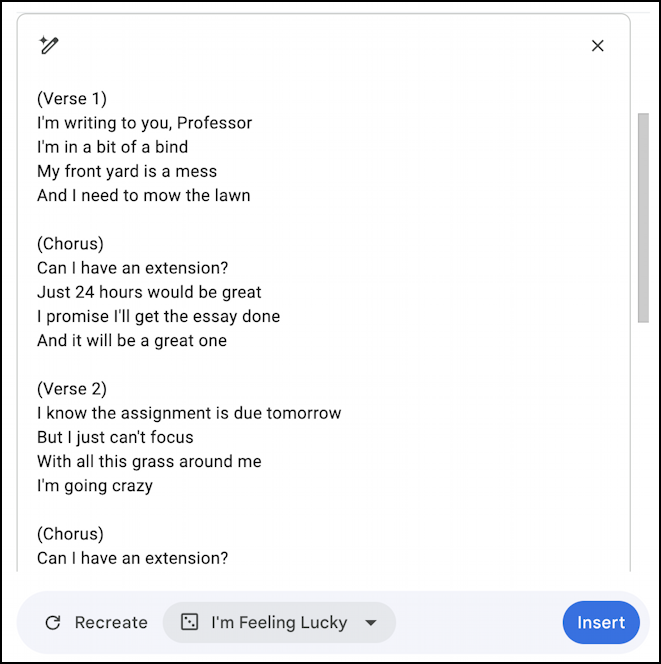 Okay, if any of my students emailed me song lyrics to request an extension on their assignment due date, I'd definitely grant it and probably give them extra credit for extreme originality!
HELP ME WRITE WITHIN GMAIL
You can definitely spend lots of time experimenting with ways that Duet AI can refine and improve your writing, but what about that "Help me write" option at the bottom of the AI menu? Let's choose it…
It's an input box with a random prompt suggestion but ignore that. Instead, write out a description of exactly what you seek, the more detail the better. Here's what I'll try for this extension request:
That's a reasonable description of our task! What happens when I click "Create"? It's an entirely new, amazing world that's revealed: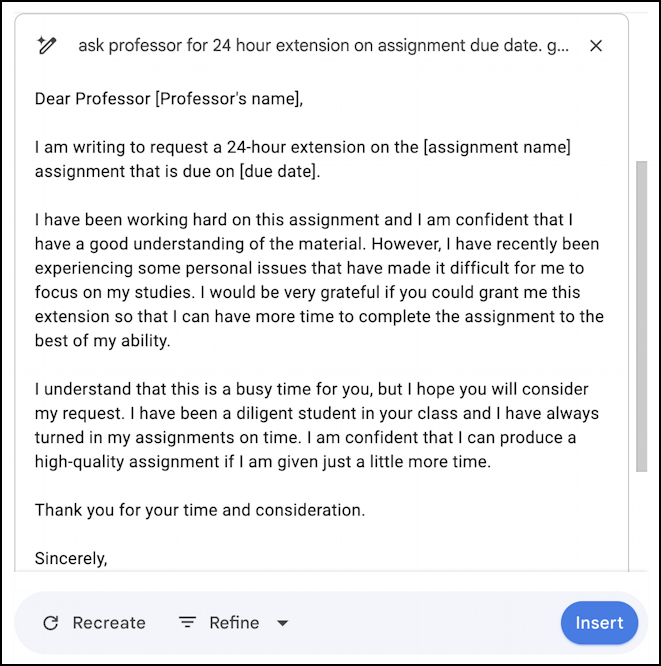 That's one smart AI because just about all teachers are trained to respond favorably and sympathetically to "personal issues" so your email request including "I have recently been experiencing some personal issues that have made it difficult for me to focus on my studies" might be utter balderdash, but it's savvy writing in this context. Still, it's pretty long.
A click on the "Refine" button and a new menu appears:

I'll choose "Shorten" and it will shorten the draft it just created, producing this version:
Notice that it explains what it's removed, which can be helpful if you're worried it might be too succinct. Ready to proceed with this AI-generated email message? Click "Insert", make the tweaks required (no question, "Dear Professor [Professor's name]" will adversely impact your ability to get the due date changed!) and send it. Done.
At this point, you should be a bit starry-eyed because it really is a game changer for one of the most popular tools on the Internet. People love email and they love Gmail and this slick and smart integration of Duet AI and its capabilities make it a wonderful tool for any communicator. Even if you're a terrible writer. Game changer, for sure. Now, sign up for Workspace Labs and I hope you get these features ASAP.
Pro tip: I've been writing about computer and Internet basics for many years. Please check out my computer and Internet basics help area for lots more useful tutorials on AI and much, much more!