I have an Apple Watch that I don't wear every day. I know, shocking! When I do charge up and wear my Watch, is there some way, from the Watch, to force a WatchOS update if there's one available?
While it certainly seems that Apple intends for Apple Watch owners to perform operating system updates to WatchOS directly from the paired iPhone, it turns out that you can update it directly from the Watch! Having said that, it's worth noting that you will still need to have the watch on a charging stand or similar to proceed, and you'll need your iPhone to be relatively close, but, yes, you can do it.
Since WatchOS is like any other operating system in that it gets updates for security, bug repair, and, sometimes, new features, it does prove to be important that you keep your OS updated too. In fact, given that it's mid-September as I write this, there should be a whole new version of WatchOS dropping on all our watches in the next few weeks too. The newest for '23 into '24 will be WatchOS 10.
And now, let's grab an Apple Watch to update its OS…
APPLE WATCH: SETTINGS: CHECK FOR UPDATES
On your Watch, launch Settings from the Launcher view. It's the tiny grey gear icon: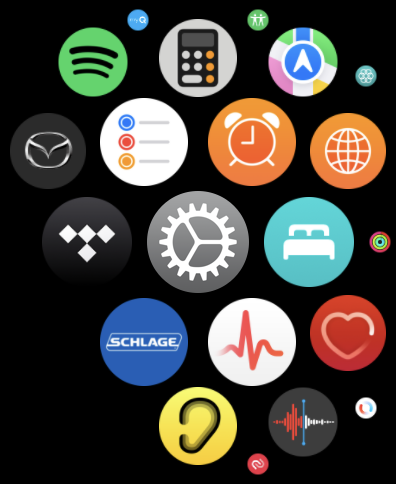 Once launched, go into "General", which should offer these choices: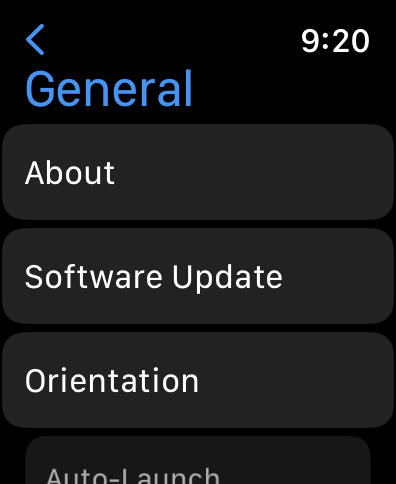 If you're thinking that "Software Update" seems like a good place to tap, well, you're right! Tap on "Software Update" to check if there's an update available. If there is, it will show you the new version number. In this instance, I'm poised to update to WatchOS 9.6.2: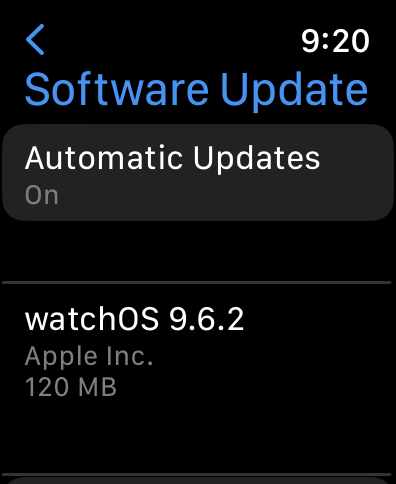 Automatic Updates should theoretically make this manual task redundant, but if you don't have your watch on and running every single day, it's not a bad idea to check for updates every few weeks using this technique.
INSTALLING A WATCHOS UPDATE
Let's go ahead and force this update. A bit lower down on the same Watch screen, there are basic instructions on how to perform the update: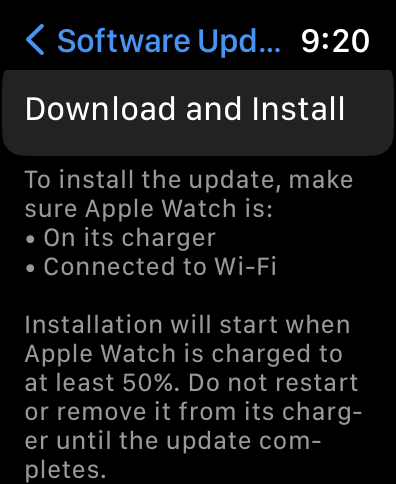 Note especially that your Apple Watch has to be at least 50% charged and on its charger. Apple really, really wants to ensure that your watch doesn't run out of power mid-update, which would be bad.
Ready to proceed? Tap on "Download and Install", then relax, this might take a while…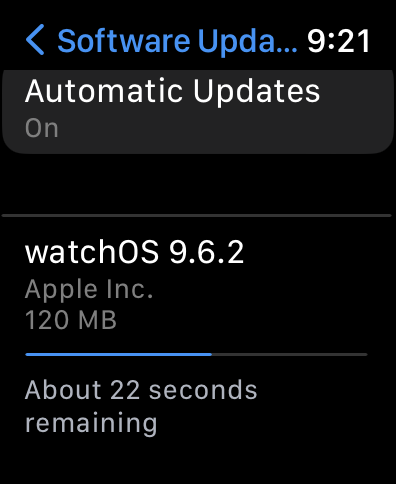 Meanwhile, grab your iPhone and check out the "Watch" app. It will show you the exact same download and install progress bar: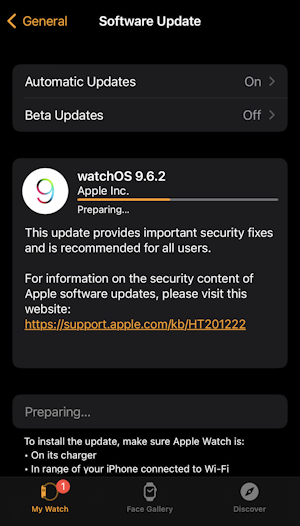 This can take a while. Like > 30 minutes a while.
APPLE WATCH DURING OS UPDATE
Meanwhile, on the watch itself, you'll see the infamous dial: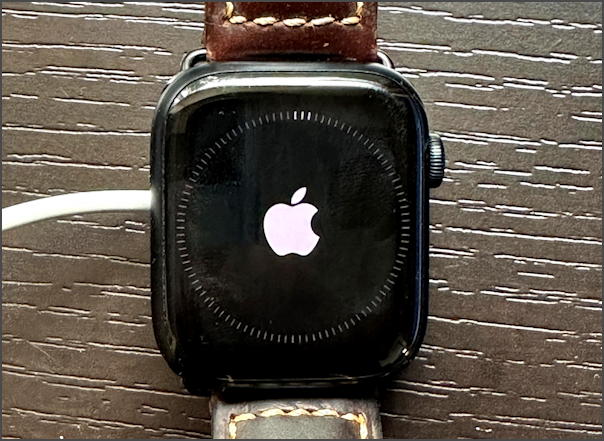 Eventually, it'll finish up and you'll see the time displayed on your watch, as usual. Tap in your unlock PIN and it'll even confirm: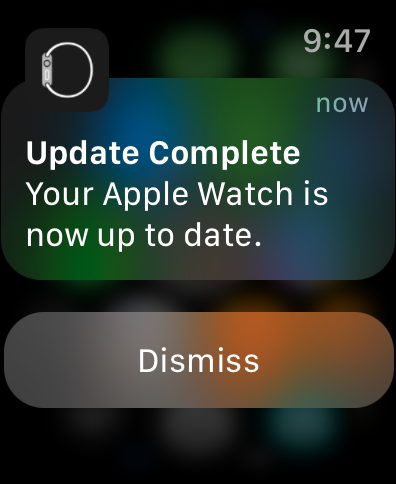 Well done! Now, about WatchOS 10…
Pro Tip: I have quite a few watch and smartwatch tutorials here on my site. Please check out my Apple Watch & Smartwatch Help for lots of useful content!