I'm so tired of black letters on a white background. I know "dark mode" is becoming popular, but is there a way I try out dark mode on Twitter?
There are more ways to access your Twitter stream than there are leaves on a tree. Well, depending on the tree and season, of course. 🙂 But there really are a lot of third party apps and programs that let you interact with the Twitterverse without ever using any programs directly from Twitter itself. For this answer, however, I'm going to show you how to switch your Web-based Twitter user interface to dark mode and also give you a sneak peek at the new Twitter interface coming for later in 2019 too.
If you're using a specific app on your Windows, Mac or Linux system, or are on a mobile device, none of this will apply but you should poke around in the settings of your app anyway as it's possible this feature snuck in without you realizing! Having said, that I will note that I'm a fan of the Twitter Web interface as it's simple, elegant and looks identical on every computer I use. Plus no worries about third party sites or developers gaining access to my login and account credentials.
To start out, here's the existing Twitter user interface (UI) as shown in Google Chrome on a Mac:
Nice, clean and inoffensive, but you're right, it's a lotta really light colors. You can change the color scheme somewhat in settings, but instead click on your pic on the top right to reveal the main menu: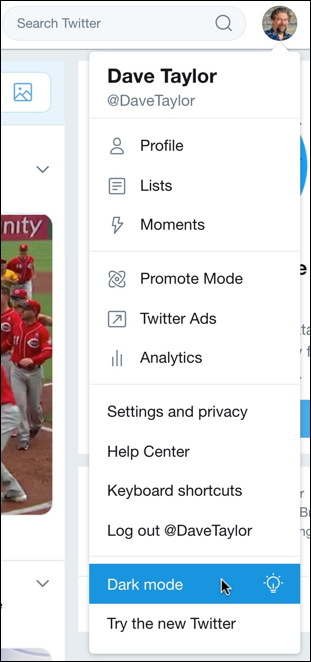 See the entry I'm highlighting? It's "Dark mode" and I'll give you exactly one guess what will happen if you select it. Yup. Dark mode. Which definitely looks pretty cool:
But did you see the very last entry in that pop-up menu? "Try the new Twitter". Failing that, I get a big "Sneak a peek at the new Twitter" advert on the top right complete with a hard-to-miss blue "Take a look" button. Use either of these paths and you can switch over to the new Twitter user interface:
Basically the entire left column about your own account stats and info has vanished, leaving more space for Twitter and your tweetstream itself. There are more changes behind the scenes – and you can disable Dark Mode and stay in the new UI if you want too – but it's not a massive update in terms of the user experience.
But… ya gotta admit, that dark mode with the new UI is looking pretty good for your Twitter stream, and pictures in the trending box? That's new too!
Pro Tip: I've been writing about Twitter since the service launched and have tons of Twitter help here on the site. Find me on Twitter as @DaveTaylor too and we can chat.