I am a big fan of Reddit, finding it one of the most lively discussion forums on social media. Problem is, since I post, I also get a lot of chats and chat requests from spammers and scammers. I hate them! How can I block these type of requests on Reddit?
You're not the only Reddit fan online by any means, and while there's some level of groupthink imposed by the up/down vote mechanism for those who disagree with the majority, it's still always interesting. But, like every other channel on the Internet, there are good actors and bad actors using the service. Fortunately, I think that the vast majority are just looking for a discussion or insight into a favorite topic or two, but that small percentage of scammers and spammers? They can definitely ruin the experience.
In the group posts, the moderation seems to work really well from my own experience; I have rarely seen a completely junky post or obvious spammy message. My conclusion is that they are either quickly sunk out of view with downvotes or removed completely by the group moderators. Either way, it works well.
CHANGE REDDIT CHAT SETTINGS AND PREFERENCES
But chat's something else, and for that, you'll need to take some proactive measures to improve your experience. Easiest is to just open up the chat window. I'm using Reddit in a Web browser, but the features should be identical on other platforms.
Here's a conversation I recently had with [redacted] as an example:
What's important to notice in this window is the gear icon on the top right. A click and the left side suddenly becomes a menu of useful options, most specific to this chat and the Reddit user with whom I'm chatting:
If they're a scammer, block them with "Block user" and you'll never hear from them again.
You can even change the color scheme of the chat window (which I admit is a completely sidetrack from our task, but I know you're curious about it).
CHANGE COLOR SCHEME OF REDDIT CHAT WINDOWS
Click on "Theme" from this menu and here's what you see:
I like "Orangered" so I'm going to choose that. Easy enough!
But let's get back on task, shall we? 🙂
REDDIT CHAT PRIVACY SETTINGS
There are two areas where you can change your Reddit chat privacy settings. First, let's jump into the in-chat-window options. Click on "Privacy & support" from this menu. This offers a link to the help area and a lone setting: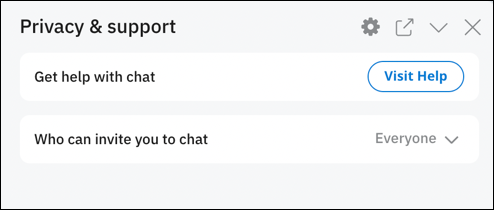 This is a critical setting, however; by default it's "Everyone", but here are the options:
I recommend that you change it to "Accounts older than 30 days", which should weed out the majority of spammers and scammers from requesting to chat with you on Reddit. Easily done.
The second place you can look for chat privacy settings is in the main Settings and Preferences area on Reddit. Choose "User Settings" from the top right menu of your Reddit page (where it lists your account name and has a "V" icon). Then click on "Chat & Messaging" from along the top…
Now you can also change who can send you private messages and even get a link so you can invite someone else to chat in Reddit. Notice you can disable private messages entirely, then add a few friends as "Approved Users" if you prefer.
Between these various settings, you should definitely be able to stem the tide of spammers and scammers bothering you while you're on Reddit. Enjoy!
Pro Tip: Just getting started with Reddit? Check out my Reddit help library for other helpful tutorial articles to get you up to speed while you're visiting the site. And do feel free to follow me – u/ask-dave-taylor – on Reddit too. Thanks!