I installed the Adobe Creative Cloud on my Mac system, but now there's a new icon on my menubar as soon as I restart. I hate it. How can I remove it, but still be able to use Creative Cloud apps?
Adobe has always offered up a slightly different user interface and user experience than that of every other Mac app. It's no surprise that the software has a rather unique approach to offering up easy shortcuts to the various programs in the suite, including PhotoShop, Premiere, Illustrator, and Lightroom. Lots of Mac users don't mind a bit because they spend a lot of time in these programs and have learned to "think like Adobe", including being appreciative of the shortcut Creative Cloud button on the menubar.
I'm like you, however; I jealously guard space on the menubar and limit it as best I can to what I actually use and interact with, rather than just ending up with a sprawl of icons that take up space but don't offer functionality. After all, you can always launch the individual apps whenever you want, and you can also fire up the Creative Cloud start window with a click too. Fortunately, it's not too difficult to stop Creative Suite automatically launching – and adding that button to the menubar – on boot.
HOW TO STOP ADOBE CREATIVE CLOUD LOADING ON BOOT
First off, here's the icon we're talking about:

As you can see, I already have a number of other programs taking up space on the Menubar, so it's no wonder I agree with you and don't want CS taking up a spot. Worse, click on it and there's no actual menu associated, it just fires up the main window for Adobe Creative Suite: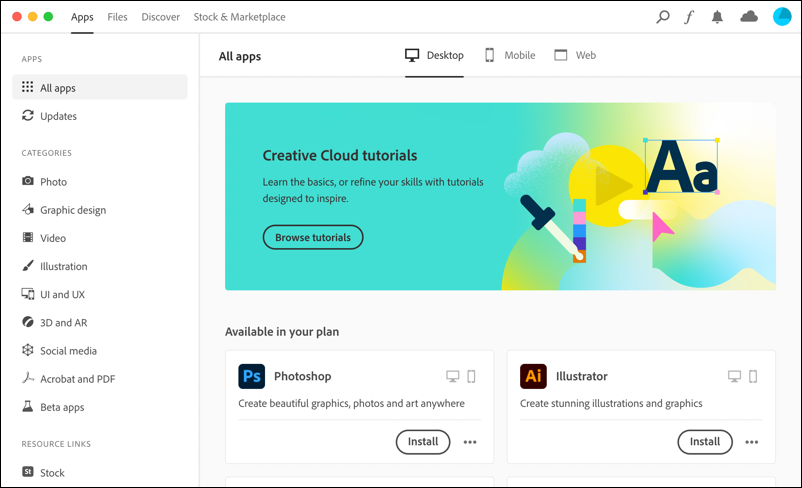 Lots of interesting data, for sure, but how do you get to settings? Well, Adobe opted not to use the de facto standard "gear" icon to denote settings, instead opting for that weird two-tone pie chart on the top right. Click on it and a menu appears: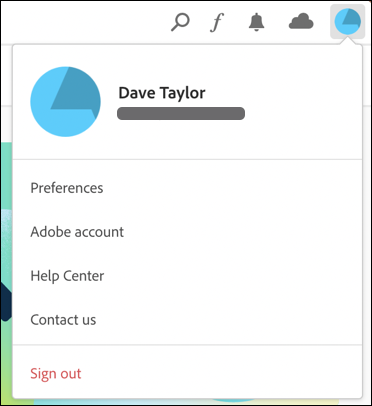 Choose "Preferences" from this menu and you'll see that there are very few actual settings and options, but what you want is offered up as a simple on/off option: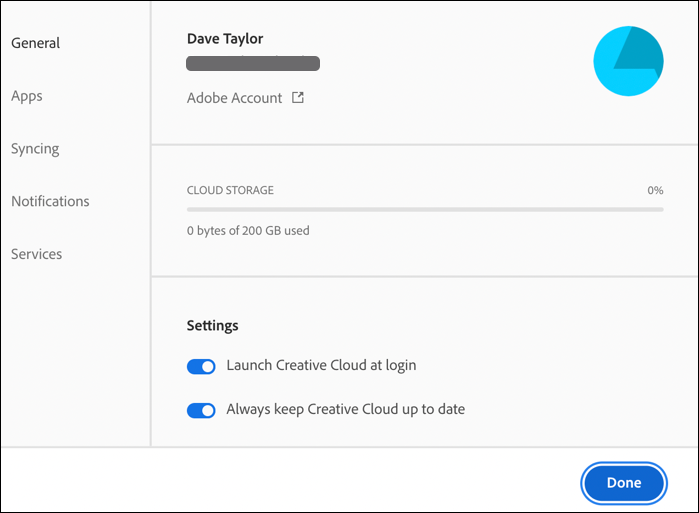 Simply click on the blue button to disable "Launch Creative Cloud at login" and click "Done". I also disabled "Always keep Creative Cloud up to date" because I fear that means it'll automatically launch an update utility that will check for updates every so often even if I've opted not to launch Creative Cloud at login. I see this when I've made the changes:

Done. But… Creative Cloud is still running, and that icon is still in the Menubar.
HOW TO ACTUALLY QUIT ADOBE CREATIVE CLOUD
On many programs, the icon on the Menubar opens a menu and one of those menu items is Quit. CS isn't like that. Nor does Quit show up on the menu you get from clicking the little blue pie chart icon. But there is the standard MacOS quit option: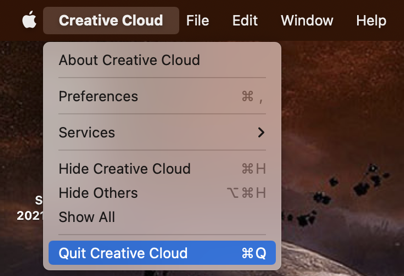 Choose that and the program waves its little digital arms and cries "wait!". Well, in a digital form:
Hide, of course, leaves that icon on your Menubar (at least until you restart your Mac). Choose "Quit" and it's history.
Unsure it won't secretly start up next time you reboot? You can go into  > System Preferences… > Users & Groups, select your own account, then click to check on "Login Items":
You can see that I have Clipy, iDriveMonitor, and Dropbox starting up on login, but no Creative Suite. Done.
Pro Tip: I've been writing about MacOS since the days of MacOS 9! Please check out my huge Mac help library for hundreds of useful tutorials and how-to guides while you're visiting. Thanks.