I hate logging in to new wifi networks and worrying about their increasingly obscure and hard-to-type passwords. I've heard that the iPhone has a password sharing feature? Can you step me through how it works?
Among the zillion features that Apple has added to both iOS 11 (the operating system that runs on your iPhone and iPad) and MacOS X (the operating system on MacBooks, iMacs, etc) is password sharing. It's not flashy and there are a bunch of requirements for it to work, but once you get the hang of it, password sharing is a pretty sweet feature. Log in on one device and it'll let you share that password with any other device owned by someone who's in your contact list.
In other words, you can't really use it to share passwords among your own devices, oddly enough, just between you and your close friends. Not quite what you're hoping for, I realize, but let's talk about how it works anyway and perhaps you can get a friend to log in first and save you the hassle of entering any passwords? 🙂
To start, here are the requirements for password sharing to work: All devices must have iOS 11 or newer installed, all must have both Wi-Fi and bluetooth enabled, the devices must be in close proximity to each other and, though I imagine this is obvious, the master device must be actively connected to the same wi-fi network the other device wants to join. And the most important of all: You must have each another in your Contacts list. It's that last one that prevents random strangers from snagging wifi passwords from your own device.
Lots of bits and pieces but really, just focus on having the master unit already successfully on the desired network and having each device list the other's phone number in Contacts. Got that? Good. Here's how it works…
On iPhone "B" my daughter is poised and being prompted to enter the password for the desired wifi network: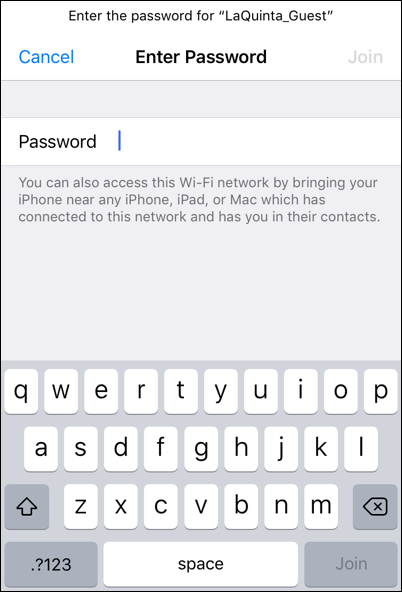 As it turns out, I'm already connected to LaQuinta_Guest, we're in each other's contacts, and our phones are about 10′ apart. As a result, I see this pop up on my iPhone screen:
Even when we're pals I can still choose not to share the password, which is good. What if I don't actually want her on my network? 🙂  I'm fine sharing the La Quinta network with her, however, so I tap on "Share Password" on my iPhone X. Now it changes to:
The magic really happens on her iPhone, however, where the empty password entry field suddenly and without notification changes to this:
A tap on "Join" and she's on the network, no password entry required. That's it. Surprisingly easy once you get all the requirements figured out.
Interestingly, if you have a Mac system nearby and meeting all the criteria too, it seems to be able to tap into the iPhone data and also allows sharing of wifi passwords:
My guess is that this popped up because my iPhone and MacBook are pretty tightly connected with remote text messaging, remote phone services, etc, but whatever the scoop, it's darn handy!
Pro Tip: While you're here, I invite you to check out our extraordinarily extensive Mac help and iPhone help areas!