I need to share some documents with clients, but don't want them to edit anything. I figure PDF is perfect for the job. How can I create PDF documents from Word files on my Windows system?
While Microsoft Windows doesn't make Portable Document Format (PDF) quite as obvious as a document format as the Apple MacOS X system does (on a Mac it's super easy to save anything in PDF format) it is nonetheless the case that Windows does have PDF support. But where? In the printer driver system. Turns out that you don't even need to have a single printer hooked up or configured to be able to access the Microsoft Print to PDF capability on your Windows PC!
The secret is that just about all m0dern printers speak PDF as their layout language, so when you send a file – or even a photograph or image – to a printer, the system creates a PDF document to tell the printer what to do with the data. Mostly this is invisible, but if you have a computer that can print documents, you have a computer system that knows PDF. Again, even if you've never configured a printer or installed a single printer driver.
To demonstrate, I'm going to take a Word file that I've opened up in WordPad on a Win10 system and convert it into a PDF file. Without any add-ons, any new software, any drivers or any configuration.
To start, the document:
If you're curious about the document itself, it's from a project my daughter's work on in her English class about the Australian civil rights activist Dr. Charles Perkins.
You'd think that to save this as a PDF you should be able to choose File > Save As. But… no.
Lots of options that are darn useful, but a dire lack of Portable Document Format. Okay then.
Instead, choose Print from the File menu instead and here are your options:
At this point you should just choose "Print" to create a printout.
Don't have a printer configured? No worries, you'll see, it's all going to work out just fine…
Here's the Print dialog:
There are two easy steps you need to take here: First, check the box adjacent to "Print to file" (about half-way down on the right side). Then choose "Microsoft Print to PDF" as the printer you want to use.
That's it. Now click or tap on the "Print" button and it'll create the PDF! First it'll pop up a progress window: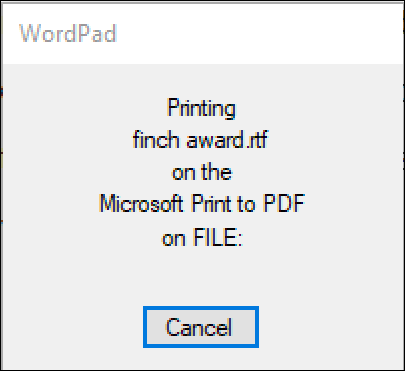 Then almost immediately that'll be covered by a file output selection window like this:
I'm specifying the name "finch-award" as the file name desired and letting it default to the file suffix that matches a PDF Document. Double check the folder or location then click or tap on "Save" and you're done!
That's it. Moments later you'll now have a PDF document on your desktop (or whatever output folder you specified) ready to share: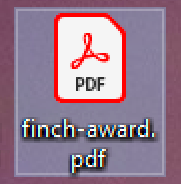 And that's it. Now you know how to quickly and easily produce PDF files on your Windows 10 system without buying any additional software, installing extensions or even connecting a printer. Not too hard, really!
Pro Tip: I have a ton of Windows help here on the site. Please check it out while you're here. Thanks!