I read a lot and prefer physical books to digital. But buying new is expensive! Can I buy used books on Amazon without worrying I'll be ripped off?
Turns out that Amazon is a huge used product marketplace, though as a retailer, the company prefers you pay full price for a new product. More revenue that way, ya know. Not hugely surprising, but with a little bit of expertise, you too can be checking out used options for books, video games, clothes, tools, you name it. However, move too fast without doing your homework and you can find yourself ripped off. Not good.
The biggest issue is the condition of the item, but we'll get back to that. For now, I'll step you through how I figured out which copy of the Piers Anthony book On A Pale Horse I bought after a good friend recommended it to me. As most people do, I popped on to Amazon immediately and read reviews, etc. Here's the link: Piers Anthony, On A Pale Horse.
The main page basically looks like this:

Most people just pop straight to the orange button and buy it or, in this case, click on the button corresponding to the edition they want (Kindle, Audiobook, Hardcover or Paperback) then buy it. But a new hardcover copy of this book could cost you $71.58! That's a lotta coin for a single book!
The trick is to look at the values underneath the different formats and editions: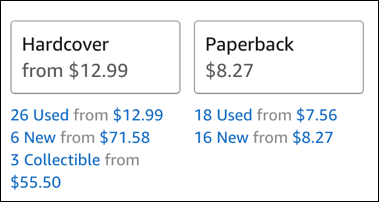 This is a somewhat unusual book that the used paperback prices – usually the cheapest – are at almost zero discount over the new copy. For $0.71 more it's probably worth getting a brand new copy instead of a used one, right? Look at the Hardcover prices, though: Used at $12.99, New at $71.58 and Collectible at $55.50. New and used are self-explanatory, but Collectible is supposed to be first editions, signed copies, and other special imprints. If that's your thing, proceed with caution: Is the autograph legit or something faked to add $50 to the book price?
Since I like to get the least expensive option, I'm going to check out used paperback copies. Typically these would start at $0.01 plus shipping, but On A Pale Horse is a bit different, as you can immediately see: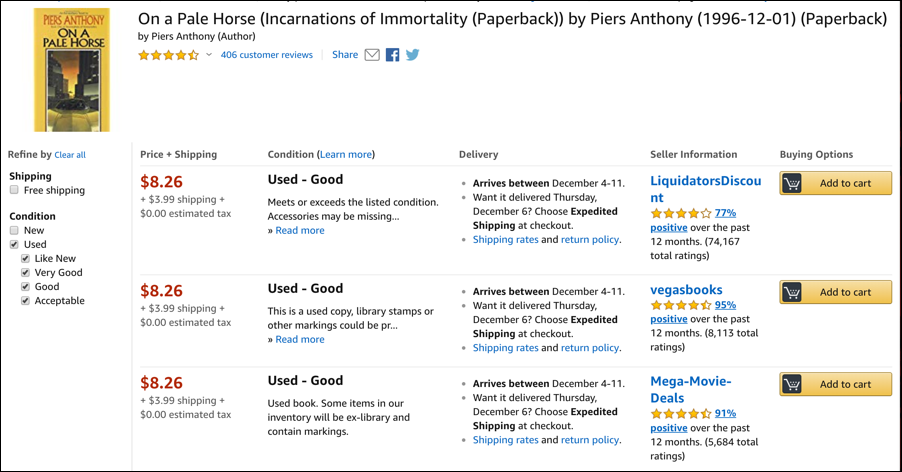 Don't jump yet, though. Since the price variation is usually tiny between different used book merchants, I immediately get rid of the "acceptable" and "good" listings. That's easily done on the left side with the refine options: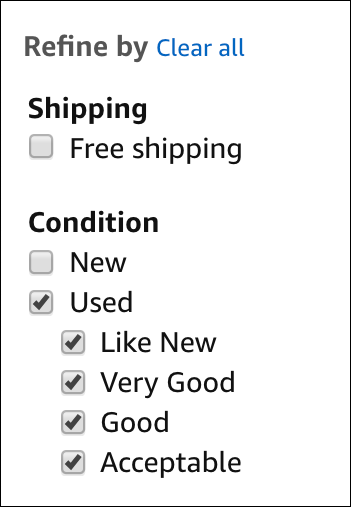 Once you narrow it down to just Used, Like New and Used, Very Good, you've got some decent options for getting the book or other product at (typically) a substantial discount versus new:

Most all used products have specified shipping, and keep a close eye on that because that's where you might find that the product + shipping is more expensive than the default brand new item w/ free shipping from Amazon. Caveat emptor! In this case notice that both of these are exactly the same price when you add product + shipping. Interesting, eh? To choose between them, check the total rating count and rating score of both merchants. Handle & Care Shopping has an impressive 100% with 660 reviews, while linkearth has 99% with 1958 reviews. Both are solid options.
Scroll back to the first view and you'll see a poor seller by comparison: LiquidatorsDiscount has a measly 77% which would make me avoid dealing with them. The chance of something being damaged or wrong is too high to justify the potential savings with this particular vendor.
Anyway, that's it. Always check the used prices. here's an example of where this could save you quite a bit: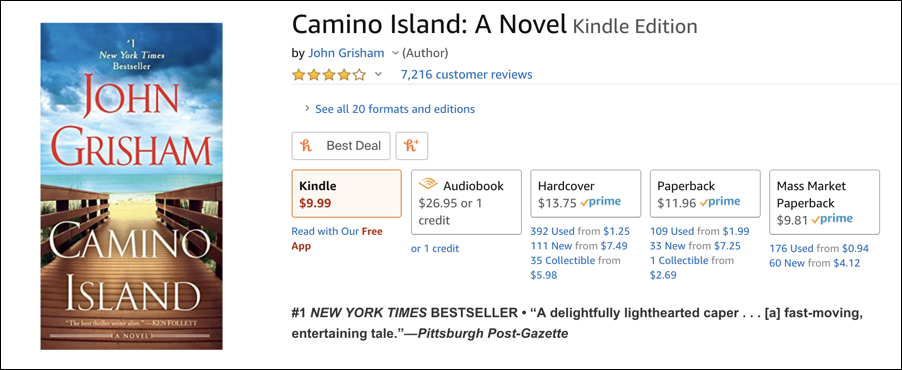 Now you're an expert, you can see that the best deal is mass market paperback for $0.94 plus shipping, versus $9.81 for the same book brand new, $11.96 for a new paperback, and $13.75 for the hardcover copy. It's a good book, too! 🙂
Hope that helps you get the most out of your Amazon shopping while saving you lots of money too. Read on!