I've been using a cloud backup service from iDrive and it's working well as far as I can tell. Now I need to grab a file from one of my backups while overseas. Can you step me through the process?
Glad you're doing cloud backups, first off! It's so easy to set up and forget, which to me is the ideal way to do any sort of backup, whether it's in the office, at home or even for your smartphone. I've tried quite a few different cloud backup services too and while it's a pretty simple task (scan for new files. upload them. done) it's surprising how much variation there is and how pricing can be all over the place. You could use Dropbox, Google Drive, even iCloud through Apple, but they can end up being quite expensive if you aren't keeping a close eye on things or want to backup everything on your devices, not just your documents.
What's interesting is that iDrive actually started out with a solution where you'd have a local hard drive as the primary backup, then a cloud-based redundant backup just in case the local drive failed. Over time, it became clear that people really didn't want to fuss with any local gear at all, so now it's a solid Internet-based backup system. You can learn more about it – and get special pricing as an AskDaveTaylor reader 🙂 – all here: idrive.com/askdavetaylor
Since I also use it, I can quickly demo what you're asking about: the other half of cloud backups, restoring a file or folder. After all, if you can't restore what you've been backing up, what's the point of the backup?
While there's an app for Mac or Windows, it's just as easy to use the Web based interface. Once you have an account set up, simply log in to your account at idrive.com. When I do, here's what I see: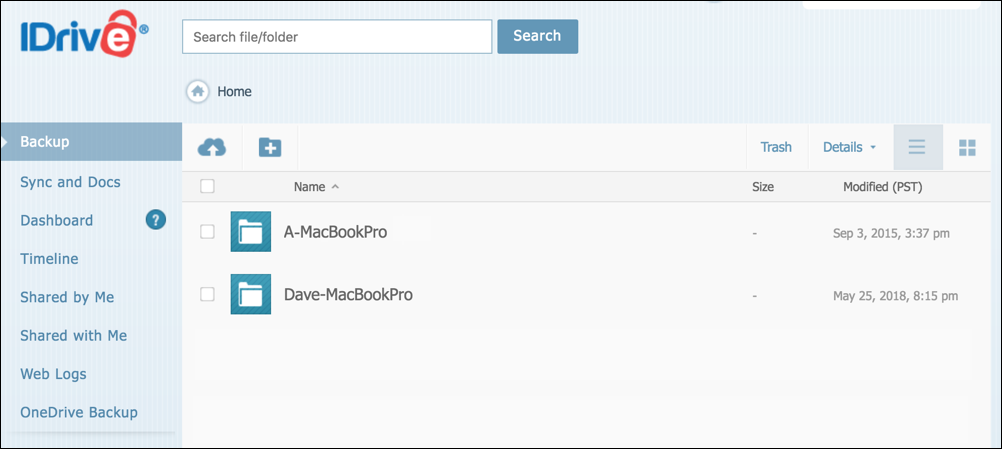 I actually back up two different computers onto the same iDrive account, and as you can see, it's quite neatly organized. On the left are various additional features, notably including the ability to share anything in the cloud backup with others online. Just like Dropbox!
Instead, I'm going to navigate into the "Dave-MacBookPro" backup with a few clicks to end up at the top level of my user account where the "Documents" folder that contains the particular file I want to grab is located…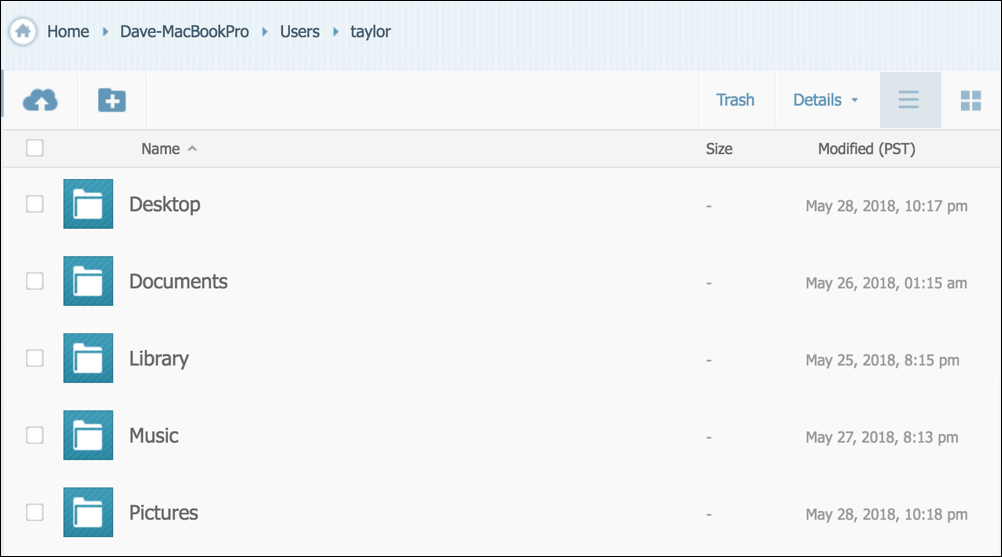 As you can see, I back up just about everything on my account. You can also see that the modified dates are a bit puzzling and not very useful. I did this file extraction in mid-September, 2018 and it's an up-to-date backup, but somehow all the folders are showing that they haven't been modified since May. Probably a bug in iDrive?
One more click gets me into "Documents" and then into the subfolder "Daily Camera" for my Boulder Daily Camera newspaper column archive:

There it is, column #126, named "dc-col-126.pages".
Now that I've found it in the backup archive, there are two ways that I can download it. The advanced user method is to click on the checkbox to select the file or files (or folders!), then choose download from the resultant toolbar:

You can see the cloud with the downward pointing arrow along the top. That's "download". But there's a second, easier way to do it that doesn't require you memorizing any icon meanings: select the file, files or folders you want, then move to the right portion of the backup list and click on the tiny downward triangle. A menu of choices pops up:

I think that's a lot easier to work with, personally. Either way, though, choose Download and if it's a single entity, it'll be downloaded "in the clear" as the file. If you've selected a group of files or folders, that download will be in ZIP format, packaged up to ensure that you receive the multiple files you've selected. A double-click on your Mac or Windows computer and it'll be unzipped and individually accessible.
On the Google Chrome download status bar, here's what I get (note that I'm now downloading an earlier column, #115):

Whether it's a ZIP file or not, simply Open it and the operating system will do the work. A second or two later, my Pages document is opened up in the Pages app on my MacBook Pro and I'm ready to edit!

That's pretty darn easy, really. Now, if you're using a different cloud backup system, how does yours compare when you actually want to recover just a single file or folder?
Disclosure: I work with iDrive on various promotions. If you haven't checked them out as an option for your own cloud backup solution, please do use my link idrive.com/askdavetaylor to help save a few dollars on the service!