I upload my photos from my Win10 laptop to the Internet and sometimes the sites complain the images are too big. How do I resize them so that they'll work better for online use?
Every version of Windows seems to give us a new solution to this challenge of resizing images, and Windows 10 is no different, with Photos vs Paint. But it's not "Paint" any more, it's now "Paint 3D", and while that might make you think it's just for 3D modeling and more sophisticated graphics tasks, it's still the same useful Paint program. It's rewritten, has a new user interface and some cool new features, but the basics remain intact (if you can find 'em).
Resizing your images is smart, too; smartphones are particularly bad actors in this regard because they take huge photos now – often over 3000×2000 pixels – and don't shrink them down before sharing them with others via text message, email, or social network. Some networks complain about files that are too big, but mostly you just end up unwittingly contributing to the slowdown of the entire Internet.
Here's a typical example, an image I have on my own Windows 10 (10.1) computer: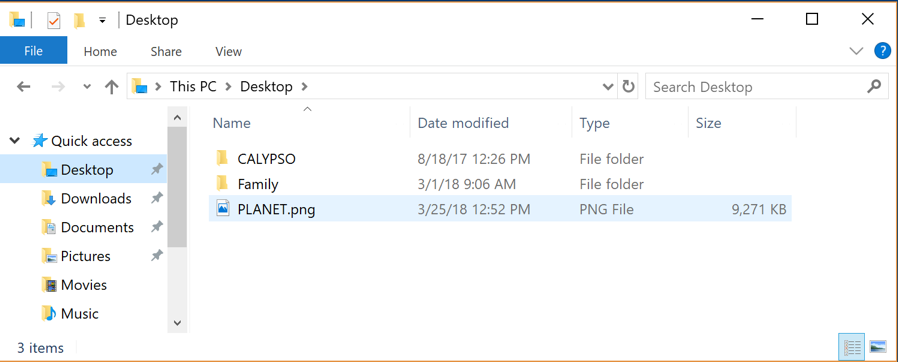 You can see the highlighted image. PLANET.png is 9,271KB. Not sure how big that is? Hover the cursor over the entry for a second and you'll get it expressed slightly differently:
9.05MB. That's a lot for a single image. But how big is it in pixels? That's a bit tricker to figure out. Easiest is to right-click, choose Properties and look in "Details":
There's the size. It's a whopping 3546 x 2082 pixels. That's way bigger than even your screen and if you're sharing that on a service like Instagram, it's definitely never going to be able to display it at this full resolution. So let's chop it down to size! I find that 1000px is plenty in the longer dimension, so let's use that value.
Right click on the image, then choose "Open with Paint 3D" to proceed. When opened, you'll see something like this:
It's a bit confusing to figure out what all the different icons along the top do, but turns out if you click on the "•••" button on the top right that everything gets a label. Useful. Now, with everything labeled, click on "Canvas" to proceed. It'll look just like this: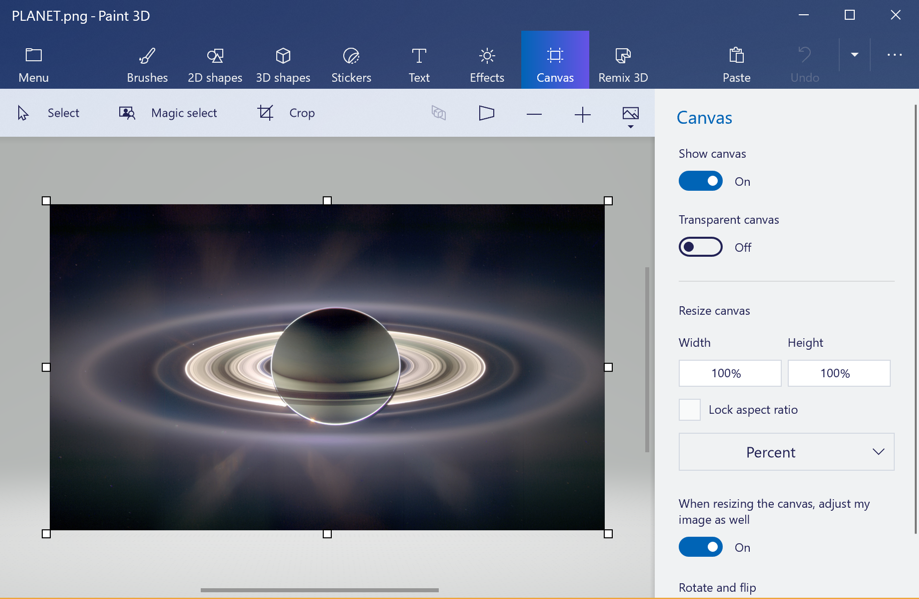 Look closely at the right pane; it's "Resize canvas" that you want to use and by default it's showing percentage, which is currently at 100% for both width and height. Makes sense, we haven't changed the size yet! Click on the word "Percent" and you can change it to "Pixels". Also check "Lock aspect ratio" so the picture shrinks, it doesn't distort:
Now you can click into the width or height box and type in a different value. I'll use '1000':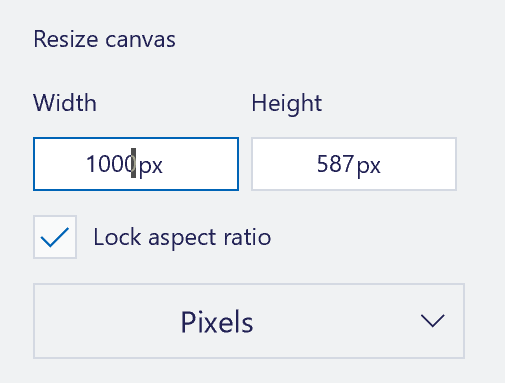 Note that the height changed to retain the aspect ratio of the original dimensions. Handy. To get it to do something, you now need to move out of the field with the new value. Easiest: TAB to the next field. The image shrinks rather alarmingly:
Don't panic, though; it's still 1000px wide, which is a really good size for social media. You can zoom in the view at any time in the program, or just trust that it's a good size and save it. How do you save it as the smaller size? Click on the file folder icon on the top left of the dark navbar (see earlier photo). The weird Paint 3D save window shows up: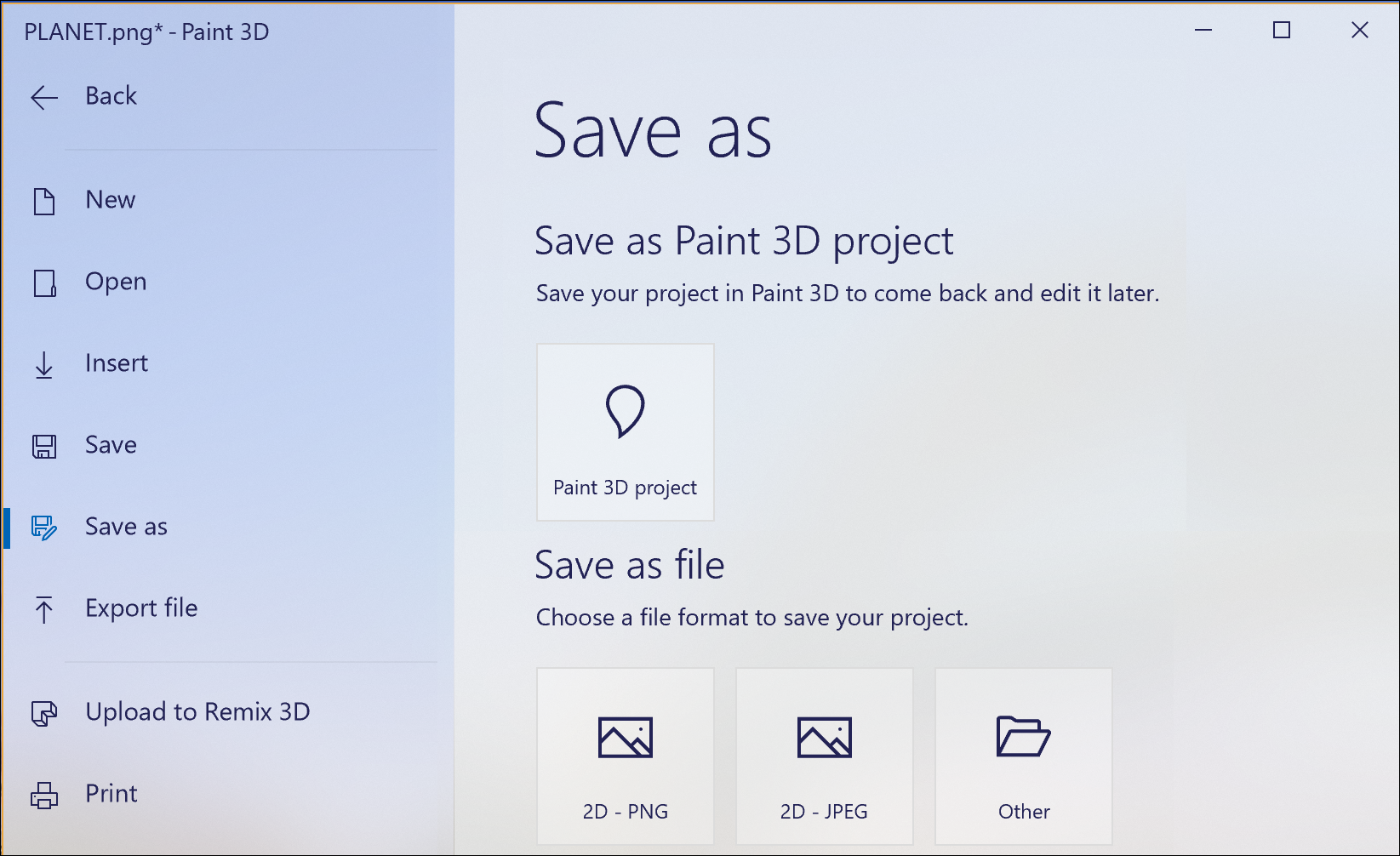 Choose "2D -PNG" from the bottom set of choices. Easy. And done.
Now in the file manager you can see the new smaller image is considerably smaller in filesize too:
In fact, we've gone from 9MB down to 770KB, a savings of 92% in file size and transmission speed! Nicely done, I'd say. And that's how it's done for any and all images and photos in Windows 10.
Pro Tip: While you're here do check out our extensive Win10 help library too, please!