I've been using the Twitter scheduler to write tweets for my company in advance of publication. Works great. But how do I reschedule posts if they end up being targeted for the wrong time or day? And, for that matter, is it possible to delete a scheduled tweet?
Most social media sites seem to be designed around time. You see what people have just posted, older content ages and eventually vanishes, and some times of day see lots more posts appearing than others. Sure, there are algorithms that are intended to make key older content visible, but generally speaking, if it's just been shared, it's the hotness and is probably what people want to see. This has always been the underlying premise of Twitter too, whether it was a year ago when it was rockin' or today when it's a slimmed down network that still attracts thousands of posts a minute.
However, it's not always convenient to be online at the exact moment you want to post something, so just about all social networks now have some sort of scheduling tool, from Facebook to LinkedIn to Twitter. If they don't, there are likely third party tools that can offer up that capability too. Fortunately, Twitter has a great built-in scheduler that it sounds like you've been using to good effect for your company. It's accessible from tweetdeck.twitter.com because it used to be a separate app with that feature that's now integrated into Twitter itself, but you can also get to it directly from Twitter.
Since I use Twitter.com through a Web browser, let me walk you through the scheduler and how to accomplish both rescheduling a scheduled post and deleting one before it goes live!
HOW TO SCHEDULE A TWITTER POST
It's possible you never noticed that when you're poised to write a tweet and share it with your followers and the public at large, there's a schedule button along the toolbar row at the bottom: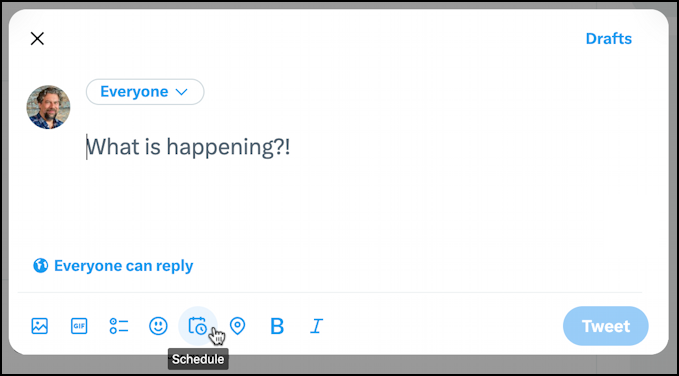 I've highlighted it in the above image; you can see that it's a tiny calendar with an even tinier clock superimposed. Hopefully, you've checked out all the other tools on this row too, from easy polls to an emoji selector to the ability to check in to a known location as part of your tweet. Click on the schedule icon and a somewhat clumsy but quite functional date and time selector is displayed. We'll get back to that momentarily.
VIEW YOUR SCHEDULED TWEETS
For now, let's see what you have in your scheduled tweets queue. Accomplish that by clicking on the "Drafts" link on the top right of the above window. This appears: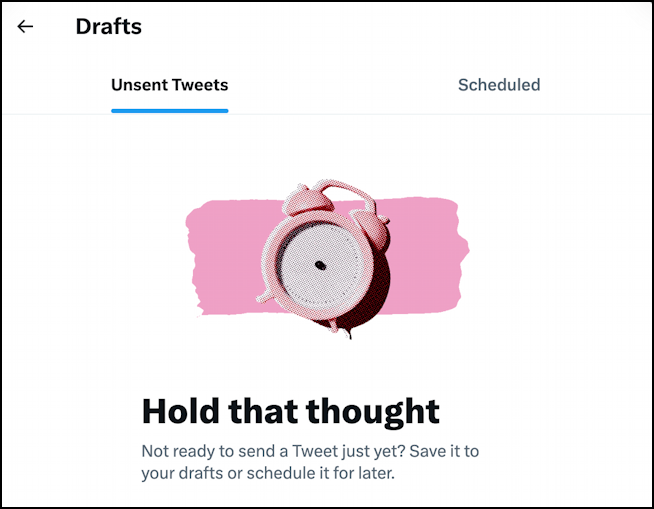 You can write tweets and save them as drafts for posting later – a timesaver if you're busy with a live event or campaign! – but this is also how you check out what tweets you have scheduled. Click on "Scheduled" to see. Since I use this rather extensively, there are a few dozen tweets in my queue, to be published over the next few weeks. The first two in my queue are shown: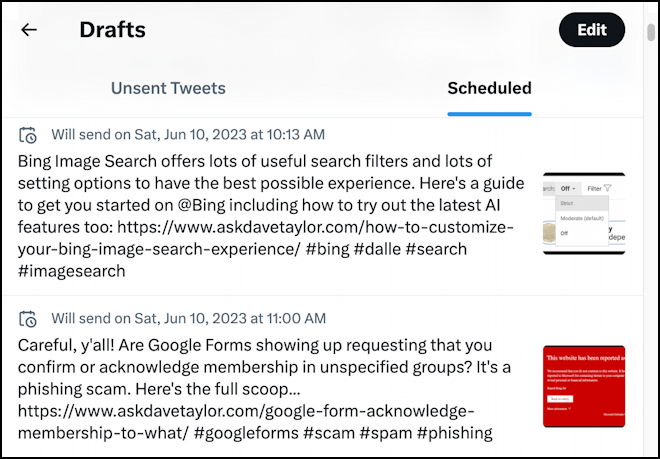 Notice that the first of these is scheduled to "send on Sat, Jun 10, 2023 at 10:13 AM". So how do you reschedule?
HOW TO RESCHEDULE A TWITTER POST
Click or tap on the scheduled time display and you'll be able to see – and edit! – every facet of the tweet:
In fact, there's that same toolbar along the bottom (though you can't change the type of tweet, which is why two are grayed out). Click or tap on the calendar icon to access the scheduler and you'll be able to easily reschedule this tweet: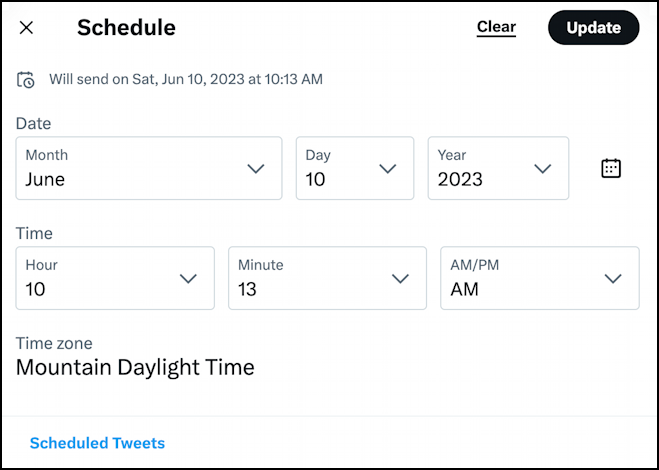 This is the same display you'd see if you clicked on Scheduler with a brand new tweet too if you're curious. Easy. You can schedule tweets for hours, days, or even years into the future! You can also switch it so that the tweet is ready for immediate posting by clicking on the "Clear" link at the top. Want to change the time and date? Click "Update" when you've tweaked it and you'll see its scheduled posting time updated.
EDIT GRAPHIC ATTACHMENTS FOR YOUR TWEETS
You can also click on a graphical image if you have one already associated with your tweet and it'll take you to a fairly rudimentary graphical editor that's better than nothing, but probably won't be replacing Photoshop any time soon:
Done with your graphical editing? Click on "Save" on the top right corner.
HOW TO DELETE A SCHEDULED TWEET
The only remaining question is about deleting a scheduled tweet. You'll notice that there's no trashcan icon anywhere in what we've viewed to this point, so it's no surprise people are confused about the delete function. The secret link is on the top right when you're viewing your overall schedule:
It's the "Edit" button on the top right! Not hugely intuitive but once you click on it, things change around:
Simply check the box to the left of the tweets you want to delete – or choose "Select all" from the lower left – then click on "Delete" on the lower right to axe 'em forevermore. That's it. Once you know about the Edit button, it's all pretty easy!
Pro Tip: I've been on Twitter since the early days and have written lots and lots of useful tutorials. Please check out my twitter help area for more useful guides. Oh, and why not follow me, @DaveTaylor, on Twitter too? Thanks!