Over the years, I have sent Amazon packages and books to a lot of friends. And they're all saved in my Amazon address book. It's frustrating! How can I delete the obsolete addresses and clean up my list of address options?
Now that you mention it, I had a look at my own Amazon address book when I placed my last order on the site and I too have a lot of obsolete addresses that are cluttering up the listing. Part of it is that my annual "secret Santa" participation in a couple of groups gets friends and acquaintances on the list forever, but it's also that my kids have moved around and all their old addresses – including a dorm building in California! – are stuck on Amazon too.
There's nothing wrong with this, and it's kind of useful to have these as a reference, but if you aren't going to use these addresses again, why have them in the list? After all, since Amazon hasn't implemented a "one time use only" feature, once you add an address, you've got it forever. Or have you?
Turns out that there is a way to clean up all those obsolete addresses from your Amazon account and it's pretty easy. Start by logging in and finding Your Account off the Account & Lists menu:
Here's the one tricky part. The resultant page has a zillion options and it can be bewildering. So look for "Your Addresses" as highlighted:
There's a user interface dictum that says if you offer up too many similar options people literally can't see them all and will insist that some are missing. Kind of what's happening here, really. That's why I highlighted it. So, no surprise, click on "Your addresses".
You'll get a screen full of names and addresses that offer up a history of everyone you've ever send a product, gift, subscription or gift card, with your own name and address as the first entry:

For obvious reasons I've redacted my address and phone number, along with that of my daughter. 🙂
Notice on mine that it shows it's the default for both Amazon and "fresh" (e.g., Amazon Fresh, the grocery delivery service associated with Whole Foods). That's the address used for one-click purchases too.
A bit further down the screen is the address of my friend Christopher: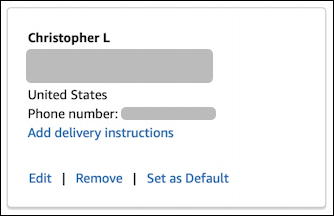 At the bottom are three options: Edit, Remove and Set as Default. The latter would certainly be a surprise to him, particularly if groceries show up on the doorstep, but I want to delete Christopher's address from my Amazon address book. That's done with, you guessed it, the Remove button. A click and…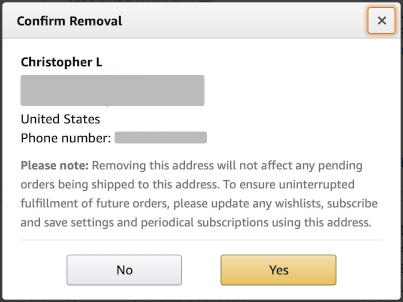 You'll have a chance to confirm that's what you want to do, and do notice the small print: Removing it from your address book doesn't reroute any shipments already in transit or other orders already placed. It's literally just an address book, so once you've initiated a transaction, you can delete it freely and without concern.
That's it. Now you know how to clean up your Amazon address book. Not something you need to do too often, but helpful nonetheless.
Pro Tip: I've been shopping at and writing about Amazon since the very beginning, when they just sold books. Please check out my Amazon, eBay and Online Shopping Help pages for more fun and useful tutorials while you're here!