I have been spending a lot of time listening to music, calls and lectures on my iPhone. Generally, I'm using earbuds or headphones. All works well, but if there's a system notification it ends up being really loud. Painfully, jarringly loud. Is there a fix in iOS to lower the alert volume with headphones?
In the beginning, there was a single volume control and it applied to everything on your device. Music, TV audio, beeps, key clicks, it was all the same volume and if you muted, you muted everything. A simpler time when things actually made sense, right? As our devices have gotten more sophisticated, however, so to has our ability to adjust and fine tune the volume of different audio feedback, ranging from key clicks to phone ringtones, music to YouTube.
As with everything else on your iPhone, the main controls are all buried in the now extraordinarily complex Settings app. If you count all the screens, there are probably hundreds of 'em, each with settings and preferences to adjust. It's no wonder we users are being a bit overwhelmed trying to get everything adjusted for our personal preferences.
And as it turns out, there is indeed a setting in iOS 14 for just what you describe, a setting called "Reduce Loud Sounds". To find that setting, start in, logically enough, Settings.
As highlighted, choose "Sounds & Haptics". This actually gives you access to quite a lot of the audible experience of using your phone. Haptics are the "shaking" and "vibrating" motions that let you get feedback from your phone without anyone else knowing about it.
When you get to that setting screen, there are quite a few options, including the one that you seek: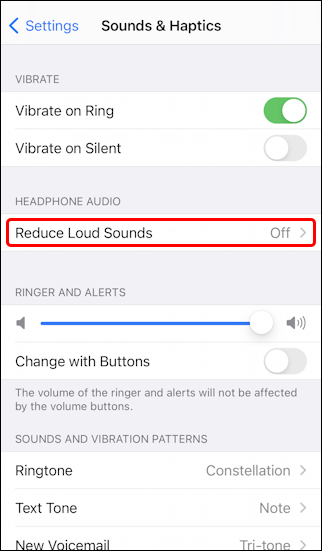 Again, as highlighted, choose "Reduce Loud Sounds" because by default it's disabled. Fortunately it's easy to enable: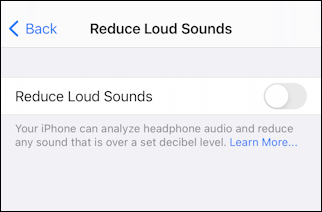 As Apple describes: "Your iPhone can analyze headphone audio and reduce any sound that is over a set decibel level." If you tap on "Learn More…" you'll go here: Adjust Volume on iPhone.
Or you can just enable it with a tap! The default is as loud as heavy city traffic, 85dB: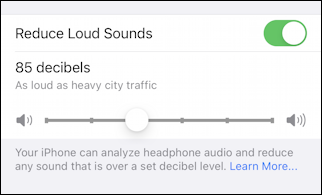 Which then certainly makes me curious about how loud it would be at min and max: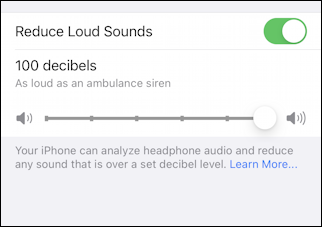 Okay, so max is 100dB, about the same as an ambulance siren. Why would you want that? :-O
How about the quietest reduction setting?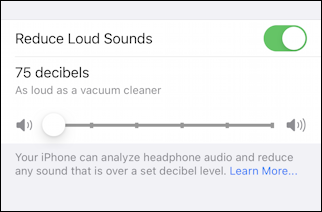 A vacuum cleaner, at 75dB. Sounds good to me. Certainly better than a jarringly loud beep in your headphones or earbuds, right?
Now, while you're at it, might as well check out the other Sound & Haptics choices you've made: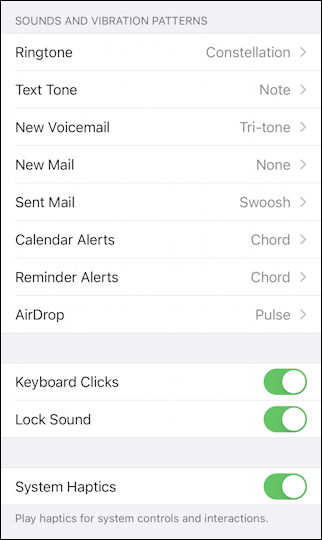 Notice that "none" is an option, as I have for "New Mail". Use it liberally to quiet down your phone, as desired! And now enjoy the lovely sounds of your actual audio stream without the interrupts.
Pro Tip: I've been writing about the iPhone and iOS since the beginning. Please do check out my extensive iPhone help library for lots and lots of additional tutorials while you're visiting! Thanks.