My brother-in-law likes to send me ebooks to read, which I love! Problem is that he sends them to me in EPUB format and I haven't figured out how to read them on my PC. I don't want to buy an app if I can help it, and don't trust "free" software because of malware. What's the solution?
There are three major ebook formats that you can encounter nowadays in the online world: PDF, MOBI, and EPUB. Everyone's worked with the "Portable Document Format" at some point and that's supported in a variety of Windows programs, including Microsoft Edge. But what about MOBI and EPUB? Not quite so easy. Turns out that while EPUB is the most popular format for ebooks and other documents, Amazon created its own format called MOBI for its Kindle readers and apps. Get a MOBI ebook and you can open it in the free Amazon Kindle app for Windows!
EPUB format books, however, are a bit more complicated because they don't seem to be supported by anything that is included in Windows 11 by default. On the Mac side, you can use Apple Books, a free app included with MacOS, to read EPUB books, but Windows? Fortunately, one of the biggest software developers in the industry has a great ebook reader that includes support for EPUB format and it's a free download! Let's have a look, starting with grabbing an EPUB for experimentation.
FREE EPUB EBOOKS FROM PROJECT GUTENBERG
The Web site's old-school, for sure, but Project Gutenberg has a splendid library of free – out of copyright – ebooks that you can grab and keep without an account, membership fee, or any other hassle. For example, some of Agatha Christie's early mysteries are available for free, including The Mysterious Affair at Styles. Go to that page and you'll see you can download the ebook in a variety of formats, with or without images: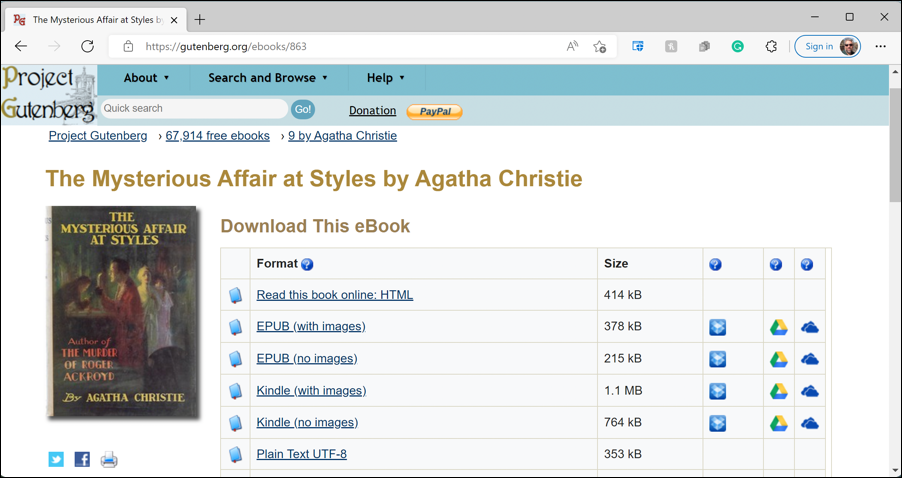 I'll grab the EPUB with images since it's only 378Kb. It gets a really weird file name once downloaded, but I opted to rename it as christie-affair-styles.epub.
DOWNLOAD AND INSTALL ADOBE DIGITAL EDITIONS
The next step is to download the EPUB ebook reader. Turns out that Adobe (inventor of the PDF format!) has a free ebook reader for Mac, Windows, Android, you name it. Better yet, it works great with EPUB format documents. Go to the Adobe Digital Editions Installers page and you'll see something like this:
Choose the Windows format and click to download. Then install it. Don't be put off by the ancient installer utility that Adobe's using for this program!
Suddenly I felt like I was back in Windows 95! But… no worries, it installs and the program itself is entirely modern and up to date, as you can see when you launch it.
READ EPUB BOOKS WITH ADOBE DIGITAL EDITIONS
Fire up the program for the first time and it installs with a handy tutorial ebook:
To add our new EPUB book, I'll need to utilize the File > Add to Library option:
Choose the EPUB and… it shows up as yet another ebook in the Digital Editions library:
Perfect, it shows that it's 159 pages, includes the book cover, and even flags it as new.
No surprise, you can read it by simply clicking on the book!
Not only that, but as I show above, a click on the tiny "aA" button lets you easily and instantly change the font size throughout the ebook. Done. Mission accomplished. You're reading an EPUB book on your Windows PC without having to pay for an app or install anything from an unknown company. Hercule Poirot would be proud!
Pro Tip: I've been writing about Windows – and using ebook readers – for many years. Please check out my extensive Windows Help Area along with my Amazon Kindle Help tutorials while you're on this site. Thanks!