I'm not sure what's changed, but now when I use Google Chrome, it tells me that I am in "guest" mode. Even with new windows. Even when I quit and restart. Help!
Google has added two different ways you can cover your identity or make your Chrome Web browser safe to use without tracking: Guest and Incognito. The idea of guest mode is that it works like a brand new identity in the Web browser, but when you quit all the associated cookies and history are deleted. In other words, while you're in guest mode, you are able to be tracked, sites can hand you cookies for identification purposes, preferences, etc. Like adding a new account ID to Chrome, except when the browser quits, all of it is wiped clean.
Incognito mode, by contrast, is designed to give you considerably more anonymity and privacy, protecting your privacy much more, though at the cost of having some sites break because you then aren't handing back cookies or other session ID information. This will make a bit more sense as we proceed with this article, I promise.
As you know all too well, when you're in Guest Mode in Google Chrome, every new tab or browser window looks like this:
As the window explains, pages you visit, cookies you receive, and just about any other interaction will be deleted when the guest windows are all closed in the browser or you quit. In fact, you can have guest windows open simultaneous to your regular logged-in windows (you can do that with incognito mode too, actually, having a mix of all three if you'd like).
To exit guest mode, simply click or tap on the tiny clipboard icon on the top right. Here's what you'll see: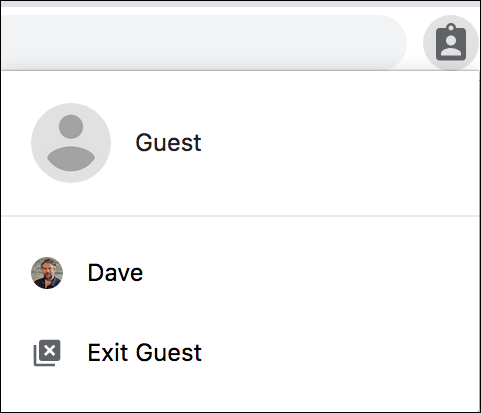 You can guess how to proceed from here, right? Yup, click or tap on "Exit Guest" and you're back to normal Chrome. Done.
Now, let's say you want to go back to guest mode, or want to set it up that way for a friend or colleague borrowing your computer. That's a bit tricky to do, which is a bit surprising. You'll want to go to the main Google Chrome settings area, where you'll see something very similar to this:
See the "Manage other people" line? That's what you want (not obvious at all, is it?) Click or tap on it to bring up this window:
There's the option along the bottom: "Browse as Guest".
By contrast, incognito mode is a lot easier to launch: it's right on the File menu:
Once you launch an incognito window, it'll explain what's different:
It's not quite like the TOR browser, but it's a lot more private than a regular Chrome window, that's for sure. And now you know!
Pro Tip: We have lots of Google related help on the site. I encourage you to check it all out!