I sometimes visit Web sites to read the news or watch sporting events while in class. Is there a quick way to lock the screen in case my teacher wanders over?
Like most systems, ChromeOS has a couple of different shortcuts to help you lock your screen in just a second or two without the need to panic or slam the lid down! Whether you should be checking these other sites while you're supposed to be doing schoolwork, well, that might be a different topic to discuss, but let's just assume you're good and can manage your own time.
What you really want is a "panic button" where you could have a different screen show up, a feature included in some older computer games (though usually known as the "boss" button). You could emulate this by having your cursor sitting on the tab of the appropriate page, a simple click away. If you have a touchscreen Chromebook it's even easier: Just tap in the right place. But you could panic and be unable to click on the correct spot, which could be dire. Well, embarrassing, at least.
QUICK LOCK OPTIONS IN CHROME OS
Many Chromebook systems actually have a lock button on the keyboard. For example, the Lenovo I use has the following key on the top right edge:
That's easy, right? One push and your system's locked up.
There's also a lock button on the shortcuts window in Chrome OS itself. Click on the time on the lower right of the Shelf (the fancy Chrome OS name for the Taskbar):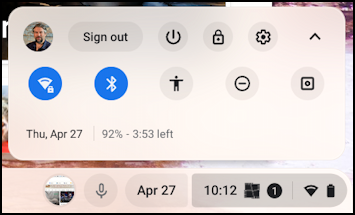 This one's a bit harder to find but it's the middle button along the top row. A click and the screen's locked.
KEYBOARD SHORTCUTS TO LOCK THE SCREEN
Chrome OS has a lot of keyboard shortcuts, however, more than just about anyone realizes, even power users. For example, there are two different keyboard shortcuts to lock your screen, the easiest of which to remember is the magnifying glass "search" key + "L". Try it. You can also lock the screen instantly with the "launch" key + "L".
In fact, let's check out all these keyboard shortcuts. Open up "Settings" (the gear icon along the top row, above, is one way to do that) then choose "Device" > "Keyboard":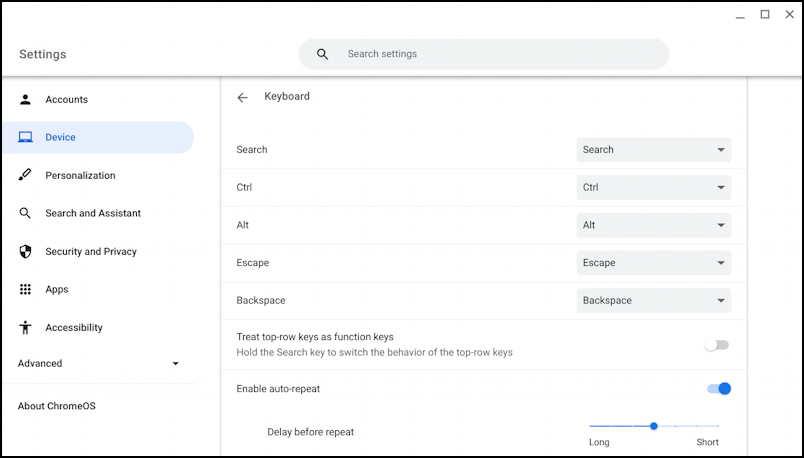 If you really want to get confused, you can easily map Alt to Escape and vice versa, as shown above. Probably not a great strategy, however. Instead, scroll down…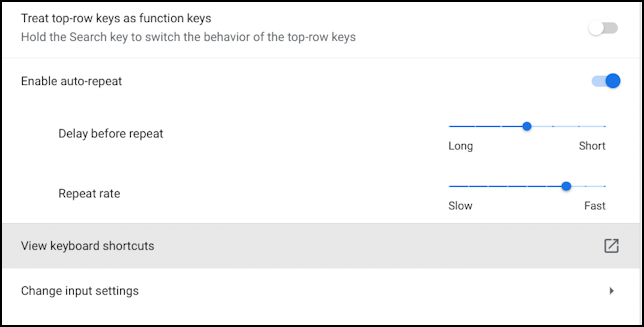 See the line in grey? Click or tap on "View keyboard shortcuts" and you'll move into an area with the full set of options:
There are a lot of keyboard shortcuts, as I said. Don't want to go through them on this window? There's also a handy Chromebook Keyboard Shortcuts Cheat Sheet you can reference too.
That's it. Between keyboard keys, keyboard shortcuts, and a dedicated lock key from the shortcuts window, there should be plenty of options to help keep your screen from prying eyes. Good luck!
Pro Tip: I've been writing about Chromebook systems for many years! Please check out my extensive Chromebook help area for hundreds of useful tutorials and guides! Thanks.