My daughter keeps telling me that I need to get involved with the Instagram community. Okay. How do I start? How do I post a photo to my Instagram account?
And welcome to the world of Instagram, where your every photo can be on the screen of dozens, hundreds or even thousands of people. It's like all the shared photos on Facebook without all the other stuff cluttering things up. It's also pretty darn fun.
To start, grab the Instagram app for your smartphone: You can't post photos to Instagram from your computer. They have apps for iPhone, Android and Windows Phone. Sign up, get your account set up, then find something interesting in front of you that's worth taking a photo of and sharing.
For me, it was a wall of inspirational #RealStrength quotes from Dove Men+Care at the Dad 2.0 Summit in San Francisco. To start, I opened up Instagram on my iPhone 6 and here's what I saw: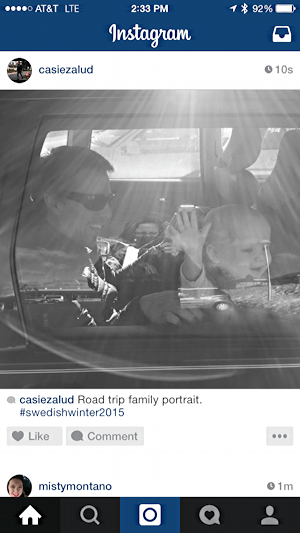 It's a bit confusing, but the button on the bottom that's highlighted in blue? That's not the current view you have, even though that's certainly a common user interface convention. You're on the main feed which is accessed by the home button on the lower left. Weird, I know.
Tap on the camera icon on the bottom – center! – with the blue highlight. Now your camera will activate and you'll see a preview of the photo you're about to take: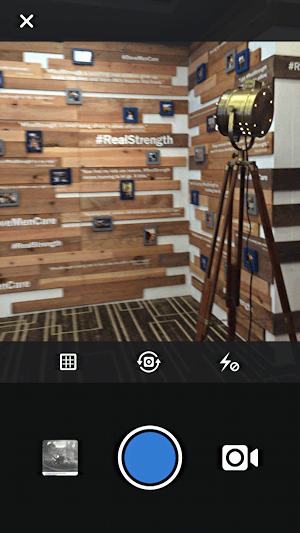 To take a photo, tap on the blue button. To make a (short) video, tap on the video camera icon to the right of the button. Tap on the left button and you can access your existing photos on the phone (what I generally use, utilizing the regular phone camera app for taking the picture).
Above you can see that you can superimpose a grid to ensure things are level, rotate your perspective 90, 180, or even 270-degrees, and disable flash if you want to be a bit more discrete with your photo capture. Changed your mind entirely? The "X" on the top left lets you quit the capture and move back to the main Instagram feed.
Let's capture this photo by lining things up and being just a bit more still so it's not blurry like in the last image.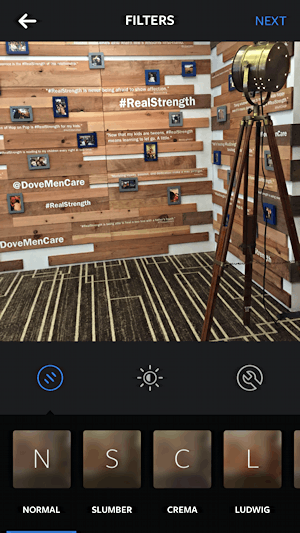 What you can't do here, frustratingly, is zoom or pan the image. It is what it is. You can, however, do lots of tweaks and mods to improve it before you post. I definitely do for 99% of my own Instagram pictures (and if you'd like to follow my popular Instagram feed, please find me there as d1taylor on Instagram.com).
The bottom boxes represent different preset filters, "Slumber", "Crema", "Ludwig", etc. There are quite a few if you swipe to display them. I prefer tweaking images manually, so I tap on the stylized wrench icon on the right, about 2/3 of the way down the screen.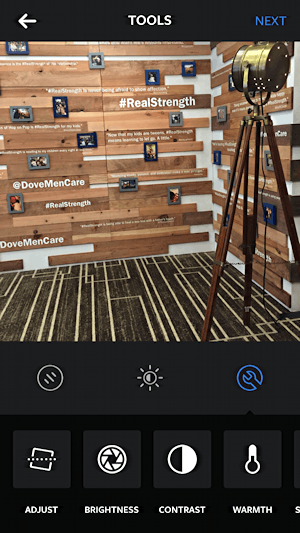 Let's start with "Adjust" because the photo's not quite square. Easily fixed, fortunately.
Tap on "Adjust" on the lower left corner.
By sliding your finger along the bottom, you can fine tune the alignment. Notice along the top you can superimpose a grid and on the top right you can rotate the image in 90-degree increments if so desired. You can also adjust the skew or parallax.
I'll tweak my image just a bit so that the wall edge at about the 2/3 mark horizontally is lined up properly. Done? Tap the check mark button on the lower right. (tap on the "x" and you discard your change)
Next up, I'll tweak the Contrast since I find that on my iPhone, at least, it's always just a bit lower than I prefer:
Again, use your finger to adjust it with the slider, and tap on the check mark to commit the change or the "X" to discard it if you change your mind.
Here's how it looks now:
The photo definitely looks better. To proceed, tap on the "Next" link on the top right.
Now you can enter a caption, tag the location, identify people in the photo, etc.
Let's start with the caption, something I think is pretty essential for an interesting Instagram post.
To do so, tap in the "Write a caption…" field and your phone's keyboard should pop up:
You can see that I've already typed one in here. Note the use of "hashtags" ("#RealStrength" and "#Dad2Summit"). That's a notational convention popular in Instagram and helps your images be found. If you're attending a concert, visiting a scenic spot, at a conference, all of these likely have hashtags you can use to help your images gain visibility. Then again, if that seems overwhelming, don't worry about it and just add an interesting and/or witty message.
Once you're done, tap on "OK" on the top right and you'll have the option of doing more…
If there are recognizable people in the photos who are also on Instagram, tap "Tag People" and identify them. If you want your location identified on a map when the photo is posted — don't do this if you're home!! — then leave the slider on "Add to Photo Map" enabled, as I have. You can also identify specific locations by tapping on "Name This Location" and scrolling through the list to find the restaurant, bar, concert venue, auditorium or other location.
Finally, you can also share your Instagram photo with any of a wide number of different social media sites, depending on if you have accounts on those services and have things set up properly. Tap on "Facebook", for example, to share your posting to your Facebook account (as set up).
Done? Ready? Tap on "Share" on the bottom of the screen. Now's when it'll actually upload the photo, so you'll likely see a progress bar like this:
When it's done, finally, you'll see your photo on Instagram, captioned and ready for everyone to like and enjoy:
Nicely done!
Need someone to follow on Instagram? You can find me on Instagram and start with my feed if you'd like!